Saving Money on Haircuts
Solutions
Share on ThriftyFunThis page contains the following solutions. Have something to add? Please share your solution!
I have been cutting my own hair for quite some time. First you need to invest in a good pair of scissors. I bought mine from a beauty shop supplier.
I lean over and gather all my hair into a pony tail on top of my head and fasten it with an elastic band. I then stand up and trim the ends. Next I lean over again and put it in a pony tail at the back of my head. I then trim off the ends.
I look at it the mirror and make sure the ends are even on both sides of my head. I then layer it using a comb to bring the hair up to the top of my head and trim the ends to different lengths. After this, I will trim the ends whenever I need to to keep it at the same length.
By Laurie from Ontario, Canada
Read More Comments
I have cut my own hair for almost 20 years I bought a "Flowbee" which hooks to my vacumn cleaner, I am on my second one and when it wears out, I will get another. The last time I checked, there are more new models available to cut your hair at home. I also bought a inexpensive electric trimmer for the neckline. It has saved me a fortune in haircuts.
By Marie from Texas
Read More Comments
We save so much money every month! About 11 years ago I decided to start cutting my family's hair. I'm so glad I did. I am by no means a professional hairdresser, but you don't have to be. It is quite easy, it just takes a bit of practice.

This is the same method I use to cut my husband's hair, as well. Just pick up a pair of scissors and clippers from Walmart and you're all set. Have fun, I know you can do it!:)
Total Time: About 20 - 30 minutes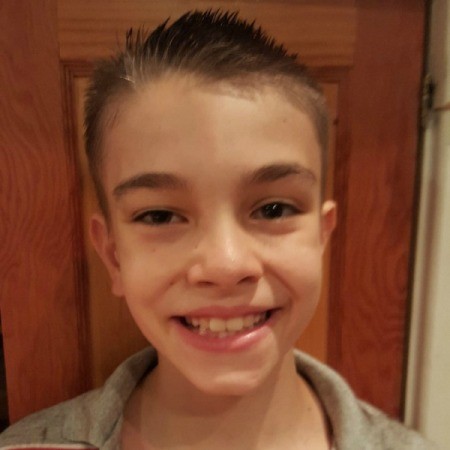 Supplies:
hair clippers
scissors
small comb
spray bottle
Steps:
Yes, this little man needed a haircut badly! Instead of shelling out 10 or more bucks plus tip for a haircut, I spent about 20 minutes and spent nothing.
Here's the side before cutting.
Here's the back.
First choose your clipper comb. I use the #3 comb because I like it nice and short on the back and sides. You may use a #4 or even #5 if you want the hair to remain longer, it's totally up to you! You will begin by "clipping" the hair in an upward motion on the back and sides to about this point.
It looks better already!
Since you are done with the clippers for now, you will want to wet the hair down with a spray bottle. You will now be trimming the area of the hair all around the head at the point where you stopped clipping. This will help fade out any clipper marks. Using your comb and scissors, cut in an upward motion on the sides and back.
Much better.
Now grab that comb and your scissors, time for the top. I simply start at the back of the head and move to the front. Then I move over about an inch and repeat. Like gardening in rows! This is the point where you determine how long the hair will remain. I grab a section of hair with my comb and raise my fingers about 1/2" before cutting. If you want the hair longer, simply raise your fingers higher.
Don't forget to trim around those ears! Gently pull the ear down and trim.
Now it's time to trim the back of the neck. You will take the comb off the end of your clippers. Have them put their head down and slowly trim in an upward motion for a nice even edge.
So much better! I also like to put the #2 comb back on the clippers and clip the hair at the back of the neck again, this just gets it ultra smooth looking.
Well, here's the front. He's reallyy happy to be done, can you tell? :)
Here's the side.
And finally the back.
I use this same technique for Hubby's hair, I just keep it longer. Have fun and enjoy your savings!:)
Read More Comments
Ways to save money on haircuts for men and boys. Instead of going to the barber shop for a haircut my husband and I bought a set of hair clippers for about $50. After a couple of haircuts the clippers have paid for themselves many times over.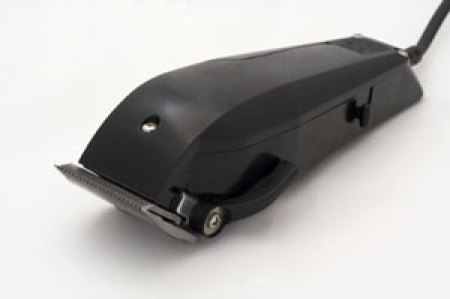 Read More...
My husband and I get free haircuts at least once a month by professional stylists. A local hair salon chain near us runs training classes for new hires and needs models for the new employees to learn their way of styling.
Read More...
Photos
Share on ThriftyFunCheck out these photos. Click at right to share your own photo in this page.
Save money by cutting children's hair at home. Toddlers usually only need a trim. Remember, practice makes perfect.
By vickie guy
Archives
ThriftyFun is one of the longest running frugal living communities on the Internet. These are archives of older discussions.
The barber where my husband used to get his hair cut got way too expensive so we decided to go out and buy our own clippers and now I cut his hair. The clippers were not expensive (purchased at Wal-Mart) and they also came with instructions on how to use them and cut his hair!

By Robin

Answers:
Haircuts at Home
I have been doing exactly that with a clipper set from Walmart for the past 3 years for my husband. It goes well most of the time but occasionally I get it a little too short - but he is a good sport about it. More people should try it! (08/17/2005)

By Wanda
Haircuts at Home
My son-in-law had his stylist at the salon cancel 2 appointments because she wanted to go out and have fun. (She dates a friend of his and has her own shop.) My son-in-law got upset and let my daughter cut his hair with the clippers that we had at our home. They now save $20.00 a month on his haircuts, and he gets a good haircut from his beautiful new bride! (08/17/2005)

By Sandy
Advertisement