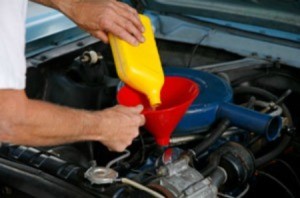 Getting regular oil changes are important to maintaining your automobile's engine. Here is advice as suggested by the ThriftyFun community. Do you have any tips for saving money on oil changes? Feel free to post them below.
Look For Coupons And Find A Reliable Mechanic
We look for coupons and hubby goes to this one place that is not expensive and gets the car washed too. Sometimes we go to our garage man, we found one we like that is not expensive and he is good. Try to find one garage that you like and take the car there all the time (like for major and inspection and trust me he will know your car inside and out and will not rip you off. Sometimes we go to Wal-mart if not too busy, but only sometimes. We know a tire place too that is good.
By Barbara
Oil Change Places Are Cheaper Than DIY
You can usually find coupons in your local paper and the big coupon section in the Sunday paper. ValPac has oil change coupons in their mailers as well. For years, my husband has faithfully changed the oil in our vehicles and those of our children. But even buying oil by the case, he can't do the job for less than Jiffy Lube or one of the others. These places get their supplies by the truck load so there is no way for individuals to get a better price. Look for the cost to be higher on larger vehicles (i.e. trucks, SUV's). Get a price before they start and make sure they understand exactly what you want done. Some places will use your brand of oil if you bring it with you, so call ahead and ask.
By browneyedgirl72561
Change Your Own Oil For Cheaper
Changing your oil is a very simple task. I change my own oil. All that is needed is the recommended oil for your particular vehicle, a 7/16 inch or 9/16 inch wrench to fit the plug in the oil pan and a oil filter wrench. I buy my oil when it is on sale so that I have it when the oil needs to be changed. I can usually change my oil for less than $10 (this includes the cost of the oil and filter), which is a lot less than what the garages or oil changing places charge.
By Karen Jones
Bring Your Own Synthetic Oil
My husband has started using synthetic oil in our vehicles, which is quite a bit more expensive than the regular oil. The places that change oil, charge a much higher amount for synthetic oil--quite a bit more than he can buy it for at WalMart or someplace else on sale. He has started buying a 5-qt. container of his favorite brand of synthetic oil whenever we need an oil change, and he takes it to the garage when he has the oil change done. This not only assures him that his oil of choice is being used, it also saves quite a bit of money each time. He's taken his own oil to two different garages, and both have been willing to use his oil and charge only for the labor.
By Sharon
Follow Your Owner's Manual For Oil Change Guidelines
Most vehicles do not need their oil changed every 3,000 miles as your mechanic advises. Check your manual. Most can go 5,000 and some even 7,000. Other vehicles will even monitor themselves tell you when it's time.
By Beth
Read More Comments

This tip came from one of my husband's co-workers, who used to work in an automotive dealership. He knew of at least 10 times in one month that this happened: Consumers would bring their vehicles in for an oil change. The vehicle would be taken out back and "parked" for 2-3 hours. The customer would be charged for an oil change, new oil filter, labor, plus whatever else they thought they could get away with, never doing the work the consumer was wanting done.
So when you take your vehicles in for an oil change, ask the dealership to raise the hood of your car, before and after the oil change. Pull the dipstick out each time, you can see the oil color and level. Also, ask if you can see the oil filter from the top of the engine, to make sure they changed it.
Terri from NV
Read More Comments
I bought a new 2007 Civic and my car friends, mostly male, tell me that I should change the motor oil after the 1st 500 miles to get rid of possible junk pieces. Honda says, no way, wait till you have 3000mi. The first oil is special and not be changed.
Any suggestions?

Heiko from Bremerton, WA
Answers
October 2, 2007
0

found this helpful
I worked in the auto industry for over 20 years and this topic came up often. Changing the oil at 500 miles won't hurt or help your car. As your manufacturer suggests, the first scheduled oil & filter change is due at 3000 miles or 3 months from the day you purchased it - whichever comes first. The purpose of the oil filter is to "filter" out any of those possible metal fragments your male friends are talking about.
With the advanced manufacturing processing today, it is highly, highly unlikely that there would be any fragments that would damage your engine. And even if that would happen, since your manufacturer recommends the first service at 3000 miles, the auto maker would cover any repairs under your warranty since this would be a failure of a component. I hope this answers your question. And tell your guy friends that this is signed, "A Car GIRL" lol
October 2, 2007
0

found this helpful
Listen to Honda! They made the car and know more about it than any of your friends. Good luck and God bless you!
October 2, 2007
0

found this helpful
Do what Honda says.
Then change the oil every 2,000 miles if you want to keep your car running well for many years.
By Pete (Guest Post)
October 2, 2007
0

found this helpful
I like the won't help/hurt. Me, Honda gets the nod, but a more specific item may be the filter. Chances are the oil, "special" or not, will last the 3K, any junk, metal particles, etc will be grabbed by the filter. Re-run the ??? about the filter, the ans. again may be worry about how you break the engine in over the oil change. Drive careful. Congrats on the new car!
By rda (Guest Post)
October 4, 2007
0

found this helpful
Read your book that came with the car.
Answer

this Question

...