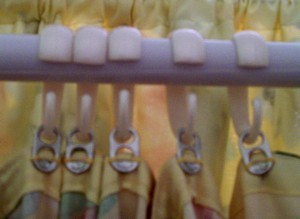 I needed to hang a shower curtain made from a bedspread I no longer used. I do not have a button hole option on my sewing machine nor did I want to spend money on grommets.
I had been saving pop can tabs and with a simple zigzag I was able to quickly attach all 12 tabs across the top of the fabric. Worked like a charm and no one knows they are there.
Source: My own invention.
By NoRulesArt from Florida
I would like some ideas for making a shower curtain using scrap fabric (like the country heart pins). I love the country theme. I am looking for something semi-simple. Any suggestions would be great!
Crystal from Zebulon, NC
Answers
January 23, 2009
0

found this helpful
Can you do it like a quilt? And then line it? It wouldn't need batting as that would gather moisture and weigh too much.
January 26, 2009
0

found this helpful
I don't think that you need to make a quilt...just stitch the blocks, hem, then line with a plastic shower curtain...don't stitch the sides down, though. You want the plastic inside the tub and the cotton outside, so it can dry. Check occasionally to make sure that mildew isn't growing. Then you can detach the plastic to wash and bleach it.
By Frugal Freida (Guest Post)
January 27, 2009
0

found this helpful
I make patchwork quilts quite often and the patches can be as big as you want to make it a real quickie project and can match in a diagonal pattern or just crazy quilt fashion. I think putting another dollar liner on the inside is a great idea - attached or not - just put the shower liner on the hook first and then put the quilt on top(facing the outside) and close the hook - it's waterproofed! Frugal Freida
January 27, 2009
0

found this helpful
The easiest way to to have two rods, one in the back for the plastic liner, and one for the outside pretty one. This not only saves time but almost completely eliminates the possibility of mold since they don't touch.
You can make strips of fabric like fancier cafe' curtains, as I showed in the sample of some I made to cover a book shelf (I actually ran out of paint so I covered the last two and put my "unshowables" down there). Just keep in mind you won't have much ruffle room as they are parallel to the fabric. You can cheat a bit, and take the plastic strip off another shower curtain and sew it onto the fabric, thus giving you the option of rings.
For a country theme, I would go with buttons either sewn or hot glued onto the botton of each loop, and on the fabric randomly. You can get pretty creative and have a matching shower rug, bowl cover and seat cover, etc.
Now, the former poster was right. You don't have to make a quilt...but don't rule out finding the perfect one and making it into a shower curtain. Many older quilts have retained their glory by becoming dolls, wall hangings, placemats, and even (check out ebay and put in fabric embellishments) and you will find quilt pieces cut into things you can sew on.
Have fun, and when you're done, send us a shot??!!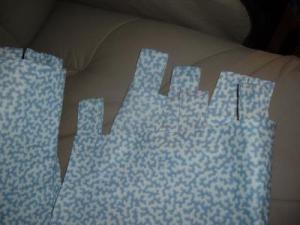 January 27, 2009
0

found this helpful
I am a beginner at this. I hope I do not mess it up!
Thanks everyone.
By Sadie Susan (Guest Post)
January 29, 2009
0

found this helpful
Use large scraps of fabric making squares about 9 and 1/2 inches square. Since shower curtains are 72 inches square, you will need quite a few. After placing the squares in a pleasing arrangement, sew them together using 1/4 inch seam creating a patchwork the same size as a shower curtain. Hem the sides and bottom. Sew the patchwork curtain to the top of an old fabric shower curtain just under the grommets. I did not sew the sides or bottom of the squares to the old curtain, but it could be done. Use with a plastic liner, and you will have a sturdy unique shower curtain. This could be embellished with rick rack on the seams or buttons in the squares, etc. or if your fabric squares are really pretty, let them stand alone.
By (Guest Post)
February 1, 2009
0

found this helpful
Crystal,
You can make a curtain the same way you make a Quilt.By sewing the squares together.Then yo can use those curtain
clips or just sew a pocket for the rod to slide thru.
Good Luck
Retta
April 8, 2009
0

found this helpful
Crystal, honey, so what if you mess up? That is what a seam ripper is for. Everyone messes up, it is a way of learning. I don't think you even have to make squares, you would just make panels as narrow or as wide as you like. I put bead trim on mine to make the shower curtain hang straight and not get pulled into the shower. It is very pretty.
Answer

this Question

...