We all love to wrap a towel around our freshly washed hair before we dash to the kitchen to start breakfast or whatever, but halfway there the towel is already coming loose. Use one of your extra towels to make this simple and fast turban that will stay in place.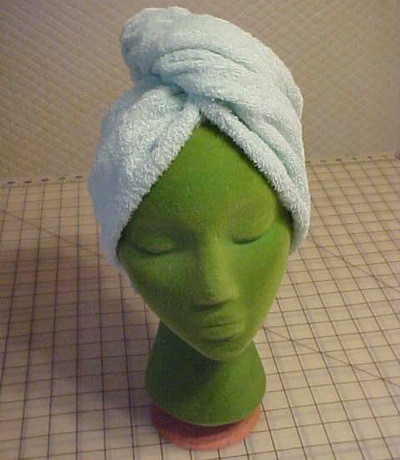 Approximate Time: 15 minutes (after pattern is drawn)
Supplies:
old towel, approximately 24 by 43 inches
sewing machine and thread
scissors
large piece of paper for pattern drafting
Instructions:
When choosing your towel, choose one that's thinner fabric, as it feels better and works better for this project. If buying one to make into a gift, buy the cheapo ones, they're usually the perfect "thin-ness." The size I used here was a 24 x 43 inch towel. It's a bit long, but you need to cut off the "decorative" bands that are usually woven into the ends anyway.
The size of the pattern is not really critical, you can be off somewhat and this will still work, but I've drawn a 1 inch grid onto the pattern so that you can draw your pattern very similarly. It's easier if you lay thin paper onto any sewing grid you have, such as a rotary cutting mat or pattern cutting board. Tape your paper in place and use the grid below it to compare to my pattern and draw freehand onto the thin paper. See, wasn't that easy? Remember, this doesn't have to be perfect, just close will do.

Fold the towel in half lengthwise, placing the woven edges together (saves having to make a hem later). Lay your turban pattern onto it with the long straight edge along the towel's long side edges, and pin into place. If your towel is old, the decorative bands at the ends have likely shrunk and are making it hard to flatten the towel, so cut off the ends first. Now your towel will lay flat so that you can cut easily around the pattern. Remove the paper pattern and pin the rounded edges together every few inches.

Fold the 4 inch piece of elastic in half, matching cut ends, and pin it along the folded edge so it'll stay folded while you sew. Push the pinned folded loop into the seamline of the larger end of the turban, about 5 1/3 inches from the end, matching the cut ends with the towel's cut edge, and pin in place temporarily.
Set your sewing machine to it's widest zigzag stitch, with a length of about 8 stitches per inch, more or less. Sew the curved edges big end to small end, removing pins and being careful where the elastic loop is embedded so that it doesn't slip out while sewing across it. (Match your thread color to the towel if you have that color, but if it's a light colored towel, white thread is often close enough to use.)
Turn your turban right side out and remove the pin holding the elastic fold. You're done.

To wear your turban, bend over at the waist and let your hair hang down. Place the large end of the turban (with the elastic loop) on the back of your head, letting the narrow end hang down over your hair. Twist the narrow end a few times, stand up, and slip the tip of the twisted end through the elastic loop in the back. Your turban will stay in place nicely while you dash around, until you have time to go back and finish drying and styling your hair. This also makes a nice turban to hold your hair up while taking a bubble bath, not that any of us have time for that anymore.

I got a turban similar to this several years ago, when I could only find them in white toweling, but had always wanted more colorful ones as extras, so I made up my own simple pattern. After all, who doesn't have old worn mismatched towels in the bottom of the closet, too pretty to use as cleaning rags, but we don't use them because they're too thin or too small for a good bath towel. Recycle them, and always have a dry turban hanging on a hook near the shower, using the elastic loop to hang it with. You can start your day off right. (Go ahead, pretend you're a glamorous 1940's film star while you pour the cereal, gotta have some fun, eh?)

By Mary from Mountain Pine, AR
October 6, 2004
2

found this helpful
I made a hair wrap kind of like the "seen on TV" item. It required 1 hand towel (in the colors of my bathroom) which I bought on clearance. I made a pattern from the store-bought one, sewed the right sides together and added an elastic loop near the top. Turn the right side out, loop should be outside. Wrap wet hair and tuck the end into the loop. Use a medium to lightweight towel. I just hang the towel wrap on a hook in my bathroom and it's always dry by the next day. Wouldn't this make a great gift!
By Linda