Crafts Using Plastic Easter Eggs
August 17, 2017
1

found this helpful
With just some colorful craft foam, plastic Easter eggs, and a few other inexpensive supplies you can create these cute flowers. This is a guide about how to make plastic egg flowers.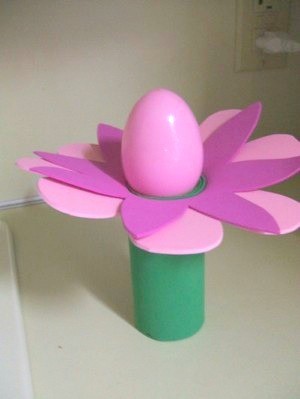 March 7, 2013
0

found this helpful
Make this cute Easter decoration for your home this holiday. This is a guide about making a plastic Easter egg tree.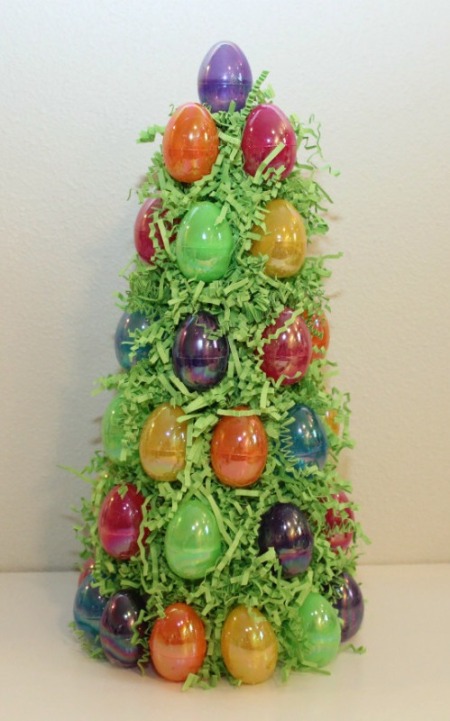 March 23, 2017
0

found this helpful
A fun inexpensive craft to make cute animals, and decorate a child's Easter basket. This guide is about making plastic Easter egg animals.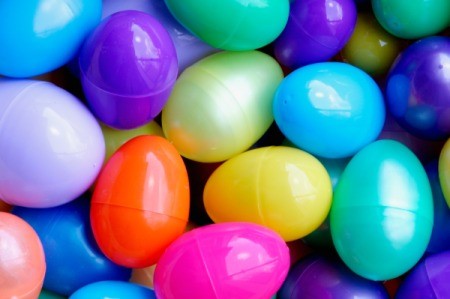 February 27, 2016
0

found this helpful
This is a guide about Easter egg lunch. Repurpose plastic Easter eggs and use them as colorful containers for a fun lunch to take to school or work.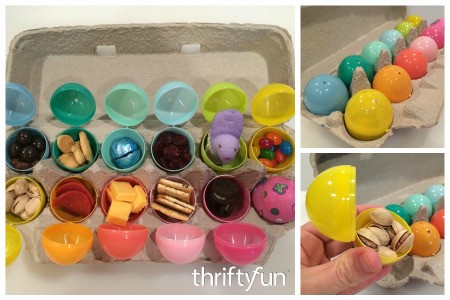 Solutions
Share on ThriftyFunThis guide contains the following solutions. Have something to add? Please share your solution!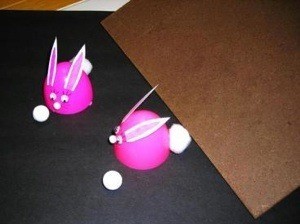 Just add marbles to this quick craft and you have a rabbit racing game.
Approximate Time: 15 - 20 minutes
Supplies:
half of a colored, plastic egg
white paper
scissors
markers - pink and fine line black
glue
white pom poms - one larger and one smaller
wiggle/google eyes
anything to make a ramp with
marbles
Instructions:
Draw and cut two rabbit ears from white paper. Color the center of the ears with pink marker. Glue these near the top of half an egg.
Glue wiggle/google eyes below the ears, and a small white pom pom nose below the eyes.
Use fine tip marker to add eyelashes and whiskers.
Glue on a white pom pom tail.
To play, set up a small ramp. Place the rabbits at the top of the ramp and slide a marble under each racing rabbit. On the start signal, release the rabbits and watch them glide down the ramp toward the finish line at the bottom.
By Marie from West Dundee, IL
Debra Frick
1

found this helpful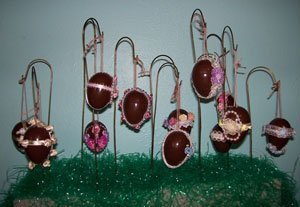 This article is in honor of my mom Patricia Churchman who, when she was alive, never let an Easter pass without going to our local chocolate shop and buying us the most beautiful chocolate eggs. They were so beautiful that we even did not want to eat them. I tried once spraying one of them with clear plastic spray to try and preserve them but it did not work and became an awful mess. So for all the wonderful moms of the world that buy their kids beautiful works of art chocolate eggs, this one is for you!
The other day when I was doing my shopping at Walmart, I happened to see that they now sell a chocolate brown paint for plastic. It is called Krylon Fusion's paint. So I painted a dozen of my empty plastic eggs. It was wonderful they came out looking just like they were made of chocolate. The eggs my mom bought had beautiful sculptured flowers and non-pareils and birds and butterflies made out of frosting so I tried to make mine look like they just came out of the chocolate shop using ribbons and string beads and ribbons flowers.
My husband made me a dozen little Shepherd's hooks to hang them from out of old wire hangers that my sister gave me. I will also give the instructions for making these. I made a base of Styrofoam and Easter grass to put the Sheppard's hooks into. I made mine long and skinny to fit my dinning room table, but these could also be put into a vase or an Easter basket.
The eggs could also be hung on an Easter tree.
Time to complete: 1 hour for eggs to dry 2 hours to decorate
Materials
1 dozen plastic Easter eggs
1 can of Krylon Fusions paint in brown
odds and ends of ribbons, string beads, ribbon roses, and ribbon flowers
glue gun and glue sticks
crochet thread
Instructions
Spray paint the eggs brown. Decorate any way you like with the ribbons, string beads, and flowers. The eggs that I bought had two little holes in the end of them that I strung some crochet thread through so I could hang them.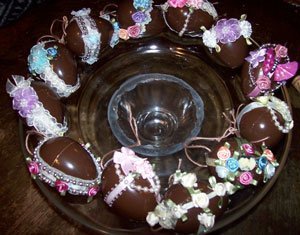 Shepherd's Hooks
Materials
6 wire hangers
Wire cutters
channel lock pliers
Instructions
Cut the hooks off the wire hangers with wire cutters.
With large channel locks he straightened each piece of wire. On each end of wire make a half inch turn up and then slightly squeezed together to make a hook.
Using a tomato paste can bend each end to make a curve.
Wrap tightly slightly passed the half way mark on the can as the wire will spring back some.
Cut wire in half. You now have to Shepherd's hooks to hang your eggs from.
They can be spray painted white or gold. I left mine as is for the sake of time.
The Base
Materials
Instructions
Glue Easter grass to the Styrofoam.
Cover the cardboard tube with white paper for the clown's body. Draw and cut arms and hands from white paper. Decorate these with marker.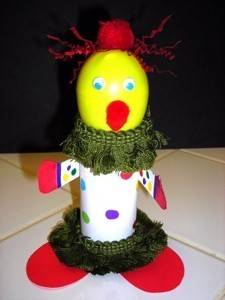 Read More...
Make simple Easter egg picks from plastic eggs, straw and ribbon. I'm using small plastic eggs with regular size straws.
I think if you are using larger eggs, you might want to use a sturdier material, like a wood dowel.

Read More...
A colorful, fun craft just in time for spring! Glue the halves of the plastic egg together, then decorate it with pieces of ribbon and fabric trim. Cut an additional piece of ribbon and glue it in a loop to the top of the egg for a hanger.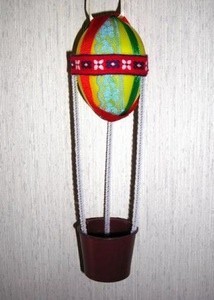 Read More...
Related Content