Simple Easter Egg picks from plastic eggs, straw and ribbon.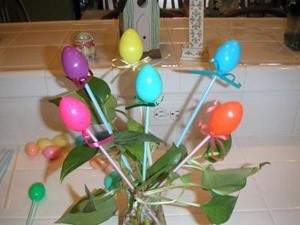 Supplies:
plastic eggs
straws
ribbons any color
glue gun
scissors
Instructions:
I'm using small plastic eggs with regular size straws. I think if you are using larger eggs, you might want to use a sturdier material, like a wood dowel. I used curling ribbons, but any ribbon will be fine. Place a small drop of glue on the bottom of the plastic egg. Attach the straw by holding for a few seconds. Cut and tie a ribbon first to the size you like. I attached my ribbon at the base of the egg on the straw. Again, use a small drop of glue to attach the ribbon.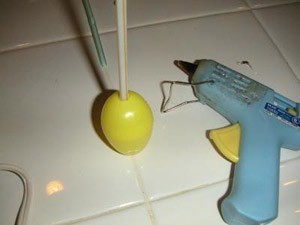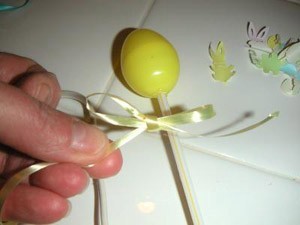 Voila! That's it!
You can place these picks in a vase as a bouquet, add to a plant, place individually in plants around your home,attach to a gift, tie around a candy bar, Easter candy, money for a gift. Possibilities are endless.
* Small children: Beware! Glue can burn fingers, OUCH!
Suitable for any age.
By Jennifer from CA