This article is in honor of my mom Patricia Churchman who, when she was alive, never let an Easter pass without going to our local chocolate shop and buying us the most beautiful chocolate eggs. They were so beautiful that we even did not want to eat them. I tried once spraying one of them with clear plastic spray to try and preserve them but it did not work and became an awful mess. So for all the wonderful moms of the world that buy their kids beautiful works of art chocolate eggs, this one is for you!
The other day when I was doing my shopping at Walmart, I happened to see that they now sell a chocolate brown paint for plastic. It is called Krylon Fusion's paint. So I painted a dozen of my empty plastic eggs. It was wonderful they came out looking just like they were made of chocolate. The eggs my mom bought had beautiful sculptured flowers and non-pareils and birds and butterflies made out of frosting so I tried to make mine look like they just came out of the chocolate shop using ribbons and string beads and ribbons flowers.
My husband made me a dozen little Shepherd's hooks to hang them from out of old wire hangers that my sister gave me. I will also give the instructions for making these. I made a base of Styrofoam and Easter grass to put the Sheppard's hooks into. I made mine long and skinny to fit my dinning room table, but these could also be put into a vase or an Easter basket. The eggs could also be hung on an Easter tree.
Time to complete: 1 hour for eggs to dry 2 hours to decorate
Materials
1 dozen plastic Easter eggs
1 can of Krylon Fusions paint in brown
odds and ends of ribbons, string beads, ribbon roses, and ribbon flowers
glue gun and glue sticks
crochet thread
Instructions
Spray paint the eggs brown. Decorate any way you like with the ribbons, string beads, and flowers. The eggs that I bought had two little holes in the end of them that I strung some crochet thread through so I could hang them.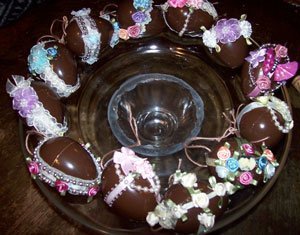 Shepherd's Hooks
Materials
6 wire hangers
Wire cutters
channel lock pliers
Instructions
Cut the hooks off the wire hangers with wire cutters.
With large channel locks he straightened each piece of wire. On each end of wire make a half inch turn up and then slightly squeezed together to make a hook.
Using a tomato paste can bend each end to make a curve.
Wrap tightly slightly passed the half way mark on the can as the wire will spring back some.
Cut wire in half. You now have to Shepherd's hooks to hang your eggs from.
They can be spray painted white or gold. I left mine as is for the sake of time.
The Base
Materials
Instructions
Glue Easter grass to the Styrofoam.