Vacation Scrapbooking Tips and Tricks
Solutions
Share on ThriftyFunThis guide contains the following solutions. Have something to add? Please share your solution!
June 26, 2009
8

found this helpful
My daughter's hobby is photography. On a recent vacation out west, she used the following tip to keep track of her photos. As we entered a new state, she would do one of the following:
Take a picture of the "Welcome to" state sign.

Take a picture of the road map for that state.
Or use sign language to indicate the initial of the state and take a picture of her hand. For example, she would make a signed "M" when we entered Montana and take a picture of that.
Then she would know what state the next photos belonged in for her album.
Source: My daughter's idea
By skeesics56 from NW OH
If you don't want to put bulky items in your scrapbook, scan them and cut them out. My daughter did this with some game coins, and some Mexican coins, from our cruise earlier this month.
Debbie J.
July 18, 2007
0

found this helpful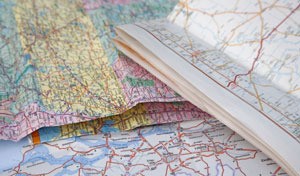 Tips from the ThriftyFun community about collecting items for your travel scrapbook. Post your own ideas here.
Use Brochures In Scrapbooking
While on vacation, pick up free brochures advertising 'things to do' in that area - and then correlate them with your photos for that vacation page. They often include maps, big headlines, backdrops, etc. and other fun things that will save you money later!
By Carol
What To Save And Photograph While Traveling
I put the maps and brochures (be sure to pick up 2 of each, in case of information on each side) and arrange them in my scrapbook along with the trip we made. Because they are not acid free, I make sure that they are on a separate page or on the same page but well away from the pictures I took.
Brochures will sometimes give you a different angle of the building or area than you were able to get when there. The information I brought back from Cuba last year went into my vacation scrapbook in the first few pages as an introduction to where we had gone.
I also had a Cuban tea when in Cuba. Each time, I saved the little paper tags on the tea bags and when doing the scrapbook used them on the edge of the page to accent the page. Take pictures of your waiter, door room number, people in the resort that you interacted with frequently. When they are in your book later, it makes your pages more alive and personal instead of only beach and scenery pictures. And have fun scrapbooking!
For our 10th year Wedding Anniversary, my husband and I took a romantic vacation to Playa Del Carmen, Mexico. We had a great time and took many photos of our adventures.
I like to pick a theme for each event's scrapbook or section. For this one, I used a map of Mexico that I had saved out of a National Geographic insert. I cut narrow wavy strips to edge each page. I used a metallic cardstock in blue and copper on the strips and to accent throughout. I alternated the colors of the strips on each page.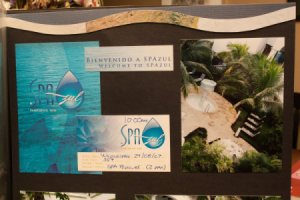 I included our personal photos but also appointment cards from the spa, wrist bands and postcards from the park we visited, even a satellite image of the hurricane that hit just days before we were due to arrive. It is fun to have all the memories gathered in one handy place and the consistent theme really pulls it all together.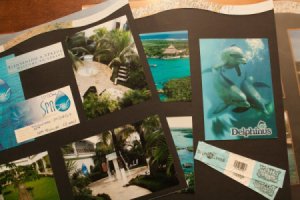 By jess
When you go on a vacation, be sure to collect any informational flyers, brochures or postcards about the places you visit. This is an easy way to display a schedule of events, amenities or background information on your scrapbooking page. They are often chock full of beautiful photos and colorful graphics. You might even want to grab two.
I also save interesting napkins and ticket stubs for transportation and events or any other memorable little items. I recently collected a handful of Mickey Mouse shaped confetti to use for my scrapbook page of that event.
When you get home from vacation, take all the paper souvenirs and place them in a shoe box or other container. When you are ready to scrapbook, you can take out this box and start sorting through it for inspiration.
By Jessica from Hillsboro, OR
Kelli Mahoney
0

found this helpful
These pages were based on a trip we took to a resort called the Kalahari. Everything there had a Safari theme, so I made sure the scrapbook pages reflected that. The key to any good scrapbook page is layering.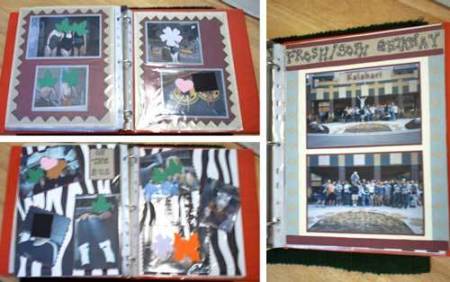 Read More...
Related Content