Saving Money On Crafts
Solutions
Share on ThriftyFunThis page contains the following solutions. Have something to add? Please share your solution!
If you have an abundance of stuffed animals that you want to get rid of, instead of attempting to give them to Goodwill and being rejected or sending them to the landfill, why not use them in another way?
Open them up and use the stuffing for other crafts like making pillows, or new dolls or whatever else you can come up with that would require stuffing. And if you are crafty enough, you may be able to reuse the fabric the stuffed animal was made of. May save some money when those pennies are tired of being pinched and you still want to be creative and crafty.
Source: Thought of it when I read a post on Facebook by my sister who is glad her husband doesn't get her cheesy stuffed animals. I realized how many I have gotten rid of over the years when I could have repurposed them for something else. I'm always trying to save money. Wish I would have thought of it sooner.
By Crissy from Columbia, SC

If you want to create incredible, long-lasting, vibrant, and ready-to-hang masterpiece but all you have around you are old throwaway materials such as Sheetrock, plywood, or some other sturdy but unremarkable surfaces, and nothing really in the name of art supplies, never fear! For only a $25 investment or so, you and your kids can truly have a masterpiece.
Rummage around for any leftover art supplies from the kids' closets - broken crayons, old half-dried temperas, acrylics, Sharpies, pencils, markers, whatever it is. Oil media such as latex or oil paints are not appropriate, however. Prepare your surface by making sure it's clean and accepts your media.
Once you are happy with the results, prepare the epoxy resin and apply by following the directions. This activity should only be attempted by adults, in a well-ventilated area. After 48 hours of waiting, voila - instant incredible durable canvas art! The epoxy will darken and deepen any color added, creating a multidimensional view. It will also create a high gloss, thick permanent surface, giving the work quite an edge. This project would be very motivating to all future artists.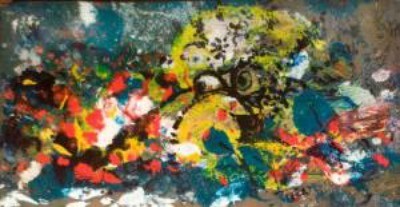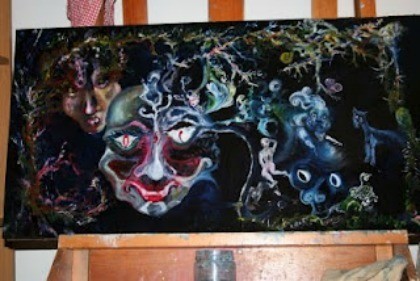 Source: EnviroTex epoxy resin http://eti-usa.com/envirotex-lite/ http://art.aliciaraya.com/
By ahorrasi from Marshall, NC
I keep a running list of things I am almost out of and things I need for crafting. After every holiday I go by the different stores and pick up bits and pieces of things on my list. I put it all in one area and mark it general crafts. I can usually get great deals on crepe paper, tissue paper, ornaments, odds and ends, cups, vases, and other fun things. Most of these items run between 5 and 10 cents when marked down.
I then store it in a box marked "general craft materials." Then when I need (for instance) red tissue paper I have it from Valentine's day. I can make all kinds of fun things with it and also use it for wrapping. Other things like coffee mugs can be used for table decorations.
I always have a fun supply of things I would normally pay 1.00 or more for and that cuts down on the cost of my projects. Thinking creatively when I go to a holiday sale saves me a lot of money in the long run.
I was just thinking today when the Christmas items go on sale I am going to buy some greenery in the long pieces and use them to decorate the pillars at work. I am planning on using things like butterflies and birds and attach them to it for the spring.
So when those holiday items go on sale start thinking about your list of every day items and what you can create with marked down items before you pass up a great sale. You'll be glad you did.
By gem from VA
August 31, 2005
0

found this helpful
When you get interested in a new craft, don't buy the books or magazines at the start. Use your public library. Many libraries are part of a regional network and they'll get books from other libraries for you. Check the online directory.
Read More...
Questions
Ask a QuestionHere are the questions asked by community members. Read on to see the answers provided by the ThriftyFun community or ask a new question.
March 9, 2005
0

found this helpful
How do you save money on buying material for crafts?

Help me please.
Sarah
Answers
By Marla (Guest Post)
March 9, 2005
0

found this helpful
Sarah,
I buy discounted materials from walmart for my crafts. If the craft I'm making is something I plan to sell, then I note in the product's description that the styles may vary depending on availability.
By Sandy (Guest Post)
March 9, 2005
0

found this helpful
Hi Sarah,
I went to a sewing class and was told to start a "resource center". It is great! Anytime I go to a flea market or yard sale, I look for things to add. I mark the boxes and can pull out lace, material, rubber stamps and just about anything I need. I found it all at bargain prices and everything is at hand when I need it!
By Marn (Guest Post)
March 9, 2005
0

found this helpful
Go to your local decorator fabric store and ask for out of date fabric samples and scrapes. They will probably give them to you free or at a very small price. I did this a few months ago and walked out with two large garbage bags full of fabric absolutely free!! Good Luck
By syd (Guest Post)
March 9, 2005
0

found this helpful
Let people know that you are a crafty person.
Yard sales are a great source for craft materials ... cheap.
If you do crafts for a charity or nursing home, when you let people know, they will funnel materials to you for free.
Been there done that!
March 9, 2005
0

found this helpful
Buy old clothes at garage sales, and go to thrift shops, and get things at a low cost, such as dresses, and use the material from things like that.
March 9, 2005
0

found this helpful
Check with your local Freecycle chapter to see if anyone has any fabric that they don't need anymore and just want to give away.
By starchild (Guest Post)
March 10, 2005
0

found this helpful
HI I am incredibly cheap when it comes to crafting!!! I recycle alot(quilts and crafts from gently worn clothing).
I find alot of my fabric at Wal-Mart, In the $1.00/yard or $2.00/yard. (I wont pay more than that). Jo-Ann fabrics sometimes has deals in their bargain area in the back.
You should also browse for fabric on auction sites....and remember always add the shipping price before you divide the cost per yard!!!(Of course you are saving fuel not driving into town)
And my favorite....ReStore. Look for a recycling store in your area where you can find all kinds of craft supplies at really reasonable prices. The ReStore in my area, they have large bins filled with Yardage and large scraps. They charge by the pound. Great Value.
Yard sales are great too!! I found 10 yards of 4 different (high quality) fabrics for $2.00!!! I love yard sales!!!
March 10, 2005
0

found this helpful
I like to work with copper wire and I get it free from construction dumpsters...Contractors pay by the pound to have them dumpted. I always ask and then look for all the plastic coated wire used in wiring the houses. Even telephone wire and computer wires have copper centers. They vary in size. When home I strip off 1 inch of the plastic coating so I can see the size of the wire but leave the rest on so it won't tarnish. The dumptsters are also a good source of plywood, moulding, floor tiles (even broken ones are good for some craft projects).
Have fun crafting,
Stanlie
By candice (Guest Post)
March 12, 2005
0

found this helpful
I go to yardsales and estate sales. i look for material that is interesting,pops and is very pretty.
Most of the time i pay only 1.00 to 1.50 for my material
By Squirrel (Guest Post)
May 19, 2006
0

found this helpful
Check with local second-hand stores, they always get clothes that are stained, torn, or too out of date to sell. The ones in my area give them to me instead of the dumpster. Even stained items make good rag rugs.
By Evelyn (Guest Post)
September 19, 2006
0

found this helpful
I go to GOODWILL every Sunday here,(50% off for Seniors day). Look for large sized garments ,household items. Sheets tablecloths, ect , in print and colors I like. Cut them apart at home an start making what ever it is I need . Especially baby Quilts. We just welcomed our 7th, 8th, and 9th GREAT GRAND BABIES!
Answer

this Question

...
Archives
ThriftyFun is one of the longest running frugal living communities on the Internet. These are archives of older discussions.
March 22, 2010
0

found this helpful
Instead of paying the high price for "poly-fill" stuffing, I recycle unwanted stuffed toys. There is an almost ENDLESS supply of stuffed toys available. I can usually purchase a garbage bag size full of them at the thrift store for a couple of dollars. Get out your scissors and hack away! I know it sounds a bit cruel but oh so cheap!

Source: my own.

By Frances from Bland, Mo

Answers:
Recycling Stuffed Toys for Stuffing
What a good idea. I make Raggedy Ann's, and the filling is pretty costly. I would wash the stuffed toys first though, just to make sure everything was clean.(04/15/2008)

By suzin
Recycling Stuffed Toys for Stuffing
An even better way to get old stuffed animals is to join your local freecycle group. Everything listed on freecycle is FREE and stuffed animals are a frequent offer! You can find groups listed at: freecycle.org (I use the Browse Groups button rather than putting my town or zip code in because it is more accurate.) (04/15/2008)

By Cindy
Recycling Stuffed Toys for Stuffing
When you open the stuffed animals to recycle their stuffing, open them from the bottom and try not to damage the critter.

The critters opened in this manner make great puppets! (04/17/2008)