Using Crocheted Chains In Craft Projects
Solutions
Share on ThriftyFunThis guide contains the following solutions. Have something to add? Please share your solution!
I am sad to say that over 3 years ago, I received a request for samples of what can be made with crocheted chains. Just two days after that, I was flying across country to spend five months with my former in laws. I didn't see it and I am so very sorry. I hope that snooZQ is reading this. I decided to do everything in one day instead of waiting for several more days to go by.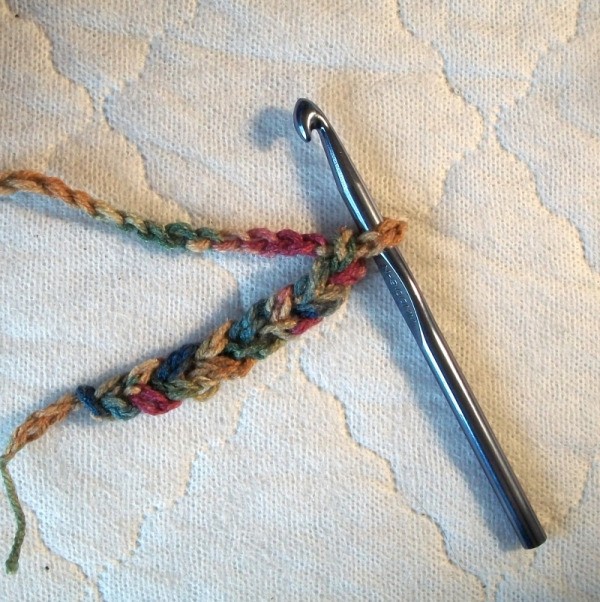 The only way I was able to do this was to this was to crochet a full 8 oz skein into an 80 foot chain. This took a while, so making a sample of several things would have taken up all of it and I didn't want to use it all up. When I thought of the things I wanted to do with it, I realized I could just start a project, explain it, then unwrap it and start something new.
So, here is a small but nice little list of what can be done with just a few yards, more for some, less for others, photos, and tips. Lastly, I will give you all some ideas of what you can do on your own.
Bracelet:
I just held the tail to the back, and began to wrap around the bangle bracelet. This was one I got for .10 at a yard sale. You might need a bit of hot glue in the back, but not much. If, when you meet the yarn and finish up, you find it's a bit "bumpy or ugly" you can either cover it with a pretty button or flower. You can also crochet several loops like chain 8 and make a loop in the first chain, doing that till you have a nice little crocheted flower.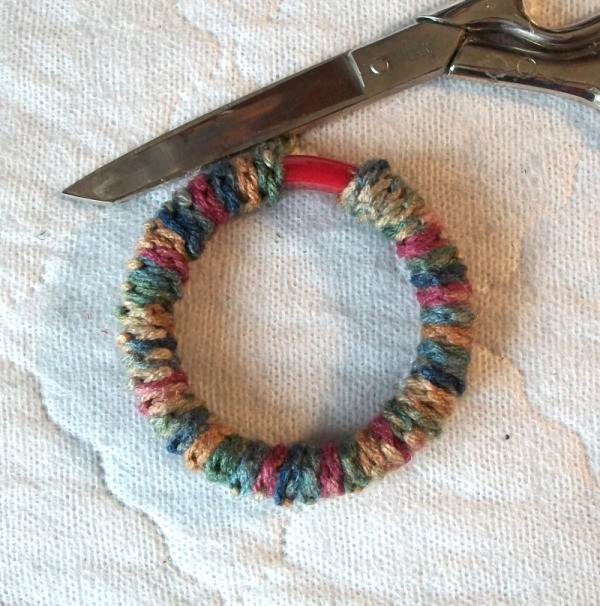 Headband:
It's pretty much like the bracelet, but you have a space to wrap and is actually easier. Some ideas are to lay a short piece of ribbon along the space you are wrapping, then tie it once the wrapping is done. You would not be able to do it tightly, or you will expose the headband underneath. Again, buttons and other embellishments can really make it pop.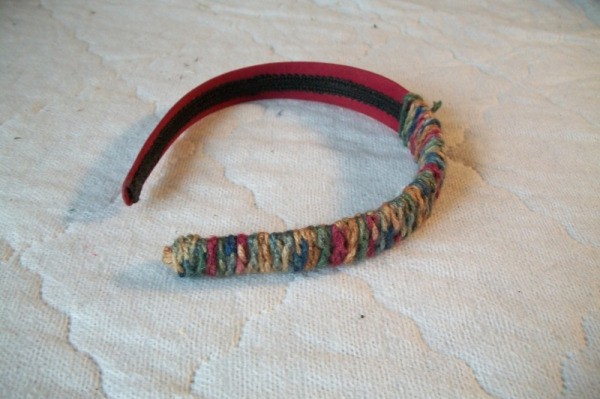 Planter:
I just hot glued a bit of the tail, then I didn't have to do much but just spin the planter and hold it there for the shot. You can also make some hangers for the lighter ones, but keep in mind that they will stretch. This is fun to do with jars, especially straight ones, for pencil/pen holders, crochet hooks, coffee stirrers, honey sticks, toothbrush holders, and more.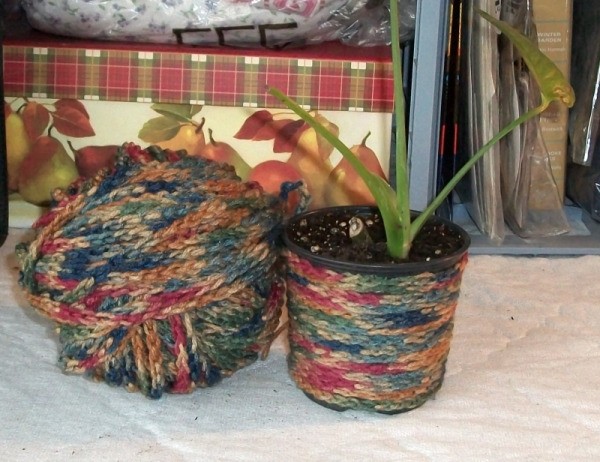 Baskets:
I had these cute little baskets and even though this did not fill up the holes very well, you can double it up for mix it with fabric strips.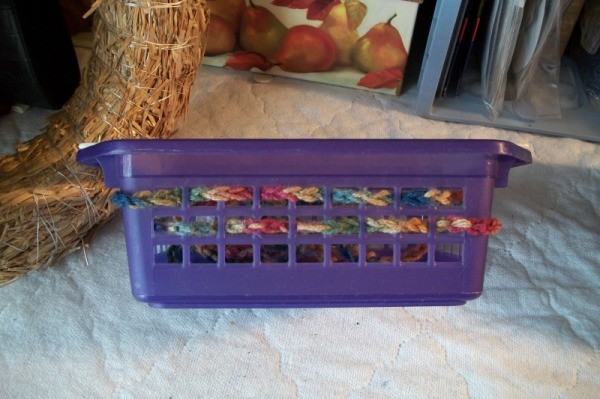 Hanger:
This is what prompted my post in the first place. I prefer the thicker ones, but you can use any kind. I don't find the wire ones will work, but the basic ones you get at any thrift or dept. store works. Simply wrap the first tail from the back around the base of the hook, then from the front, start wrapping, gluing every few inches, always in the back.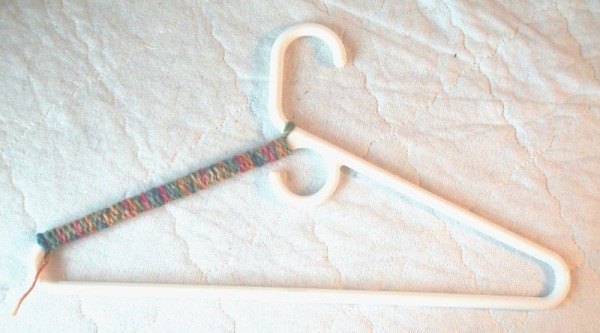 When you are done, you can tie some pretty ribbon around the base of the hook and double secure it with a spot of glue in the back, just before you tie a bow in front.
Cat Entertainer:
This was pretty worn out when I got done with it, so I tied it to the binder clip on the shelf and let Cornelius play with it.
Crocheting Using Chains
Now for the best tip: Anything you can make with a single strand of yarn you can make with a crocheted chain. Just remember it will be bulky, but also take you twice as long. If you have the time, and the project is fairly simple, it's worth it.
For a hot pad size: Ch. 16, making a sc in first ch from hook. Ch 1, skip 1, and make sc in next chain across. Ch. 1 and turn, going back and forth with each row till you have made 12 rows. Break off and work in tail.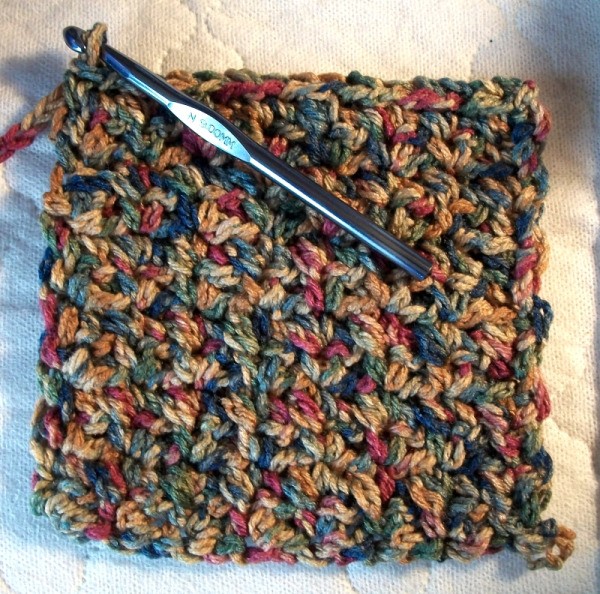 For rug, simply determine the size you want, and make your base row to those dimensions. For instance the hot pad is 7 by 7 inches with a base row of 16. If you wanted the rug to be 21 inches across, you would make a base row of 48, and just keep crocheting till you like the length.
Here are some things to think about making:
Place mats and matching napkin rings.
curtain tie backs
Got a broken cup? Wrap the handle and make into a planter or pencil/pen holder.
Crochet a 6 inch spot on the top of a bucket handle for comfort.
Use to gather flowers to hang upside down to dry.
Use to make a fancy bow for a teddy bear's neck.
If you have those white assembled shelf units, wrap some around the posts, then make a small ball and glue to the top of the supports. You will have a country look for sure.
Crochet a very country doily for a wall hanging. Decorate with buttons, ribbon, or ripped fabric.
Now have some fun! Keep in mind that this would not work for everything. It's too thick for baby blankets or afghans.
By Sandi from Salem, OR
I embellished a simple thrift store basket with just yarn and a hook. It's the only one of its kind and yours can be too.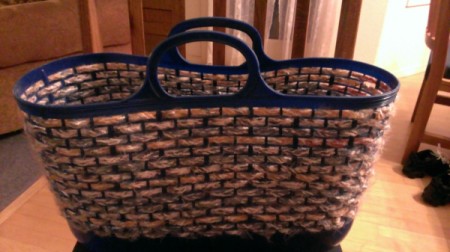 Read More...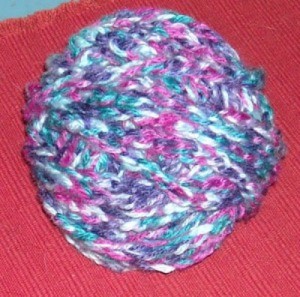 I didn't realize it till this weekend, that several of you have asked for ideas for making things with a ball of crocheted chain. I apologize for not keeping up to date with you and for that, all I can say is better late than never, right? So, here goes.
When you have made your chain, you simply have to get a hook bigger than you did the chain with and pick a project. For instance, for a hot pad (don't make a pot holder as the gaps between the stitches are too large to keep your hands protected), make a chain the size of the work you want to do, in an even amount, then make a single crochet in the second chain from the hook, chain one, and make a single crochet in every other stitch.
You may have to redo it by adding one chain to the work if you end up with your last single crochet not in the end stitch. It should be in the end stitch on the chain, or the actual "first" chain on the hook before you turned. Keep going till you have a square, cut and bind off.
For a place mat, make it about 14 inches long and keep going until it's as tall as you want it.
For a basket, chain 3 and work about 12 double crochets in the first chain by the hook. Join that circle and chain 3. Make one double crochet in each of the previous row, but in every 3rd one, make two. this will help keep your basket base flat. Join, chain 3 and make two double crochets in every 2nd and 1 in every other. By the time you get this base done, you should have something about 6 inches in diameter, but if you don't, don't worry. Everyone has different tensions when they crochet, and if your base yarn in bulky, your chain yarn will yield something even bulkier.
For the rest of the rows, chain 3 and make one double crochet in each of the previous row, and your basket will begin to 'bow' and stand up on the sides. Your size of basket will depend on how far up the sides you go, but keep in mind that a lower one is more sturdy and you can keep some cool things in it. like balls of yarn or crocheted yarn. What a concept, huh?
When you make your chain, just keep in mind that you are basically just creating a thicker medium to work with. For the most part, any pattern you work with will work, but it will be much bigger and thicker.
These crocheted chains make wonderful plant hangers, can be wrapped and hot glued around hangers, work well for rugs, are great for the casserole carriers you see, make wonderful bags if you keep it single crochet and nice and tight, and more.
I hope this helps. Your late friend, Poor But Proud
Source: Update from a craft idea I submitted in 3/09.
By Sandi from Yorktown, VA
Editor's Note: Sandi's original post is archived below.
August 15, 2017
0

found this helpful
Using a simple crochet stitch you can make these interesting photo frames for hanging on the wall. This is a guide about how to make spiral yarn photo frames.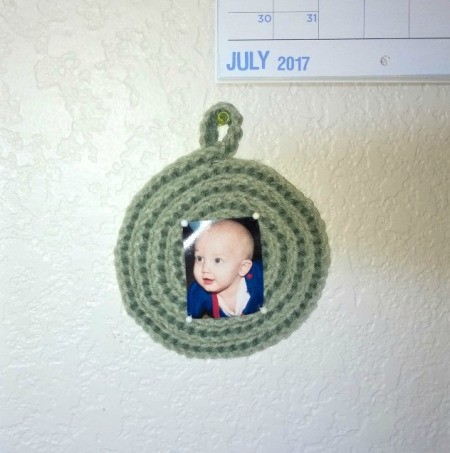 Questions
Ask a QuestionHere are the questions asked by community members. Read on to see the answers provided by the ThriftyFun community or ask a new question.
My daughter and her friend were learning to crochet and have made a bunch of chains. They were wanting to make rugs, like the braided rag rugs. I was wondering #1 how to make them and #2 how would you join the rounds together. The chains are yarn not cloth. Any help would be appreciated.

Thank you,
Dahart from Durango,CO
Answers
October 3, 2007
0

found this helpful
You could zig zag each row to the other on the sewing machine. Or use hand stitching back and forth from one row to the other hiding it so as not to see the thread. I've seen braided rugs like that. The stitches are very evenly spaced.
October 4, 2007
0

found this helpful
I think that I'd take several chains (not just three) and actually braid them together to make the rug thicker. Just tie the chains together with yarn, but make sure to use square knots so they don't come undone. Once you have long braids, just turn them on a flat surface (to make sure they'll lie flat and not buckle), and whip stitch them with more yarn. Make sure you use the same type of yarn--don't mix acrylics with wool blends which will shrink. As you attach different colors, the rug will change and it will look much like a crocheted scrap rug.
If there's not enough for a rug, you can make pot holders or hot plates/trivets from them too. I'm sure the girls might enjoy giving them as gifts that they made themselves.
If they get really good at crocheting, instead of braiding rugs, they could take the chains apart and use several yarns in varying colors at the same time to actually crochet a rug that doesn't have to be braided. Working it in rows will probably be easiest for beginners. I've made several of these with yarn scraps and a jumbo hook. They last forever and wash really well. I crocheted with at least 6-10 yarns at a time. As I ran out of a color, I simply attached another one, so the rug changed colors gradually. The jumbo hook with the 10 yarns made the crocheting go really fast.
October 4, 2007
0

found this helpful
I like susanmajp's idea of putting 3 chains together to make one strand and then braiding 3 strands together. You could also pin 12 or so chain ends to an ironing board or pillow and braid them together. You can find instructions on the internet for braiding more than 3 lengths at a time.
Answer

this Question

...
January 26, 2014
0

found this helpful
In your article on chained hot pads, how much yarn does it take for a hot pad and how much for a rug? The article was called crocheting with chains.
By Helen
Answers
February 5, 2014
0

found this helpful
Sorry for the delay. Feeling under the weather but coming back strong. Okay, it takes 36 stitches in a chain to make about 1'. That takes about 4' of yarn.
So, I measured out 3 yards of chain and that made a base row of 16 with a K size hook, and got another two rows on it.
So, the math works out to be this: 4' of yarn makes 1' of chain, which makes about 6" of bigger chain. What I would do is make a bunch of chain, and make sure you begin with the beginning of the chain.
In other words, always have the "working end" of the chain as what you work on last. That way, if you don't estimate perfect, it's easy to just keep adding more. It's not that hard to if you get the beginning end of the chain last, but the stitches will be in the opposite direction. That might be an issue for you so that is my advice.
I sure hope this helped. Please let me know if I can do anything else... PBP!
Answer

this Question

...
Archives
ThriftyFun is one of the longest running frugal living communities on the Internet. These are archives of older discussions.
November 11, 2009
0

found this helpful
Uses For Yarn Chains
I often sit and watch TV with yarn and hook in hand. When I don't have a project going, I just hit the yarn and make a chain and I keep going till I run out of yarn. Some of my chains are about 60 feet long. I then roll them into a ball or several balls and put them in a nice bowl or basket.
Now, that in itself is fun and pretty to do, but it's not the only thing you can do with it. I take a large "Q" hook, and make other things with the chain, as if it were just yarn. Some of the easiest projects are rugs, place mats, hotpads, and things that are flat.

But, don't let that stop you from making baskets, plant hangers, chair pads and so much more! The effect is very unusual and "knobby" for lack of a better word, so it's great for those country accents. Enjoy!

By Sandra from Salem, OR
Related Content