Gardening is my passion and I grow lots of butternut squash and pumpkins. The fastest way to use them after picking is to soften them in a pressure cooker. I do two at a time, or one if the pumpkins are large.
First cut them in two and remove seeds. I have found the best way to remove the seeds is to use an oval ice cream scoop. Add water to the bottom of a baking pan, put in a rack, add pumpkins or squash, then cook for approx 5 minutes after red button pops up. Cool down. Remove skins, then puree in a food processor. Then it can be used in your recipes. These make yummy pies, custards, cakes, or bread.
By nelliemary from WV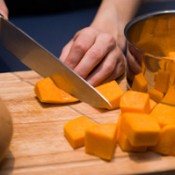 You can get great deals on pumpkins this time of year. Do you have any tips or recipes for using pumpkins? Also, do you have any tips for selecting pumpkins to eat? Post your ideas below.
Answers
October 31, 2008
0

found this helpful
use equal parts pumkin,potatoes,1 onion,stock of choice boil the puree makes good soup excellent to freeze can thin using cream or milk
October 31, 2008
0

found this helpful
Try making Pumpkin Butter, just cook and mash the pumpkin to make your own puree beforehand. Great for Holiday Gifts too! :)
October 31, 2008
0

found this helpful
Cooked and pureed pumpkin alone has a very subtle flavor and therefore can be added to just about anything! Mix it into breads, sauces (Spaghetti sauce is a great one!) and just about anything. Be creative!
I haven't tried it yet, but I heard adding cooked/pureed pumpkin to hot cocoa makes a more creamy texture (not to mention all the vitamins)
November 1, 2008
0

found this helpful
baked spare ribs with sweet potato and pumpkin
serves 4
4 pork spare rib chops
450g of pumkin
450g sweet potato
1 red pepper
1 onion
570 mln of chicken stock
salt/pepper few spings of thyme
and hot chilli sauce (optional)
cut away the pork chop rind
peel and dice the pumkin and sweet potato into similar sized cubes
deseed the pepper and dice into squares
peel and finely chop the onion
mix all the veg into a ovenproof dish and cover with chicken stock season and add the thyme and chilli sauce if using
cover and cook for about 2 hrs removing pan lid about 30 mins before end of cooking to brown the chops.....enjoy
By Linda in the kitchen (Guest Post)
November 1, 2008
0

found this helpful
I like to put a whole "cooking" pumpkin in the oven at about 300 degrees F and cook it for an hour or two, until it smells good and the shell breaks when I press on it. I take it out and let it cool, then cut it open. I separate the seeds for roasting and scoop out the cooked pumpkin. It is so much easier than trying to skin a raw pumpkin.
Now if I can only think of something to do with that lovely hard shell.
Answer

this Question

...
I was given three BIG pumpkins (aka jack-o'-lanterns) that were on sale after Halloween. I would really like to use them to make pumpkin pie for Thanksgiving but have been told that they are NOT the right type. There has to be a way to use them, maybe not as pies but as other food type things. I am really trying NOT to waste food at all, as we have gone hungry in the past.
Answers
November 14, 2008
0

found this helpful
I've used jack-o-lantern pumpkins for cooking... as far as I know, the only difference is that they don't have as much flavor as pie pumpkins.
You could make pumpkin butter... bake or steam hunks of the pumpkin until they're soft, then puree in a blender. Put it in a crock pot with cinnamon and whatever other spices you like, and cook it with the cover off until it's reduced by about half.
November 14, 2008
0

found this helpful
I have also cooked many times with your type of pumpkins. I cut the pumpkin up, scraped out the innards, and steamed the pieces until they were soft. I scraped the cooked "meat" from the skins, pureed it in a blender (or you could run it through a food mill), and froze it in one-cup or two-cup quantities, as this is what most recipes seem to use.
I did notice it would be a bit watery when I thawed it, so I just plopped the thawed pumpkin into a sieve to drain before I used it. It was excellent in everything I used it for!
November 14, 2008
0

found this helpful
I have used these kinds pumpkins for pie, bars, cookies, anything that you need pumpkin for and it didn't seem to matter that they weren't the "right type" of pumpkin.
I just cut the pumpkin in quarters and scoop the seeds and pulp out. Place in pan with water so it doesn't burn and cook in the oven on 300 degrees for an hour or so. When soft peel the skin off and chop with chopper or blend in blender and freezer in containers (the amount you would need in a recipe).
Even though it is watery when it thaws I use the whole amount and don't bother draining it.
November 17, 2008
0

found this helpful
You can use these for pies, or muffins or anything else that you would like to make with them. Sometimes they are even better flavor than Pie pumpkins. It just depends on the year and the type of pumpkin. There are many different kinds.
November 17, 2008
0

found this helpful
I've used my pumpkin as a slow cooker. I cut out the top as you would for a jack o lantern and scooped out the inside seeds etc. I then added all of the ingredients for a chicken stew with only a little tiny bit of broth. I then cooked it in a 350 oven for about five hours. I served the stew along with some of the cooked flesh right from the pumpkin at the table. It was very tasty but also had the added benefit of using and eating the pumpkin. It is important to only add a tiny bit of liquid because the pumpkin adds a lot as it cooks.
By Dahart (Guest Post)
November 18, 2008
0

found this helpful
Thank you all so much I will be doing this next week so I really appreciate your advise. Dahart in CO
November 18, 2008
0

found this helpful
This year we were given 13 (jack o-lantern) type of pumpkins, I too didn't want to waste them. We removed all the seeds -which we cleaned, boiled in a light salt water, drained and then baked until crisp for snacks. Then peeled and chunked into pieces with a little bit of water and steamed away, I used a 18qt nesco cooker and did this in batches over 2 days. We then pureed the pulp and froze 32 quarts of pumpkin in food saver bags. They lay nice & flat. We then took the last 10 qts of pumpkin puree and cooked over night with cloves, allspice and cinnamon for the best pumpkin butter ever! Which some we have refig and rest froze in mason jars. Now ready to use whenever I need it. No more store bought for us. We also composted the scraps that were left. No wasting here. We are making pumpkin roll and pumpkin pie for the holiday. Enjoy!
By Deeda in Seattle (Guest Post)
November 18, 2008
0

found this helpful
This was on a feedback a few weeks ago. I had a very good experience by washing the whole pumpkins (2 volleyball sized ones) and cutting multiple x's with a knife at the top, and, placing them in a cookie sheet and baking them for about 2 hrs at 300 degrees. I let them cool, then easily (like butter) cut out huge chunks, easily removed the stringy stuff and seeds (no goop) and cut the rind off as I would a cantaloupe.
I put cooked chunks in a colander over a large bowl to drain (very wet). Lots and lots of pumpkin! I dragged out my food processor and grated it all. We made the best pumpkin bread ever (1 3/4 cup = 15 oz canned pumpkin) and pumpkin butter. It was so easy I bought 2 more similarly sized, to make more. I know what everyone is getting for Xmas this year! We still froze bunches of the puree in freezer bags for the rest of the year, too.
By Irene, Florida (Guest Post)
November 18, 2008
0

found this helpful
I have always used my "Jack" as my pie source for the past 20 years. I steam it until soft; then place inside a cheesecloth "pocket". Twist and squeeze out the excess water. If it seems less than tasty I just up the amount of spices used by 1/4 or 1/3. Family loves it when I use extra pie crust to cut out a jack-o-lantern shape for the presentation. Enjoy.
Answer

this Question

...
I have a lot of smallish pumpkins. I noticed that all the cans of pumpkin say, "pure pumpkin", so I need some help. What is the easiest way to process those pumpkins for baking? I need the pumpkin mash for pie filing, as well as, muffins, scones, and quick breads? Thanks in advance for your help with this.
By Sally from Chewelah, WA
Answers
November 10, 2009
0

found this helpful
Finally a question that I know the answer to! I bake fresh pumpkins all the time because that's the only way my family likes pumpkin. None of that canned stuff for them!
I cut the pumpkin into wedges (like an apple), scoop all the insides out (seeds, etc,), put it all into a roasting pan and add a little water to the bottom. Cover the pan and roast until tender. I think I set the oven at about 350. How long it will take depends on how small the pieces are. When the pumpkin is fork tender hold it skin side down in one hand and scrape the "meat" out with a spoon held in the other hand. Use a potato masher to mash up the meat or you can use a food processor but I find this makes it too mushy for our taste. I pack it into freezer bags in 4 cups to the bag. This fits my recipe for 2 pies. there's no need to make only one pie for my guys!
November 10, 2009
0

found this helpful
Glenn's Mom,
Can you use any kind of pumpkin? I heard you should use pumpkins that are grown for eating. Rose
November 11, 2009
0

found this helpful
If the pumpkins are real small they are not pumpkins they are gourds.
November 11, 2009
0

found this helpful
I use whatever pumpkins I can find. Some are "pie pumpkins" and some are for carving. I think the pie ones are probably sweeter but I can't really tell the difference.
November 14, 2009
0

found this helpful
Cut the pumpkins in half and scoop out all the "stuff". Lay them cut side down on a baking sheet and bake at 350 F. until you can stick a fork into them easily.
Let them cool enough to handle then turn them cut side up and scrape out the flesh with a spoon. To smooth the flesh out more for use, run it in a food processor until smooth, I like to put it in one cup measures in baggies in the freezer or make up pie fulling without the eggs and freeze it in baggies measured for each pie. Just thaw, add eggs, and pour into crust and bake! Easy...as pie!
Answer

this Question

...
Can I use a regular pumpkin that you see all over for making pumpkin pie or soup? I heard there are different types of pumpkins and the one we use to carve as Jack-O-Lanterns are not good for cooking.
By Rose Smith from Malvern, PA
Answers
November 2, 2011
0

found this helpful
That is correct. The best ones to use for cooking/pies are the Sugar Pumpkins. These can usually be found at a local farmers market or farm. They make wonderful pies so it's definitely worth it!
Read More Answers