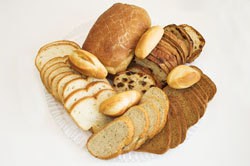 Selecting High-Quality Breads:
If purchasing bread or bread dough for freezing, be sure to check the "sell by" date on the packaging to make sure its fresh. Frozen products, including dough, should be frozen rock solid in air-tight packaging that contains no rips or tears. Allow fresh baked breads to cook completely before freezing.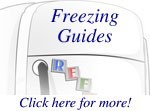 Freezing Materials:
Use freezer-grade plastic bags, wraps, freezer paper or heavy-duty aluminum foil for packaging bread and bread dough for freezing.
Freezing Batter Breads (Crepes, Pancakes and Waffles) & Batter:
Stack left-over crepes, pancakes or waffles between sheets of wax paper and slide them all into a plastic bag for freezing. Keep them frozen for up to 3 months at 0ºF. Transfer them from the freezer to a hot oven (2-3 minutes) to reheat. Left-over batter can be poured into an air-tight container and frozen for up to 1 week at 0ºF. Store commercial pancakes and waffles at 0ºF up to 3 months.
Freezing Biscuits:
Prepare and bake as usual. Once cool, wrap them in a freezer material or freeze biscuits on a tray or cookie sheet and store in plastic freezer bags. Freeze pre-cut biscuit dough for later baking. Store baked and unbaked biscuits for up to 3 months at 0º.
Freezing Crackers and Crisp Breads:
To keep their crisp texture, crackers and crisp breads much be protected from moisture during freezing. Double wrap them so you can unwrap only what you need to use at one time while keeping the rest protected from air and moisture. Freeze crackers and crisp bread for up to 6 months at 0ºF.
Freezing Muffins:
Wrap muffins in heavy-duty aluminum foil or set trays of muffins in the freezer until firm and transfer them to plastic bags for freezing. Store muffins from 6 to 12 months at 0ºF. Muffin batter can be frozen right in the tins for later baking. Store batter up to 3 weeks at 0ºF.
Freezing Nut and Fruit Breads:
Prepare and bake as usual. When cool wrap in suitable material and freeze. Store baked fruit and nut breads up to 4 months at 0ºF. Batters can be wrapped and frozen right in the pan. Store up to 3 weeks at 0ºF.
Freezing Yeast Breads:
Hard Crusted Breads:
Hard-crusted breads like French or Italian loaves should be wrapped loosely in freezer material to allow air to circulate around them. Thaw at room temperature while still in wrapper. Before serving, place hard-crusted breads in the overn at 400ºF for 4 to 5 minutes to bring back crispness. Store for up to 6 months at 0ºF.
Soft-Crusted Breads:
Soft crusted breads like tortillas, pita bread or sliced yeast breads can be prepared and cooled as usual, wrapped in freezer material and frozen. They should last from 6 to 8 months in the freezer. At 0º.
Freezing Bread Dough:
Unless you're using a dough commercially designed for freezing or a recipe developed for freezing, it's usually better to bake bread and freeze it rather than to freeze bread dough. Commercial frozen bread dough should be stored at 0ºF and used by the date on the label. Vacuum packed refrigerated bread dough should not be frozen because it is packaged under pressure and will burst during freezing. Remove wrapping and thaw frozen dough at room temperature. Shape dough for baking and let it rise until it triples in size before baking.
Thawing:
In general, yeast breads and quick breads can be completely thawed at room temperature or partially thawed in a microwave oven (times will vary according to bread density and microwave oven). Bread partially thawed using a microwave should be allowed to finish thawing at room temperature to avoid drying out edges. If necessary, wrap bread in foil and place in a 400ºF over for 3-4 minutes to restore crisp texture before serving.