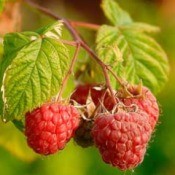 Planning Tips:
Depending on the variety grown, raspberries can be harvested from early summer through fall. Once you decide on a variety suited to your zone, select a cultivar designed to bear fruit when you want berries. Since viral diseases are the number one problem for raspberries, select plants from a reputable nursery that are disease resistant and certified virus-free (virus indexed). Raspberries are self-fertile so you can get by with one plant to get a full crop of berries. Expect to pick your first crop anywhere from 8 months to 2 years after planting depending on the variety. Mature plants can produce from 4 to 6 pounds of berries per year.
Site Preparation:
Select a site with full sun and soil high in organic matter. Raspberries prefer acidic soil with a pH of 5.5 to 6.5. Avoid low areas prone to frost or standing water and site where berries or plants from the tomato family have been grown before. Wild raspberries can harbor viral disease and should be located no closer than 600 feet from the site or removed altogether.
Planting:
Plants should be set into prepared holes at least 2 inches deeper than grown in at the nursery. Space plants at 3 feet intervals in rows and space rows at least 7 feet apart. If necessary, erect cane supports before setting plants. Keep the row between plants free from weeds by planting and mowing grass or heavy mulching.
Care & Maintenance:
Raspberries canes can be supported with a trellis or wire strung along posts in the ground. When and how to prune your plants will depend on the variety you're growing. Fall bearing raspberries are generally cut to the ground after harvest. Summer bearing plants are pruned twice per year, once after harvest, and again in the winter to thin canes and remove dead growth. Black raspberries need pruning three times per year-once when canes reach three feet tall (pinched back), once after harvest and again in the winter. Keep raspberries adequately watered from the time flowers form through the harvest season.
Harvesting & Storage:
Raspberries should be picked when they are thoroughly ripe. When berries are ready for harvesting, they will feel soft and separate easily from their core. Handle them with care as they are easily crushed. Pick them early in the morning while it's still cool. Berries will ripen unevenly so check your patch every other day to prevent berries from becoming over-ripe. Raspberries are extremely perishable. They will keep for only 1 day in the refrigerator and just 3 or 4 days when kept at slightly colder temperatures (31 to 32 F)
August 17, 2010
4

found this helpful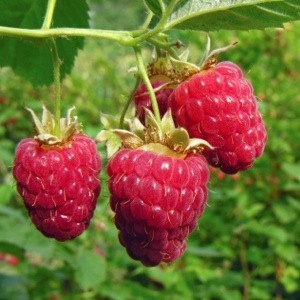 Nothing is sweeter than popping fresh raspberries into your mouth straight from the bramble patch. The key to getting the biggest berries and the biggest yield from each plant is understanding what they need, and how they produce. Here's what you need to know to start growing raspberries.
Raspberries come in a multitude of varieties and colors. Varieties have been developed to grow in nearly all climates (zones 3 through 9). Depending on the variety you choose, you can harvest raspberries from early summer until mid fall-with mature plants producing 4 to 6 pounds of berries per season. Available colors include red, purple, black, and yellow. Because raspberries are self-pollinating, you can plant just one type of cultivar and still expect a bountiful harvest.
Plants can be purchased in pots or as bare-root plants. Because viral infections are the number one disease problem in raspberries, it's best to buy certified virus-free stock from a reputable supplier rather than acquiring plants from friends or neighbors. Ask local nurseries to recommend cultivars known to grow successfully in your area. Then ask them which, if any, pests and diseases you need to be on the lookout for. The roots of bare-root plants should be soaked for two hours before planting. Cut the canes to 2 inches above the ground and space plants 2 to 3 feet apart, leaving 6 to 7 feet between rows.
Raspberries prefer full sun and acidic soil. They can tolerate both heavy and light soil, as long as it drains well and has an acidic pH of 6.5 or lower (ideally between 5.5 - 6.0). Fertilize them in the spring and dress them with compost after harvest. Avoid planting them in low spots where frost settles or water puddles.
Training makes cane management easier. Stakes or trellises should be set up before you plant to avoid injuring small plants. Most plants grow 5 to 6 feet high, so for each row, stretched wire between posts (every 3 feet off the ground) and tie the canes to the wires using soft ties. Individual plants can be supported by a single post.
Pruning raspberries depends on when they produce. Raspberries bear fruit in the summer (summer-bearing) or the fall (fall-bearing, also called ever-bearing).They are unique in that their crowns and roots are perennial, but their canes are biennial.
Summer-Bearing Red Raspberries: In the fall after the last harvest, cut off all the fruit-bearing canes at ground level. In March or early April, thin by removing weak, diseased, and damaged canes at ground level. Leave only the strongest canes spaced about 6 inches apart.

Fall-Bearing Red Raspberries (for one crop): Simply cut all of the canes down to the ground each spring. You'll only get one late crop of berries this way, but the crop will be larger and you won't have to try to determine which canes are two years old.

Fall-Bearing Red Raspberries (for two crops): Prune fall-bearing raspberries in the spring. For maximum yields, completely remove all the fruit-bearing canes from the previous midsummer. These can be hard to tell apart from the new canes (look for old, cracked wood and lateral side buds present farther down the cane). Leave enough new canes (canes with lateral buds present only at the tips) to produce a late, first summer crop.

Yellow Raspberries: These come in both summer and fall bearing varieties. Prune them in the same way you would summer and fall bearing reds.

Black or Purple raspberries: These raspberries need pruning three time a year. When the new canes reach about 3 feet tall, pinch 3 to 4 inches off the tips to encourage the development of lateral (side) shoots which results in more berries the following season. In midsummer, cut the fruit-producing canes off at ground level after harvesting. Finally, in late winter or early spring, remove the weak and unproductive canes (leaving the most vigorous), and trim back the side branches to 10 to 12 inches.
Diagnostic tool for troubleshooting berry crops. The Cornell University Department of Horticulture's website features an excellent diagnostic tool to help gardeners diagnose problems with berry crops. Use it to identify problems with raspberries, strawberries, blueberries, blackberries, and ribes. http://www.fruit.cornell.edu/berrytool/index.htm
August 15, 2011
0

found this helpful
What do I do with raspberry canes after they have fruited?
By Sandra
Answers
August 16, 2011
0

found this helpful
If you bend the tip down and cover it with a little earth, you will have a new cane for next year. I have read that cane only produce fruit one year, but my canes haven't read that. The canes are not long lived, only a year or two at most. The new canes are white and will be your source of fruit next year. Old canes turn brown and die. Those you can cut. Hope this helps.
August 19, 2011
0

found this helpful
I grew red raspberries for many years. What I did was during winter after the leaves had dropped I cut out all dead canes. These are the canes that fruited. Cut them as low as you can. After I cleaned out all the dead canes I cut what was left knee high. Always had plenty of fruit and your planting will not get out of hand. Even doing this you will have to transplant and start a new row every so many years. Start a new row one year and the next year get rid of the old row after fruiting. This is because an old row will get hard to handle.
Answer

this Question

...