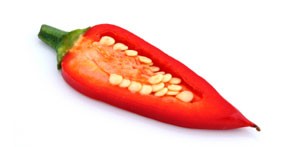 Question:
I am looking for information about growing chili plants from existing fruit, seed storage and drying to get the seed.
Rajh from Australia
Answer:
Rajh,
Saving chili pepper seeds is easy. You don't mention where you're getting the existing fruit.
If you're getting is from existing plants, allow some peppers to stay on the plants until they pass maturity and start to shrivel up. Then simply remove the seeds (they don't usually require any cleaning), and lay them on a cookie sheet to dry in a warm, dark place. Once fully dry, store them in an airtight container until planting them next season.
Peppers saved from store bought peppers can be saved in the same way. If you are buying peppers from the produce department for seeds, you need to keep two things in mind. First of all, most peppers in the grocery store are hybrids so the seeds may not produce peppers that are true to the parent plant. Second, peppers from the produce department may have been treated with certain chemicals during production. These chemicals can sometimes render seeds sterile. If you're looking in the produce department for peppers, head toward the organic department to minimize the probability of chemically treated fruits.
If you want to start some plants with the goal of saving seeds, stick to heirloom seeds and avoid the hybrids, which may not breed true to their parent type.
Ellen
March 13, 2007
0

found this helpful
To dry chili peppers from our garden after the peppers are picked from the vine, all we do is put them in a mesh bag (we save the bags from oranges, etc. from the store) and then hang the bag to dry the peppers. We hang ours in the garage where there is more air circulation with the windows open and the gargage door is often open when we are home. The chili peppers become brittle, and I store them whole in a canister. At this stage, because they are so brittle, the seeds are loose, so removing the seeds is simple. Just snip off the end of the pepper and they fall right out. They then should be planted the following growing season. We start our seeds inside because peppers do take longer to grow. Good Friday is the ideal time to start pepper plants inside for us, as we live in a northern climate. Just be sure while handling the seeds to wash your hands well afterward, or wear plastic disposable gloves, because they are HOT and can burn your skin and also your eyes if you forget and rub your eyes! One more thing, after the young plants grow inside and are quite tender, it is good to toughen them up gradually after they reach a height of several inches by setting them outdoors, increasing the time they are outside a little every day until they can be set out for almost the whole day so they will be healthy and hardy when it is time to set them in the garden. To water them inside, all they need is a mist spray of water every day, enough to wet the soil to reach the young roots. We cover them with plastic (saran wrap) to hold in the moisture after misting, until they sprout, at which time we remove the plastic. I hope this information helps! It's fun to start plants by seed... enjoy and good luck.