A welcome treat for winged winter visitors, this suet/birdseed wreath is a fun and easy project to do with kids.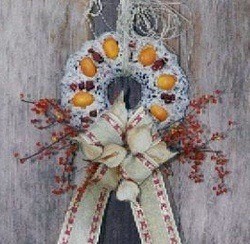 Approximate Time: 1 hour active time (doesn't include cooling down)
Supplies:
approx. 5 lbs. beef suet
cranberries, kumquats
bundt pan
mixed birdseed, about 2 lbs.
roasting pan
raffia, ribbon, and/or other decorations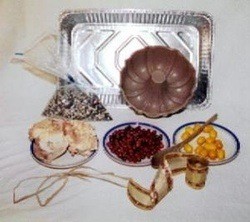 Instructions:
Preheat oven to 375 degrees F.
Chop suet into large chunks.
Place suet in roasting pan and bake until fat has rendered.
While suet bakes, place cranberries and kumquats in channels of Bundt pan.
When suet has melted, mix with birdseed.
Ladle a few spoonfuls over the fruit, being careful not to dislodge, then pour remaining mixture over fruit.
Place in a cold place until hardened and solid.
Unmold (place Bundt pan in sink with a few inches of hot water to make this easier).
Decorate with ribbons, berry sprays, pods, or dried leaves.
Hang in a cold place that doesn't get a lot of sun. Suet WILL melt!
Enjoy the colors and busy antics of winter guests all day long!
By Marilyn from Milford, NH
Read More

Comments
I saw some hanging bird seed feeders, like the bell shaped ones but these were shaped like eggs and hung from colored bits of yarn. I thought they were very clever but I am not willing to pay $12 for a dozen. I was wondering if I could make them but upon searching the internet I couldn't find a glue like substance to use to hold the seed together in the desired shape. I am not wanting to use suet or peanut butter. Does anyone have any ideas what I might be able to use that wouldn't be harmful to birds but allow the seed to be "glued" together in a shape?
Sandra
Answers
August 22, 2005
1

found this helpful
Corn syrup?
By P. (Guest Post)
August 23, 2005
0

found this helpful
Mix two egg whites per cup of birdseed (or thereabouts) with the seed, place seed in whatever mold that you are using and bake in a very cool oven (150 deg F.) for 60 to 90 minutes. It might be helpful to line your mold with microwave-safe plastic wrap or a plastic oven bag to keep the seed from sticking. For hanging, place a piece of wire, string, or yarn in the middle of the mold as you fill it with the birdseed/eggwhite mixture. See this link for more info: www.theaviary.com/seedbell.shtml
October 3, 2005
0

found this helpful
I believe that what they use to keep it all together is something called suet. It is kind of like a lard. I believe that you can buy it at places where you get bird seed stuff. You just melt it, add in the bird seed, sunflower seeds and whatever else, place into some type of mold and let it harden back. Hang with a wire.
By Michelle (Guest Post)
November 9, 2008
0

found this helpful
Well, you can't use something that has salt in it because salt is bad for any kind of bird. Unless your bird needs a special kind of seed you could find a kind of seed that is formed like a stick. You could hang it right in the cage. If you want it in a different form than I can't help you.
January 5, 2014
1

found this helpful
Plain, unflavored gelatin (such as Knox) works well to glue birdseed together. We mixed some up, stirred it together with birdseed and molded into cookie cutters with a bit of ribbon at the top for hanging. Let them dry for a few days, pop them out of the cookie cutters and hang outside. A little messy, but fun and they look cute on the tree outside.
August 6, 2020
0

found this helpful
As we know smaller bird cannot digest fats in their body system hence u won't know whether those birds will come by again..
Answer

this Question