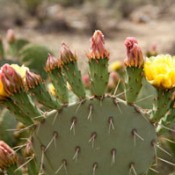 Question:
I have recently purchased some seeds for cactus. I have seen them growing here in KS, so I know it's possible. My question is, how to start cactus? How about soil, or should I just use rock to plant them in? I love cactus, but this is my first attempt to grow some. Any help would be great! Thanks.
Hardiness Zone: 6a
kandomom from Leavenworth, KS
Answer:
Kandomom,
I remember seeing some pictures of wild cacti growing outdoors in Kansas. They were a type of native prickly pear cactus, which are native to the United States (east of the Rocky Mountains) and can still be found growing in the wild in parts of the Midwest and Eastern U.S. Here is an interesting link with more information on native prickly pear cactus.
Depending on what kind of cacti you're trying to grow, the biggest obstacle you are likely to face when starting them from seed is patience. Some types of cacti can take up to a year to germinate, while others sprout in as little as a few days. Once you get them started, cacti are fun and relatively easy to grow. Just don't be in a hurry to see them reach maturity. At times, the rate at which they grow can seem impossibly slow. Then once you coax them into flowering, you'll be hooked for sure!
Most cacti grow best in full sun (to light shade) and prefer sandy soil. If your seeds are rated to grow outdoors in your zone, you'll want to start them now (April/May) so they have chance to grow and become established before winter. I would recommend starting them indoors where you can control germination conditions. Start them in shallow dishes filled with a moist, commercial cactus mix. Sprinkle the seeds on top, but don't cover them. Most succulents need light to germinate. Press them lightly into the soil with the bottom of a jar, just enough so they make contact with the soil. Some cactus seeds are fine-almost like dust. If you feel you need to, you can always sprinkle a tiny bit of sand over the top of the seeds to help anchor them. Cover the dish with a plastic bag to help keep the soil mix humid.
Good luck!
Ellen

Marjorie
Silver Feedback Medal for All Time! 290 Feedbacks
April 16, 2008
0

found this helpful
I know that you need very sandy soil which provides a lot of drainage for cactus. I purchased a small cactus from a flea market that finally died. The cactus starting rotting at the bottom probably because of too much water and dampness.
You can buy special cactus soil in the gardening department. Google "Grow your own cactus," and you should be able to learn a lot from the internet.
By denise w (Guest Post)
April 19, 2008
0

found this helpful
I did this and oh how fun! I took a plastic container and put a thin layer of sandy soil in the bottom. I added water to make moist not wet!. I then put seeds on top of soil and covered with top that I had poked holes in and set in a sunny window. It takes about a month to 2 months to see anything and I checked it ll the time.
What happens is the water and heat create condensation and it rains on the seeds causing them to take root. Then after they have grow (it takes about a year to get them about an inch high), you wear gloves and transplant into a pot. I keep them in my window so i don't forget to water. Good luck.

May 6, 2008
0

found this helpful
Hi Denise, I am a cactus grower never have had luck with seeds until this year and what I did I went and bought a betta fish tank and took cactus soil that I bought from Wal Mart and took a chopstick and planted my seeds and took a little more cactus soil and lightly placed it over my seeds and have left the light on from the time I get up until I go to bed and boy do I have seeds so just a suggestion have fun all of my seeds have outgrown the fishtank going to have fun trying to transplant them Donna