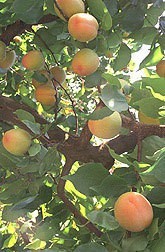 Planning Tips:
New trees should be planted in the early spring. They can be planted in the fall in mild areas if the trees are dormant. When selecting trees, look for trees that are least 1 year in age. Trees are self-fertile (they do not need other trees nearby to cross pollinate with in order to produce fruit), but tend to produce more successfully if planted near other varieties. Trees begin producing fruit when they are 3 to 4 years old- 3 to 4 bushels from standard varieties and 1 to 2 bushels from dwarf varieties.
Site Preparation:
Apricot trees need a site with full sun, and can tolerate a wide range of soils as long as the soil is well-drained. Trees grown in northern regions benefit from being planted on the north side of buildings so trees stay cool as late as possible into the spring.
Planting:
Standard-sized apricot trees should be planted at least 25 feet from other trees. Dwarf varieties can be spaced between 8 and 12 feet apart. Keep an area about 4 feet in diameter free from weeds and grass during the early stages of growth. Mulch newly planted trees with several inches of organic material, leaving 3 to 4 inches around the base of the trunk free of mulch.
Care & Maintenance:
Trees will benefit from an application of nitrogen fertilizer in the spring. Young trees should be trained to have an open center (leader trunk removed), with many well-spaced branches that are capable of bearing their heavy fruit without breaking. Shoots and suckers should be pruned annually to encourage the growth of fruiting spurs. If the tree sets a crop of fruit and no thinning is done, the overall size of the fruit will be reduced when it comes time to harvest.
When fruits reach 1 inch in diameter they should be thinned to 3 to 4 fruits per cluster to increase the overall size of the remaining apricots. Watch for common fruit pests and diseases in the spring and fall.
Harvesting & Storage:
Apricots are harvested before fruit has fully ripened on the tree. The fruit is ready when it has attained a uniform color and the skin gives slightly when pressed. Harvest season peaks in July or August depending on zone. For best taste, apricots should be allowed to ripen fully before use.