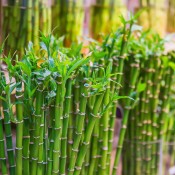 Question:
I have bamboo curly stalks growing in a vase of water with glass stones. Can it be transplanted outdoors in the Ohio area? Thank you.
ridgewayyvonne
Answer:
Hi Yvonne,
It sounds like you're asking about Lucky Bamboo, which is really not bamboo at all, but a tropical plant from the lily (Liliaceae) family called Dracaena sanderiana, common name, Sander's Dracaena or Ribbon Dracaena. This Dracaena has recently enjoyed a surged in popularity, after successfully being marketed as an aquatic bamboo plant. They are usually sold in vases of water filled with colorful rocks or stones, and advertised and as the perfect merging of the elements of water and wood in the ancient Eastern practice of Feng Shui.
This species of Dracaena is native to the rain forests of West Africa-places like Cameroon and the Republic of Congo. Although it can live in water for long periods, it is not an aquatic plant. Given the proper conditions, it actually grows better in soil-as nature intended.
In its native habitat, Lucky Bamboo settles in the loose, fast-draining soils of the rain forest, where temperatures are hot and the humidity is high. Unfortunately, the growing conditions in Ohio do not provide the heat or the humidity that these plants need in order to thrive outdoors year round. That said, I suppose you could try growing your Dracaena outdoors in a container over the summer, as long as you bring it back indoors when temperatures cool down-and by cool down, I mean drop below 65ºF-70ºF.
If you try it, make sure you use a soil that drains well. You will need to keep the roots moist, but not soggy, and keep the plant in a bright spot, but out of direct sunlight. If you're not up for the babysitting this would require, you are probably better off growing your plant indoors.