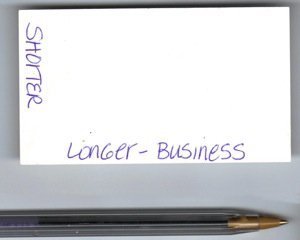 I was going through some old business cards thinning out the desk today. I came across clear file tabs at the same time.
I noticed that the shorter edge of the card was the same width as the shorter tabs, and the length of the cards were the same as the longer tabs.
This seemed like a wonderful way to recycle the cards.
With the subject written on the card before I trimmed, I was able to use five or six the shorter width, and 4 the longer width.
They are stiffer than paper, and if you are going to recycle them anyway, why not use them a second time!
By Sandi/Poor But Proud from Salem, OR
Read More

Comments