Plastic knives are the least used in sets purchased or given with to go meals. They make handy stir sticks for coffee, etc. They also are useful as garden markers. You can write on them with permanent marker or nail polish.
By Kathy from Florence, CO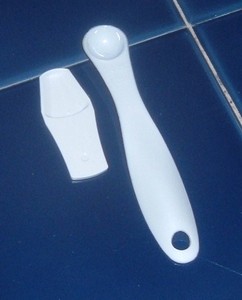 You can think of this as being frugal, and recycling, too.
I had never had any Ben and Jerry's ice cream before. I know, insane, right? So last night I opened my first mini one, thinking if I didn't like it (NOT) I would only be out a dollar. They come with these cute little spoons on the top under a cardboard lid.
Well, I was about to recycle it today and it hit me, that looks like a little measuring spoon! I fished out my 1/4 tsp. measurer, and sure enough, two of them fit in the little spoon. That makes the mini spoon 1/2 tsp. for liquid or powder.
I also thought of some other things to do with them.

If a guy (sorry gals, but their thumbs are a little longer) has a sprained thumb and needs to immobilize it till they can work again or get to the doctors, or they have a bad nail brake, these can be great little splints.
I don't know if they can be drilled in the small little hole that is in the end, but if they can, they would make great key fobs, especially for property managers like me.
Do you enjoy making Turkeys and Bunnies with Construction paper? What cute feathers and ears! They are perfect for holding just the amount of beads you need for a project, or as a scoop for glitter!
So, can you all come up with more ideas? I know you can!
Source: I brainstormed this one today when cleaning up the kitchen!
By Sandi/Poor But Proud from Salem OR
March 20, 2006
0

found this helpful
I keep a plastic spoon on my spoon rest on my stove for tasting purposes. I also keep a plastic knife in my large Country Crock margarine tub so it can be used at anytime; this eliminates a dirty knife when you need a margarine; just wash the plastic knife off and put it back into the tub and close the lid. This tip makes my cooking a lot easier!
By WandaJo from Collierville, Tennessee