I got this tip from Hospice. Sometimes we all have expired medications, prescription change medications or left over medications from pass away loved ones. This nurse told me to dispose of them by adding them to coffee grounds or soiled diapers. This stops people who go through trash cans from getting them or contaminated by them. This is vital when those medications are narcotics. He said that putting them down the toilet was not the way to dispose of them.
By Virginia G from Porterville, CA
August 5, 2009
4

found this helpful
Until recently I didn't have to worry about this question because I hadn't had to take anything except for vitamins most of my life. In the past four months, I now have a few different medications that are not working for me or had a bad reaction to so did some searching about what to do with them.
To keep our waterways and public drinking water safe, to keep medications out of the wrong hands and to ensure your general identity and medical identity are safe here is the FDA link regarding how to properly dispose of stale dated or unused over the counter and prescription medications:
By Deeli from Richland, WA

If you have any unused prescription drugs around the house you can dispose of them safely on Saturday, April 27th, 2013 at one of the National Prescription Drug Take-Back Day events. Follow this link to find a collection box near you.
http://www.deadiversion.usdoj.gov/drug_disposal/takeback/index.html
Even if you miss the day the link has information about where you can take old medication any day of the year.
Experts don't recommend flushing prescription drugs down the toilet or disposing of them in your trash since they dissolve and can harm wildlife. However, it is very important to get old prescription drugs out of your house.
Many drugs pose a danger to children so removing them once they are unneeded can help make your home safer. In addition, expired drugs can lose their efficacy, so you're better off getting a new prescription rather than holding onto an old one for years just in case.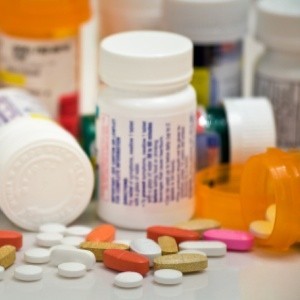 Whether the prescription is for people or pets, most of us can find at least one or two bottles containing unused or outdated medications in our medicine cabinet. When these drugs are not disposed of properly, they can cause pollution in wastewater and end up in our local waterways. Most of these drugs can be safely disposed of in the trash, as long as certain precautions are taken before tossing them out.
Why Worry About it?
In recent year, trace levels of prescription drugs have been found in lakes, rivers, and streams, where they have been found to have adverse affects on fish and other aquatic wildlife. In some cases, community water supplies have tested positive for trace amounts of drug residue. Most drugs are not completely metabolized by our bodies, and the primary way they enter our waterways is through waste water treatment plants. Proper disposal of unused medications can reduce the risk of exposure to these drug residues to both humans and wildlife.
Guidelines for Disposing of Medications at Home
In 2007, the Food and Drug Administration (FDA) and the White House Office of National Drug Control Policy (ONDCP) created a set of consumer guidelines for safe disposal of unused medicine. Here's a summary:
If given, follow specific disposal instructions on the label. Drug labels and the patient information that accompanies them often contain information regarding proper disposal. Look here first. Certain medications (e.g. powerful pain relievers/controlled substances) may contain instructions for flushing to reduce the possibility of unintentional use, overdose, or illegal abuse. However, unless the information specifically instructs you to do so, do not flush prescription drugs down the toilet.
Keep unused medications in their original containers. The labels contain important safety information (should the medication be accidentally ingested) and the caps are typically childproof. Cover the patient's name and Rx number with permanent marker (or scrape it off), but leave the information on the contents visible.
Modify unused medicines to discourage consumption.
For solid medications, such as pills or capsules: add a small amount of water to partially dissolve them and mix them with an undesirable substance like used coffee grounds or kitty litter. This will make them less appealing to children or animals.
For liquid medications: add enough table salt, flour, used coffee grounds, charcoal, or nontoxic spice (e.g. turmeric or mustard) to make a mixture that will discourage anyone (human or animal) from eating it.
For blister packs: wrap the blister packages in multiple layers of duct tape.
Seal and conceal. Tape the medication container lid shut with packing or duct tape, and place it in a non-transparent bag or container like an empty sour cream or margarine container. Don't hide medicines in leftover food products because they could be consumed by wildlife scavengers).
Toss the modified unused medicine in your garbage can. Do not place in the recycling bin.
Community Take-Back Programs
Many communities now have drug take-back programs that allow the public to bring unused drugs to a central location for proper disposal. To find out if there's a program in your community, call your local waste water treatment facility, trash and recycling service or contact a local pharmacist.