EllenB
Gold Post Medal for All Time! 858 Posts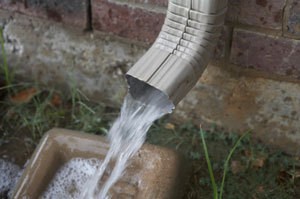 For many homeowners, cleaning out and inspecting gutters and downspouts is an unpleasant, yet unavoidable, chore that has to be done at least once or twice a year (even more if your house sits under a lot of trees). Clogged, overflowing gutters can damage your home's foundation, ruin your lawn and landscape, attract mold, and serve as a breeding ground for insects- including mosquitoes. Cleaning rain gutters year after year can be messy and dangerous, so here are some useful tips to make the job as safe and easy as possible.
Protect Your Hand and Eyes
It doesn't matter if your rain gutters are made of metal or vinyl, both types are bound to be full of sharp, pointy objects like screws and fasteners, as well as branches and debris. Always wear gloves and eye protection when scooping leaves, bird waste, branches, and sediment from the troughs. If you find caked-on dirt, remove it with a brush, not with your hands.
Protect Your Life
Every year, hundreds of homeowners are killed from falls while cleaning out their gutters. Thousands more are injured-often seriously. Use a sturdy ladder placed on a firm, level surface. If possible, always have someone steady the ladder from below. If you have to lean your ladder against the gutter to access it, protect it from bending by placing a small piece of wood inside the trough. Always stand on the ladder with your hips between the rails. Never lean out from either side or stand on the top two rungs. Make sure you're wearing non-slip shoes and steer well away from power lines.
3 Steps for Cleaning Gutters and Downspouts
Remove loose debris from the gutters by starting on the low end near a drain exit and working up and away from it. Debris is easier to remove when it's damp, and can be dropped on the ground and raked up later or dropped into a plastic bag.
Once you have removed loose debris from the gutters and downspouts, use a powerful spray from the garden hose to force water into each downspout to clear it. Once it's clear, flush each trough out with water and inspect it for proper drainage.
If you find a clog in a downspout, ream it out with a plumber's snake. Feed the snake into the spout while carefully twisting it, until you feel the downspout opening completely. Run water through the downspout to make sure the clog has completely cleared.
Adding Screens
Screens can be added to gutters to keep leaves, twigs, and other solid matter out. Some homeowners find this helpful, but keep in mind that the screens still need to be removed or lifted for cleaning so it may turn out to be more trouble and expense than it's worth.
If you decide to add screens, some commercially available screens come equipped with hinges that allow you to access the gutter for cleaning. You can also make your own screens using aluminum chicken wire or a similar small wire mesh cut to size, and attaching them to the gutters with aluminum screws or rivets. If you have copper gutters, use copper anchors only, and choose screening materials made from vinyl or nylon that won't react with and corrode the copper.
When to Hire a Professional
If your roof is higher than a single story, or you feel unsure you can clean your gutters and downspouts safely on your own, its best to consider hiring a professional.
Read More

Comments