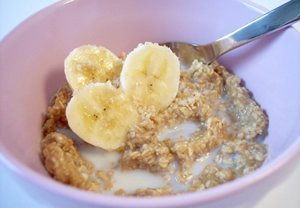 My teenage son swims at least 25 hours a week, and usually rides his bicycle the 5+ miles each way back and forth to practice. At 6 foot tall and 200 lbs, you can imagine how much our athlete can eat! I needed to cut the grocery bill, but didn't want to limit his food or discourage his already very healthy eating habits.
So, here's our solution:
Breakfast has to include a big bowl of oatmeal. Later in the day, he has to eat either a potato or a bowl of brown rice. Beyond that, he can choose whatever healthy foods he wants from what we have; these very cheap (but still healthy) options add enough extra to his diet to bring his other food intake back into the realm of the reasonable. He doesn't feel restricted, because these are "in addition to" what he feels like getting, preventing anyone from having to limit the rest.
I always keep a big pot of beans (from inexpensive dried beans) and a big bowl of rice cooked up and in the refrigerator. Again, these are cheap and healthy choices, and if it's easy to grab, it'll be chosen more often.
I also always keep cheap lettuce cut and available, as well as cheap frozen veggies (in winter) or fresh produce (when the farmer's market is open). I make sure the more expensive things take more work to prepare. I don't buy chips and expensive snacks like that, but do keep popcorn kernels on hand--again, both cheap and healthy, since we use an air popper.
The result? We spend "dramatically" less on food than any other family I know. And we still have happy, healthy teenagers, including the boy who, just before the new plan, ate 3 pounds of grapes at once and called it a snack!
Comments
February 13, 2009
0

found this helpful
That is what I do w ith my children, I have a chart t hat says what food they can have for snacks and it is not junk food: Potato, Oatmeal, Bread and butter,
leftovers from dinner, Mayo Sandwich ( they like these....) rice, and than fruit juice, the real kind not the kind with High fructose corn syrup...this corn syrup really is bad, regardless of that new commercial about it..... I read at earthlink.com that it had mercury in it from processing it.....ewwwww...anyway I make sure they are eating right from the minute they get up.
February 13, 2009
0

found this helpful
I buy bulk items when on sale like raisons,sunflower kernels/dried fruit/and add oatmeal mixture that I had crumbled into bit sizes and add all these healthy things together and put in sandwich bags and freeze up for trail mix as treats. It holds you over until meal times and is very healthy and tasty. Kids love these when going out to play or to the park or outside events, even field trips for school.
February 17, 2009
0

found this helpful
When my son was a teenager, I always had him eat a large bowl of oatmeal for breakfast. It was one of the few things that filled him up and stayed with him until lunch.
He claimed that he didn't like it, but to this day, he still eats that bowl of morning oatmeal.
February 18, 2009
0

found this helpful
My youngest is in a fairly heavy work out schedule for ROTC and he can really lay away the food! He keeps a large bag of apples handy and can eat 4 or 5 a day. He's another of those "raised on oatmeal" kids and I think it has really helped make and keep him strong. Good whole wheat bread is very healthy and filling, too.
Read More Comments