My dog, Simba, just passed away last Thursday. It was also my daughter's 10th birthday. We have had Simba for 13 years, since he was a puppy. We never boarded him and he went on every vacation we ever took (yes, even on airplanes).
I have 2 questions. Any advice for helping my daughter through the years as the dog passed away on her birthday? I do not want her to dwell on that fact. Also, any advice to help me get over losing the dog? I have owned him since before I had children and he was like my first child. Thanks so much.
By Jenny from MD
Answers
February 5, 2010
0

found this helpful
I'm so sorry for your loss. I've been there. We had to put my 15 year old dog to sleep one year on Christmas night (cancer took a turn for the worse). It's not exactly the same as a birthday, but still a significant day each year that is normally a happy occasion. We got him when I was in second grade, so he was really like a sibling to me. It was the hardest thing I ever had to do.
Try to remember the good times, and it's okay to cry when feeling sad. Shortly after I had to put my dog to sleep, the dog in the comic strip For Better or For Worse saved their little girl from drowning, and then he died. I cried reading it. They made it into a book, and I shared that book with my sister-in-law when she had to have her dog put to sleep. Here is a link, if you or your daughter would like to look:
http://www.fbor … arley/passes.php
Time will help. It's been 14 years, but if I see a dog that looks like mine, I'll still tear up. My mom got me a Hallmark picture frame ornament that first year that said "Good Dog" (with a picture of my Freckles already in it). Every year when I put it on my tree and take it down, my eyes water up (they are right now, too). It's sad, but we have to know that we did the best we could, and be thankful for the time we had with them. And always try to remember the happy times. Maybe after a little while you can make a little mini scrapbook, showing Simba and your daughter together through the years.
Now I have a 13 year old cat, and I know he's getting older. I dread when the day will come. Again, I'm so sorry. I hope that you find comfort in good memories.
February 5, 2010
0

found this helpful
I've experienced doggie grief several times. The first time I waited until the grieving ended. The pain seemed like eternity to get over. The second time I couldn't stand it and got another pup to fill the void my dog's leaving made. The hurt was still there, but not as much as I gave another pup my attention and time. I also felt like this is the kind of pup my deceased dog would have liked me to have gotten. From both sides of the fence, I'd get another pup/dog sooner than later.
When we were children and lost our pet, we didn't want a dog right away. It felt like we were a traitor, but as an adult, one realizes the void a beloved dog leaves and it is not good getting up each day without a dog in the household.
February 6, 2010
0

found this helpful
Anyone losing a pet has to deal with it in their own way but some things can help. When you start to feel the overwhelming grief settle down on you concentrate on pushing it away and remembering the good times. Try to realize that your life was brighter for having that animal in it. When you feel guilt (most of us do) list the things you did for that beloved pet over the years that showed your love and devotion. If you had to put your friend down try to realize that this is the greatest act of love.
Anybody can love and care when it's easy. It's harder to be the one who has to make the hard decisions and end the life of a suffering pet. I thought I could never love another dog like I did my little Lucy and I honestly cried every day for a year. When my mother gave me her little doxie I took her because she could have a better life with me, not because I loved her. Now she's the center of our little universe and we have group hugs with Papa, Penny, and Mother. You do recover but you never forget.
As far as a grieving child, would never mention again the fact that the dog died on her birthday. She'll probably remember but it will be less important to her than it is to you by next year.
February 8, 2010
0

found this helpful
i am so very very sorry for your loss. there is no way to get over the greif of losing a family member. jsut try to think of the great times and remember there is another baby out there needing a home because of abuse or homelesness, you will never replace your baby but give much needed love to another, and remember she is only gone in body and her soul will be with you forever so on your daughter birthday also celebrate the life you had with your baby, lots of furhugs and kisses..deby
February 8, 2010
0

found this helpful
I'm so sorry about the loss of your pet. This site is a wonderful resource, it has a chat room as well as a Monday night ceremony that is a wonderful way to say goodbye. http://www.petloss.com/
February 8, 2010
0

found this helpful
I am so sorry for you and your daughter's loss!
One never really gets over losing any fur baby but one thing I did to help me through the grief of my first baby as an adult (a Persian who was just short of 15 years old) was sleep with her collar on my arm for almost a month and had my favorite picture of her framed in a really cute bronze color cat decorated frame that I kept on my nightstand for the longest time. Even though it's been nineteen years her picture is still displayed on the table near the door in the entryway.
One thing that helped me the most was a family who didn't want the responsibility of their kitty cat (who was six years old and being almost completely ignored) so I adopted her and it took away so much of the pain and especially when the day came that she knew she was loved and would be given special attention including hugs, sleeping with me, being brushed and fun playtime and gave love back to me :-) When she passed away I made a special stepping stone for her out of concrete with her name stamped in it and decorated it with colorful half marbles and placed it over her in the garden where she was buried.
It looks like your baby's picture might have been taken at the vets office and the very last picture of him? Maybe framing it and making a stepping stone will help with the grief process for you and your family?
February 9, 2010
0

found this helpful
I had recently lost my beautifull 10 month old pitbull to parvo and to be honest I didn't know how I was going to get over it. I don't have any children so she was my baby and it killed me. I did get over it but I miss here terribly. I had to put her to sleep and I felt the same way you felt but sometimes we are doing whats best for them. So sorry for your loss.
February 9, 2010
0

found this helpful
Maybe you can get her another dog and it might take her mind off the one you just loss.
April 1, 2010
0

found this helpful
Jenny, I too lost my dog Mikey in February and he bears a striking resemblance to your Simba. My heart is broken and I feel his loss everyday. I feel like I will never feel better. I hope it is getting a little easier for you. Libby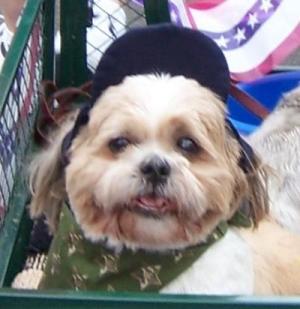 April 13, 2010
0

found this helpful
My little boy, Sam, passed away from squamous cell carcinoma (cancer) in 2006. My little girl, Tessa, is now dying of vaccine associated sarcoma (cancer). I am still not over the loss of my little boy, and now my little girl has cancer, too. I find it very, very unfair that two of my cats in a row had/have cancer. The worst part for my little girl is that her cancer was caused by vaccines. I wanted her to live a long, healthy life, and now I feel like I gave her cancer, because her cancer was caused by the vaccines I gave her. I have guilt. I have bitterness. My heart is breaking. I feel like it's all my fault. Had I not given her all those vaccines, she would not have cancer. Now, it's a matter of time. Not fair. Not fair at all. Please don't tell me that life isn't fair. I lost 3 human relatives in my life to cancer, as well. My cats, however, are my children. My heart is breaking, and I don't think I will ever forgive myself for giving Tessa all her shots. :o..(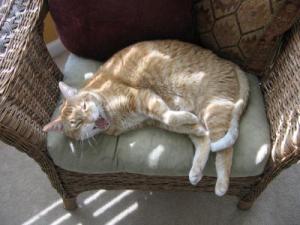 January 11, 2011
0

found this helpful
I just put down my 12 1/2 year old lab, she was my baby (i now have three kids of my own). The part that is making me crazy is I was encouraged to put her down, it was time. My wife, my mother and some other family members. I wasn't ready, and not sure if Savy was either. Dog began pooping in the house 6 months ago, accidentally, now it was up to 3-4 times a week. Lots of times it was diarhea.
Also, for the last year she has been battling arthritis, it takes her several seconds to get up. Also her back legs tend to drag a bit, with her nails scrapping the road as we walk. She had lost 5 lbs, mostly in her back leg muscles over the last 10 months. Third, neuro problems were starting to creep in. She would stand with one back leg facing in and not correcting it until it was time to walk.
Here were the issues that bothers me:
She still ate (like a horse).
She still played and liked to go out (albeit not as long and as much as she was younger).
She still loved attention and still could run a little.
I'm going through grief, that seeing her last breath will haunt me forever if knowing that I put her down too early. Also, I don't want to then blame members of my family for this. Please be honest, was it her time?
Heartbroken
February 7, 2011
0

found this helpful
My dog Macy passed away 1/08/11 due to complications from injuries she suffered after being attacked along with another small dog I was walking on New Years Eve morning by two large, Pitbull mixed breed dogs who broke away from their handler here at our condo complex. Macy survived surgery for her initial injuries and was doing well, then very unexpectedly passed away on January 8, 2011 while going under anesthesia for a hematoma on a broken ear she had suffered in the dog attack.
She was a loving, sweet and joyful spirit, 8 yrs old and 14 lbs full of personality. My heart is forever broken and I miss her terribly. She was my fur child and I sometimes think I am going crazy with grief. I posted a video montage of her on YouTube on channel VJA142 and being able to view it has helped not only myself but neighbors, friends & family too. Macy was the neighborhood greeter and knew no strangers. I am suffering from panic attacks associated with the violent attack along with guilt over not asking more questions of the vet (wasn't her regular vet that day) before I handed her over.
Sometimes I can hear myself screaming in my mind and the tears just overwhelm me. I am very lucky to have wonderful friends and neighbors to lean on when I feel one of these episodes coming, so I try to reach out to discuss my feelings before I lose my mind completely. Never experienced such sadness and overwhelming loss. I truly am suffering from a broken heart and find staying busy/travel/distraction is the best medicine. Not ready for another dog cause they broke the mold with my Macy girl. Animals give the best, unwavering and unconditional love, must be why it hurts us all so terribly when we lose them!
Best to you all. You were all good pet parents to care so much!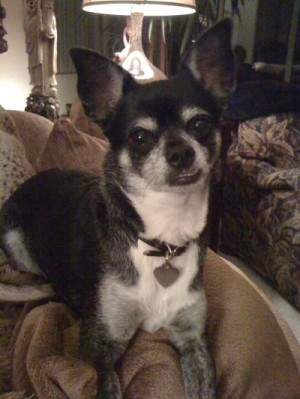 September 14, 2016
0

found this helpful
I feel the same. My husband got so angry that My 15 year old miniature poodle was weeing everywhere and I feel angry with him for making me make the decision although in my head I know it was time. I just wasn't ready.
Answer

this Question

...
February 5, 2010
0

found this helpful
I had to euthanize my dog, Lewis, who was 15 1/2 years old. I am suffering from profound grief, and guilt. I miss him so much. This tragedy occurred on June 5th. He was a wonderful dog, and there will never be another one like him. If anyone has any advice about how I can help with the grief, I would welcome the advice. I wanted to get another dog, but my husband is adamant about not getting one. We spent a lot on vet bills, and slept in the same room with him the last months of his life. I still can't bear the pain of losing him.
Thanks to all.

Alleen from Rome City, IN
Answers:
Dealing With The Grief After Losing a Pet
I lost my dog whom I had for 15 1/2 years last August. I did not want to let him go either, I had 2 other dogs when I lost him. I was not going to get another dog after I lost him then I came across a female runt dog who only weighed 4.3 lbs. she is mixed with Rotty and Chow. My boy who I lost was mixed with Chow and Shepherd. He was the best, I had him cremated and put into an urn and I have him on my mantle. His picture is above his urn and in front. My dog's name was Bear. He got really sick; he had a large tumor at his back legs and he could no longer walk. Having him cremated and put in the urn and brought home helped a lot. I am sorry for your loss, dogs are the best. (07/10/2006)

By Cindy
Dealing With The Grief After Losing a Pet
I lost my dog of over 15 years, Bucky, not too long ago. I, too know that there will never be another. And I have had trouble making an attachment to any other pets.

Perhaps you could make a remembrance book of your pet. Also, I find that just talking about Bucky and remembering the good times helps.
My condolences on your loss. I hope that time will help heal your sadness. (07/11/2006)

By AnnMel
Dealing With The Grief After Losing a Pet
If your heart is ready for another dog, it is the best thing to have new life to help you cope with your loss. You might have to be a little more convincing to your hubby. A new puppy won't have expensive vet bills other than his shots to start out with.

I got a puppy pretty soon after my old dog passed and it helped me heal so much. I encourage you to talk to hubby and let him know it is important to you and that it will help in your healing.
Good luck. (07/11/2006)

By Paula in GA
Dealing With The Grief After Losing a Pet
Thank you all for sharing your stories, and helping me cope with my grief. Now, I offer all of you my deepest sympathy. I cried when I read the stories, and please read the one about Whisper. It reminded me of what I did with my Lewis.

We made sure in his last weeks that someone was always with him. I bought him doggie mother's milk substitute, and gave him special things that he would eat. He loved nutritional supplements like Ensure, thank God. His tumors were becoming enlarged. The vet had said they were fatty tumors, but I know they were starting to hurt him. He would wake up all through the night, and we treated him like a baby. Oh, my heart will never stop aching for this precious dog.

Someone, my husband, my son, or myself always slept by his side. He is buried in our back yard; we live in the country with 2 acres. I think there is a need for a pet cemetery. There is one about 30 miles from here, but I wanted him close to us. When you lose a loved one, human, there are rituals to help you cope, and there is not much help with losing our animal children. Only other animal lovers can understand. It was so kind of the vet to say I could keep her dog overnight. I will do that when I get some chores done that have been put off too long, because I spent my time with my baby dog, caring for him.

I said I couldn't go with him on that dreadful day he was euthanized, but did, and the last words he heard were from me saying, "I love you so much Lewis", and when the vet said "He's Gone" I lost control and ran to the car sobbing. My husband went with me, and when I saw the vet and her assistant carrying him out in his favorite blanket, I thought I would grieve myself to death instantly.

He was so intelligent, and loved people. His mind was so alert, and his hearing was excellent to the last day. He even ate right before we took him for that procedure. When I look at my SUV I think it looks like a hearse now, and I start crying again. I would like to sell it, but can't now.

Another good site for all who are grieving is, in-memory-of-pets.com. There you can write your precious pets a letter, and it does help with the grief.

I appreciate every one of you, and will remember you all in my thoughts and prayers, and please do the same for me. Thanks, and God Bless you all. (07/12/2006)

Dealing With The Grief After Losing a Pet
Pet lovers are special people. I loved this and hope you will too.

The Rescuers Final Reward
Unlike most days at the Rainbow Bridge, this day dawned cold and
gray. All the recent arrivals at the Bridge did not know what to think, as they had never seen such a day. But the animals who had been waiting longer for their beloved people to accompany them across the Bridge knew what was happening, and they began to gather at the pathway leading to the Bridge.

Soon an elderly dog came into view, head hung low and tail dragging.
He approached slowly, and though he showed no sign of injury or illness, he was in great emotional pain. Unlike the animals gathered along the pathway, he had not been restored to youth and vigor upon arriving at the Bridge. He felt out of place, and wanted only to cross over and find happiness.

But as he approached the Bridge, his way was barred by an angel, who
apologized and explained that the tired and broken-spirited old dog could not cross over. Only those animals accompanied by their people were allowed to cross the Bridge. Having nobody, and with nowhere else to turn, the dog trudged into the field in front of the Bridge. There he found others like himself, elderly or infirm, sad and discouraged. Unlike the other animals waiting to cross the Bridge, these animals were not running or playing. They simply were lying in the grass, staring forlornly at the pathway across the Rainbow Bridge. The old dog took his place among them, watching the pathway and waiting, yet not knowing for what he was waiting.

One of the newer dogs at the Bridge asked a cat who had been there
longer to explain what was happening. The cat replied, "Those poor animals were abandoned, turned away, or left at rescue places, but never found a home on earth. They all passed on with only the love of a rescuer to comfort them. Because they had no people to love them, they have nobody to escort them across the Rainbow Bridge."

The dog asked the cat, "So what will happen to those animals?"
Before the cat could answer, the clouds began to part and the cold turned to bright sunshine. The cat replied, "Watch, and you will see." In the distance was a single person, and as he approached the Bridge the old, infirm and sad animals in the field were bathed in a golden light. They were at once made young and healthy, and stood to see what their fate would be. The animals who had previously gathered at the pathway bowed their heads as the person approached. At each bowed head, the person offered a scratch or hug.

One by one, the now youthful and healthy animals from the field fell
into line behind the person. Together, they walked across the Rainbow Bridge to a future of happiness and unquestioned love. The dog asked the cat, "What just happened?"

The cat responded, "That was a rescuer. The animals gathered along the pathway bowing in respect were those who had found their forever homes because of rescuers. They will cross over when their people arrive at the Bridge. The arrival here of a rescuer is a great and solemn event, and as a tribute they are permitted to perform one final act of rescue. They are allowed to escort all those poor animals they couldn't place on earth across the Rainbow Bridge."

The dog thought for a moment, then said, "I like rescuers." The cat
smiled and replied, "So does heaven, my friend. So does heaven. (07/13/2006)
Dealing With The Grief After Losing a Pet
Sent in by Email:
I'd like to advise Alleen to visit rainbowbridge.org.

She can register free on the site and create a memorial for Lewis there.
That is the only thing that helped me, and I am hoping it will ease a
small part of her pain.

Thank you for anything you can do to send this info along to Alleen.
(07/14/2006)

By ThriftyFun
Dealing With The Grief After Losing a Pet
When we had to have our beloved dog Nikki put to sleep (she was 12 and had a cancerous growth that kept returning, which would choke her), I thought my tough-guy husband would die of a broken heart. The one thing that seemed to help was when I pointed out that he had rescued Nikki from the pound at age 1-1/2 and that if he hadn't rescued her, she could very well have been euthanized due to shelter overcrowding the very next day. I pointed out "YOU" gave her over 10 years of a loving home, plenty to eat, fun games of catch and Frisbee, and more loving than some humans get in a lifetime, focus on that.

That has now been more than 10 years ago and he has told me several times that my comment was the only thing that helped. You had Lewis for a very long time and he was a happy member of your family. He was a very lucky dog to have been able to share your love.

I found a picture frame for my husband in which I put a photo of him with Nikki. The saying on the frame is "Old friends never leave us, they just run ahead to wait in a happier place."

You and your husband are in my thoughts and prayers. (07/18/2006)

By Becki in Indiana
Dealing With The Grief After Losing a Pet
My sincere condolences for the passing of your beloved pet, Snoop. As an animal lover, and avid pet owner, the loss of a pet is a heart break. Remember, you were blessed with many happy years of pet ownership, wonderful memories, and a relationship that was priceless. If and when you are ready to build a new relationship with a pet, you will know the time is right, and you will be ready to move on. Take Care. (07/31/2006)

By hedera
Dealing With The Grief After Losing a Pet
I had to put down my cat on 8/11/06 so I feel your pain. I try to focus on the beautiful memories that I have in my heart, that is what gets me through each day. (08/19/2006)

By Bernie
Dealing With The Grief After Losing a Pet
Our local Hospice has pet grief support groups. Perhaps you might check to see if your Hospice people do that. (10/26/2006)

By MamaJude
Dealing With The Grief After Losing a Pet
Two weeks ago I lost my beloved Dachshund, Fred. He never left my side and I am heartbroken. He was only 7 years old and the vets said he was diabetic. I feel so guilty, because I left him overnight at a vet that has no one there during the night. The next day my daughter went and took him to an emergency clinic about 30 miles away. They got there about six and he passed away at 11:30 that night, truly breaking my heart.

I lost a son 8 years ago in a car accident, and this loss is one short step from that grief. I had gotten Fred and his sister Ethel (who I still have) from a humane society. My daughter is friends with the people who run that place and two days after Fred left, they called and said they had a miniature Dachshund, and a long haired girl Dachshund. The miniature is a male and I now have him, he will never replace Fred, but will become his own "man" in my life. The female was adopted by a very good friend of my daughter, and has a wonderful home. I think the greatest compliment you can give a beloved friend is to give a home to another dog who needs love and care and will provide you will all the love in his heart. I am so sorry for your loss.
Deidre

Editor's Note: So sorry to hear about your loss of Fred, Deidre. I'm glad you were able to find a new friend and give him a home. (11/24/2007)

By DeidreLee
Dealing With The Grief After Losing a Pet
The loss of a loved pet is never easy. They are every bit a part of our daily lives and families. Grief although difficult to deal with is our way and very natural. Time however will ease the pain. The hole left in one's heart for the most part will heal. I lost Angel, my very dear cat of six years ( from birth) in 2005 and Baby my 14 year old cat in 2006. Both these animals gave more than many humans I know. They are both at rest in a quiet spot in my back yard. The pain did somewhat subside. I don't mind if it never completely heals lest I forget. I have since adopted another and currently have 3. We must go on. (01/06/2008)

By Fred S.
Dealing With The Grief After Losing a Pet
To Zoey who lost her cat from complications of spaying:
My heart aches for you, Zoey, as it does with everyone who has had to suffer from the loss of a pet. I know you will keep going over in your mind, "what if" and thinking you should have done things differently. You were a loving pet parent, and it is NOT your fault. I know it's so difficult, and it's hard to believe now, but time will help the grief, but you will always hold a special place in your heart for your dear pet. The pet is at peace now, and maybe if you can focus on that. We all think of things we should have done differently, but you did nothing wrong.
I do think, though, I would change vets; that's just my opinion.

I will be thinking of you, and please accept my deepest sympathy. If I have missed extending my sympathy to anyone else here, you know that I feel for each one of you. (04/17/2008)

Dealing With The Grief After Losing a Pet
I can't believe it. My dog Peppy of 16 years is gone. I don't know what I'll do without him. He's been my best friend for as long as I can remember. We knew everything about each other. I would come home and the one thing that would get me going no matter what day I had was seeing him.

I think I want to get another dog, but its hard. I won't ever love a dog like this again. He's been with me since junior high. I knew it was the right thing to do, he was suffering so much. He couldn't see or hear and had no idea where he was. I knew I wouldn't want to live like that.

I gave him his favorite food the last few days. Also gave him food he hadn't had for a long time. He loved chewing on corndog sticks. Those were his favorite.

I know I was lucky to have him for this long. Yorkies don't usually go this far. But it doesn't make it really any easier. I keep looking around the house looking for him, hoping it was all a dream.

I feel for all of you who have lost a dog. Or even a sibling. This must be what its like to lose a brother or son. I was thinking about making a scrapbook of all his pictures and putting it together. Also, thought of making a collage of his pictures and hang it on the wall. I'm also going to write a letter to him to tell him how I felt about him.

The world doesn't make much sense when your dog is gone. Nothing else seems to matter much anymore. I don't care about Baseball right now or anything I liked before. How can I get past this? Is it possible? Does the pain ever go away?

Daniel

Editor's Note: Daniel, it does get better over time, but it does take time. Making your scrapbook is a good thing to do and allow yourself to grieve. I'm so sorry for your loss. Take good care of yourself and do get another dog, but give it a little time. (09/08/2008)

By Qrusher14242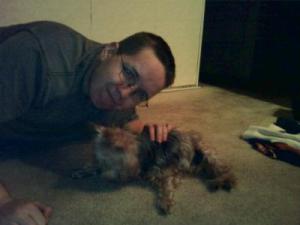 Dealing With The Grief After Losing a Pet
I too have lost my beloved black Lab Rebel, he was our best friend, he was the one who has been with us through thick and thin. He has been our only constant through our 11 and half years of marriage. He has been my protector, I could tell him anything. Our whole family is devastated. I never dreamed losing him would come now, despite the fact that he was 11, he was fine Thursday and running around like a puppy.

On Halloween he woke up, but couldn't move. He was diagnosed with cancer, a tumor opened up and blood was in his abdomen. Our Vet was amazing, he helped us through a difficult time. We knew that we could not continue to let our boy suffer, only for a few more weeks with him. For us to keep him alive was selfish, only to watch him suffer.

We brought him home, took our kids out of school, and we spent the last few hours of his life with him, the way he was always with us. I know that he will continue to watch over us from heaven. I know, but it doesn't make it any easier we have such a void in our hearts. (11/01/2008)

Dealing With The Grief After Losing a Pet
It will be one month this coming Friday, I lost my little angel, Lady. She was my joy, my friend, my constant companion, my nurse and caregiver, and never asked for anything. I keep her booster sit in the car with two of her stuffed animals. She is always with me in spirit,
but my life feels empty and my heart is sad.

I was blessed with 17 wonderful years. Yesterday, I planted a Christmas tree in the backyard in her and my dad's memory. So when the blinds are open and I am at my computer, I can look at it and think of her. For me, she was my daughter in every way possible. My own children didn't love me the way Lady did. Lady accepted me for who I was unconditionally. (12/02/2008)

By Poodle17