February 5, 2010
0

found this helpful
I'm so sorry for your loss. I've been there. We had to put my 15 year old dog to sleep one year on Christmas night (cancer took a turn for the worse). It's not exactly the same as a birthday, but still a significant day each year that is normally a happy occasion. We got him when I was in second grade, so he was really like a sibling to me. It was the hardest thing I ever had to do.
Try to remember the good times, and it's okay to cry when feeling sad. Shortly after I had to put my dog to sleep, the dog in the comic strip For Better or For Worse saved their little girl from drowning, and then he died. I cried reading it. They made it into a book, and I shared that book with my sister-in-law when she had to have her dog put to sleep. Here is a link, if you or your daughter would like to look:
http://www.fbor arley/passes.php
Time will help. It's been 14 years, but if I see a dog that looks like mine, I'll still tear up. My mom got me a Hallmark picture frame ornament that first year that said "Good Dog" (with a picture of my Freckles already in it). Every year when I put it on my tree and take it down, my eyes water up (they are right now, too). It's sad, but we have to know that we did the best we could, and be thankful for the time we had with them. And always try to remember the happy times. Maybe after a little while you can make a little mini scrapbook, showing Simba and your daughter together through the years.
Now I have a 13 year old cat, and I know he's getting older. I dread when the day will come. Again, I'm so sorry. I hope that you find comfort in good memories.
February 5, 2010
0

found this helpful
I've experienced doggie grief several times. The first time I waited until the grieving ended. The pain seemed like eternity to get over. The second time I couldn't stand it and got another pup to fill the void my dog's leaving made. The hurt was still there, but not as much as I gave another pup my attention and time. I also felt like this is the kind of pup my deceased dog would have liked me to have gotten. From both sides of the fence, I'd get another pup/dog sooner than later.
When we were children and lost our pet, we didn't want a dog right away. It felt like we were a traitor, but as an adult, one realizes the void a beloved dog leaves and it is not good getting up each day without a dog in the household.
February 6, 2010
0

found this helpful
Anyone losing a pet has to deal with it in their own way but some things can help. When you start to feel the overwhelming grief settle down on you concentrate on pushing it away and remembering the good times. Try to realize that your life was brighter for having that animal in it. When you feel guilt (most of us do) list the things you did for that beloved pet over the years that showed your love and devotion. If you had to put your friend down try to realize that this is the greatest act of love.
Anybody can love and care when it's easy. It's harder to be the one who has to make the hard decisions and end the life of a suffering pet.
I thought I could never love another dog like I did my little Lucy and I honestly cried every day for a year. When my mother gave me her little doxie I took her because she could have a better life with me, not because I loved her. Now she's the center of our little universe and we have group hugs with Papa, Penny, and Mother. You do recover but you never forget.
As far as a grieving child, would never mention again the fact that the dog died on her birthday. She'll probably remember but it will be less important to her than it is to you by next year.
February 8, 2010
0

found this helpful
i am so very very sorry for your loss. there is no way to get over the greif of losing a family member. jsut try to think of the great times and remember there is another baby out there needing a home because of abuse or homelesness, you will never replace your baby but give much needed love to another, and remember she is only gone in body and her soul will be with you forever so on your daughter birthday also celebrate the life you had with your baby, lots of furhugs and kisses..deby
February 8, 2010
0

found this helpful
I'm so sorry about the loss of your pet. This site is a wonderful resource, it has a chat room as well as a Monday night ceremony that is a wonderful way to say goodbye.
http://www.petloss.com/
February 8, 2010
0

found this helpful
I am so sorry for you and your daughter's loss!
One never really gets over losing any fur baby but one thing I did to help me through the grief of my first baby as an adult (a Persian who was just short of 15 years old) was sleep with her collar on my arm for almost a month and had my favorite picture of her framed in a really cute bronze color cat decorated frame that I kept on my nightstand for the longest time. Even though it's been nineteen years her picture is still displayed on the table near the door in the entryway.
One thing that helped me the most was a family who didn't want the responsibility of their kitty cat (who was six years old and being almost completely ignored) so I adopted her and it took away so much of the pain and especially when the day came that she knew she was loved and would be given special attention including hugs, sleeping with me, being brushed and fun playtime and gave love back to me :-) When she passed away I made a special stepping stone for her out of concrete with her name stamped in it and decorated it with colorful half marbles and placed it over her in the garden where she was buried.
It looks like your baby's picture might have been taken at the vets office and the very last picture of him? Maybe framing it and making a stepping stone will help with the grief process for you and your family?
February 9, 2010
0

found this helpful
I had recently lost my beautifull 10 month old pitbull to parvo and to be honest I didn't know how I was going to get over it. I don't have any children so she was my baby and it killed me. I did get over it but I miss here terribly. I had to put her to sleep and I felt the same way you felt but sometimes we are doing whats best for them. So sorry for your loss.
February 9, 2010
0

found this helpful
Maybe you can get her another dog and it might take her mind off the one you just loss.
April 1, 2010
0

found this helpful
Jenny, I too lost my dog Mikey in February and he bears a striking resemblance to your Simba. My heart is broken and I feel his loss everyday. I feel like I will never feel better. I hope it is getting a little easier for you. Libby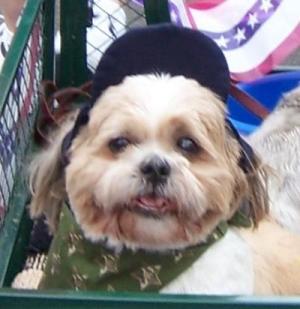 April 13, 2010
0

found this helpful
My little boy, Sam, passed away from squamous cell carcinoma (cancer) in 2006. My little girl, Tessa, is now dying of vaccine associated sarcoma (cancer). I am still not over the loss of my little boy, and now my little girl has cancer, too. I find it very, very unfair that two of my cats in a row had/have cancer. The worst part for my little girl is that her cancer was caused by vaccines. I wanted her to live a long, healthy life, and now I feel like I gave her cancer, because her cancer was caused by the vaccines I gave her. I have guilt. I have bitterness. My heart is breaking. I feel like it's all my fault. Had I not given her all those vaccines, she would not have cancer. Now, it's a matter of time. Not fair. Not fair at all. Please don't tell me that life isn't fair. I lost 3 human relatives in my life to cancer, as well. My cats, however, are my children. My heart is breaking, and I don't think I will ever forgive myself for giving Tessa all her shots. :o..(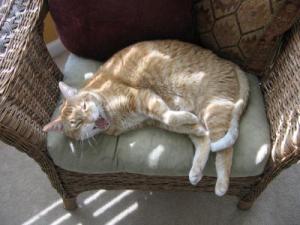 January 11, 2011
0

found this helpful
I just put down my 12 1/2 year old lab, she was my baby (i now have three kids of my own). The part that is making me crazy is I was encouraged to put her down, it was time. My wife, my mother and some other family members. I wasn't ready, and not sure if Savy was either. Dog began pooping in the house 6 months ago, accidentally, now it was up to 3-4 times a week. Lots of times it was diarhea.
Also, for the last year she has been battling arthritis, it takes her several seconds to get up. Also her back legs tend to drag a bit, with her nails scrapping the road as we walk. She had lost 5 lbs, mostly in her back leg muscles over the last 10 months. Third, neuro problems were starting to creep in. She would stand with one back leg facing in and not correcting it until it was time to walk.
Here were the issues that bothers me:
She still ate (like a horse).
She still played and liked to go out (albeit not as long and as much as she was younger).
She still loved attention and still could run a little.
I'm going through grief, that seeing her last breath will haunt me forever if knowing that I put her down too early. Also, I don't want to then blame members of my family for this. Please be honest, was it her time?
Heartbroken
September 14, 2016
0

found this helpful
I feel the same. My husband got so angry that My 15 year old miniature poodle was weeing everywhere and I feel angry with him for making me make the decision although in my head I know it was time. I just wasn't ready.
February 7, 2011
0

found this helpful
My dog Macy passed away 1/08/11 due to complications from injuries she suffered after being attacked along with another small dog I was walking on New Years Eve morning by two large, Pitbull mixed breed dogs who broke away from their handler here at our condo complex. Macy survived surgery for her initial injuries and was doing well, then very unexpectedly passed away on January 8, 2011 while going under anesthesia for a hematoma on a broken ear she had suffered in the dog attack.
She was a loving, sweet and joyful spirit, 8 yrs old and 14 lbs full of personality. My heart is forever broken and I miss her terribly. She was my fur child and I sometimes think I am going crazy with grief. I posted a video montage of her on YouTube on channel VJA142 and being able to view it has helped not only myself but neighbors, friends & family too. Macy was the neighborhood greeter and knew no strangers. I am suffering from panic attacks associated with the violent attack along with guilt over not asking more questions of the vet (wasn't her regular vet that day) before I handed her over.
Sometimes I can hear myself screaming in my mind and the tears just overwhelm me. I am very lucky to have wonderful friends and neighbors to lean on when I feel one of these episodes coming, so I try to reach out to discuss my feelings before I lose my mind completely. Never experienced such sadness and overwhelming loss. I truly am suffering from a broken heart and find staying busy/travel/distraction is the best medicine. Not ready for another dog cause they broke the mold with my Macy girl. Animals give the best, unwavering and unconditional love, must be why it hurts us all so terribly when we lose them!
Best to you all. You were all good pet parents to care so much!