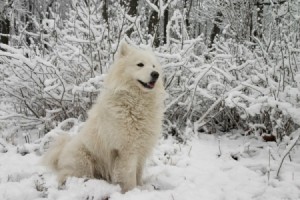 Breed Description:
Affectionately referred to as the "Eskie," the American Eskimo Dog has a beautiful, thick white coat that forms a lion-like main around the neck, a black nose, erect, triangular ears and a curly tail. This breed is divided into three small to medium sizes: Toy, Miniature and Standard.
Group: Non-sporting
Purpose of Breed: Companionship
Country of Origin: Originally from European Spitz or Nordic breeds, they arrived in America with their immigrated European owners during the 19th century and developed into the "American Spitz" and were later renamed "American Eskimo Dog."
Average Size: The breed is separated into three distinct sizes. Toy (9 to 12 inches at withers, 6-10 lbs.), Miniature (over 12 and up to 15 inches at the withers, 10-20 lbs.) and Standard (over 15 and up to 19 inches-18-35 lbs.)
Color(s): The coat is always white or white with biscuit cream markings.
Coat Type: A thick double coat consisting of a dense undercoat and a longer, straight outer coat.
Grooming: This breed sheds an average amount and its thick coat should be brushed several time per week-daily when shedding. This breed requires standard care for eyes, ears pads and nails.
Exercise Needs: The American Eskimo Dog lives well in an apartment and loves to take walks on a leash.
Temperament: This breed is highly intelligent and very trainable, but needs firm handling and should be thoroughly socialized when young. They are loyal and energetic dogs, and have a tendency to bark and be wary of strangers until introduced.
Common Ailments: Generally healthy, but attention should be paid to tear ducts and the coat should be maintained to prevent fleas and dermatitis.
Life Expectancy: Averages 15 years
Trivia: In the late 1800s, the American Eskimo Dog was popularly used as a trick-dog in traveling circuses throughout the United States.
More Information: American Eskimo Dog Club of America