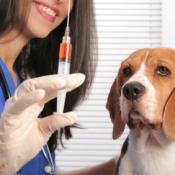 Pet shots and meds are very expensive, especially when you have to cut back due to job loss, etc.
I was surprised to discover that my local Rural King sold vaccines and pet meds, that you could administer, for a tiny fraction of the cost at a vets! If you do not have a local Rural King, then see if you have any farm suppliers or co-ops that offer the same animal supplies.
In addition, I understand that some veterinarians offer low income pet shots and certain treatments. Check with your local shelter as they probably know of just such a vet.
Let's keep our 'kids' healthy and happy, even in a bad economy. :)
By Gooby from Straughn, IN
Read More

Comments

I need to give my dog her rabies shot and the bordetella shots, but where I used to go is too expensive. I live in Brooklyn, area code 11221.

Answers

Judy
Gold Post Medal for All Time! 677 Posts
September 17, 2019
0

found this helpful
See what the Humane Society and the ASPCA in your area charge.

Ana
Bronze Post Medal for All Time! 140 Posts
September 18, 2019
0

found this helpful
Check around,sometimes other cities near by can also have better prices. Some pet stores offer discounts for frequent shoppers program signup. Ask pet shelters, they often can do it cheaper!

Pghgirl40
Bronze Feedback Medal for All Time! 196 Feedbacks
September 18, 2019
0

found this helpful
Maybe this vet group can help you:
Post back with what you learn! Blessings and prayers!
Answer

this Question
How much does it cost for my dog's vaccination shots?
By Joey

Answers

December 23, 2011
1

found this helpful
The cost depends on where you live and what the vets in your area charge. I would call around to several vets, ask what shots are recommended, and what the cost would be.
Please don't delay in getting your pet vaccinated. These shots are necessary to the health of your dog, especially if it spends any time outside.

vicki hood
Bronze Feedback Medal for All Time! 102 Feedbacks
December 27, 2011
1

found this helpful
I don't vaccinate and my dogs live for 20 years. Much studied about dangers of vaccines as my step grandson died with one, i have MS from a vaccine and many people i know have been adversely affected with disease and illness directly related to vaccine. Please go on vaclib.org and check ingredients. If you can name 5 ingredients in a vaccine that are helpful - then consider the big needle.
When you find brain damage because of mercury, anti freeze, formaldehyde and the like in vaccines you may decide to build the immune system instead of destroying it. Look at the ADD ADHD, SIDS, and autism in people, caused by vaccines and what do you think vaccines are doing to your dog?
Build systems by good food with no corn, wheat or soy. That means you cook, add some raw, get your kibble at a store other than your local grocer. The popular pet foods at the grocers are including euthanized animals from the pounds. That includes the chemicals to put them to sleep as that does not cook off. Google this and see for yourself. Rabies vaccine is required if you intend to license.

Gloria Z
Bronze Feedback Medal for All Time! 147 Feedbacks
March 17, 2016
1

found this helpful
You're very well educated and right on the money. I do Greyhound rescues & Adoptions and what I learned is that they feed these dogs 4D meat. Diseased, drugged, down & dying animal carcasses.
I strongly believe that it's also in commercial dog food. I'm always laughed at because I cook chicken & veggies for my dogs. Let them laugh I have less vet bills.
Answer

this Question