Catherine Forman
1

found this helpful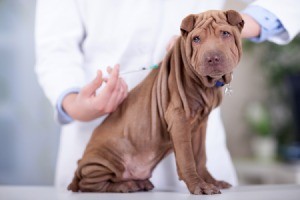 To vaccinate, or not to vaccinate? Lately, this seems to be a popular debate. After all, most of us were vaccinated as children, and occasionally get boosters for things like tetanus. Should our pets get the same sort of childhood treatments?
The Case For Vaccination
Perhaps the strongest case for vaccination is tradition. It has worked so well for the past few decades! The late 1970s saw an epidemic of parvo virus that killed thousands of dogs; only a nationwide administration of the vaccine stopped it.
Think of the alternatives: would you like to see your unvaccinated pet suffer through rabies or the parvo virus? Annual vaccinations have been very effective in fighting diseases that used to be common, like hepatitis, canine distemper, parvo, and feline leukemia. These diseases (and others) are real and could be common without the preventative measures of vaccination.
The Case Against Vaccination
Some veterinarians and pet owners believe that vaccinations are an unnecessary evil. The side effects can be much worse than the problems they should prevent: allergies, seizures, anemia, even tumors and cancer. Some say that we are overwhelming our pets' immune systems instead of helping them develop immunities.
The United States Department of Agriculture and drug manufacturers recommend annual vaccines, but there is no real scientific evidence that says the vaccines have to be administered every year. Some researchers believe that yearly vaccines go against the natural order of a pet's body, and lead to serious auto-immune diseases.
The Case Between The Two
Not sure if a yearly vaccination series is right for your pets? You can ask your veterinarian about annual titers, tests that check the level of antibodies in the blood. If there are enough antibodies, a booster shot may not be necessary.
There are certain core vaccines that probably should be given to all dogs: rabies, distemper, and parvo virus. Other vaccines, like those for Lyme disease or bordetella (kennel cough), may be useful if your dog has a chance of being exposed to the diseases. However, a dog that never sets foot in a kennel probably won't need a bordetella vaccination. Pets that live in an area where Lyme disease is not prevalent may be able to skip that shot.
Talk to your vet about your concerns, and vaccination options for your pets to have the best possible health.
Is your vet recommending too many vaccinations? Mine certainly has. I've been looking over past invoices and trying to find a cheaper vet (not at the expense of my pets' health of course). I just discovered that the American Veterinary Medical Association and the ASPCA both state that new research confirms that dogs (not puppies) need certain vaccinations (a list on these sites) only every three years. That is the official recommendation!
My vet has been sending me cards telling me my 4 year old dog is due these in a few weeks, but he had them last year. Some states require rabies shot every year regardless of the recommendations; TX requires every three years. I'm learning some vets give what they call a one year shot, and some give a three year shot. My vet's office told me they are a different vaccine. That is not true, as confirmed by these organizations as well as animal control in my city. The receptionist evidently didn't know the difference until I quoted word by word from these sites.
Animal control told me that the vets are giving too many shots and it's a money issue. My dog is not in the wild so I will not be giving a rabies until three years. There is also a series of shots I will only be giving him every three years. Everyone must educate themselves about pet health, because you may be paying for more than is necessary and possibly putting your pets health at risk.
The problem with all this, is that most boarding places will not take a pet unless he gets the vaccinations every year, regardless of what is recommended by ASPCA or American Veterinary Medical Association. Some of the vaccines pets need depend upon whether they are boarded, where you live (country or city), etc., and how often they are around other dogs. Regardless, a lot of the vaccines are still recommended only every three years, even though your vet may tell you to come in every year for those.
By Betty from Lubbock, TX
I bought my niece a puppy and he doesn't have any vaccinations. Where should I go for free vaccinations, if that is a possibility?
By Nayda
Answers
May 9, 2011
0

found this helpful
Petco has a program where you bring the pet in for vacinations. They are not free but much less expensive that the vet. Dont wait on vaccinactions...some puppy viruses are deadly.
May 9, 2011
0

found this helpful
The pup's vaccination should have been current before he was sold and with no disrespect if you can't afford this why leave leave him in the same state he was when he came to you?
May 9, 2011
0

found this helpful
I go to my town animal shelter for free rabies shots & many of them do vaccinations for a very reasonable fee. You should give yours a call. Even the SPCA offers services at a minimal fee. I strongly recommend you keep him indoors and away from other animals til this puppy is looked at. Parvo is a deadly & as well as highly contagious disease. Don't hold off having him checked. Many of these places buy their dogs from pet mills where 9 out of ten 10 puppies are horribly ill. Good Luck and remember a healthy pet is a happy pet.
Answer

this Question

...
I am planning to adopt my boyfriend's puppy. He was born on June 25, 2015, the puupy, not my boyfriend lol. When should I get him vaccinated and who provides those services for free?
Answers
July 18, 2015
1

found this helpful
Medical care of any type is expensive and must be considered in adopting a pet. You must be able to provide regular veterinarian preventive medical care, emergency medical services etc., in your decision.
Are you prepared to care for a pet financially? Your question asking about free vaccination services is definitely not a good start in deciding to adopt a pet. Many people adopt pets but are not financially able or do not want to provide veterinarian services for their pets. Then, when the pet needs regular preventive vet services or emergency medical help, the owner may abandon the pet, forcing it out into the world unprepared, or does not provide medical help, letting the pet suffer and possibly die as a result. You must consider the pet's current and future medical and financial needs and your ability to provide them in deciding to adopt.
Some animal shelters provide reduced cost vaccinations but there are very few animal medical service providers anywhere that provide free anything.
July 21, 2015
0

found this helpful
I wouldn't suggest adopting this pet.
You will need a license, tags and money for neutering surgery. Most clinics don't vaccinate for free, either.
Even if they did, suppose the dog became ill, ate a toy or got bit by another dog. You could not afford the veterinary care.
Answer

this Question

...