Gardening is not an exact science and can be very complicated. Misinformation passed along from generation to generation only adds to the complication. Most people are content to plant a packet of straight neck yellow squash, follow packet instructions, and hope for the best. This is good.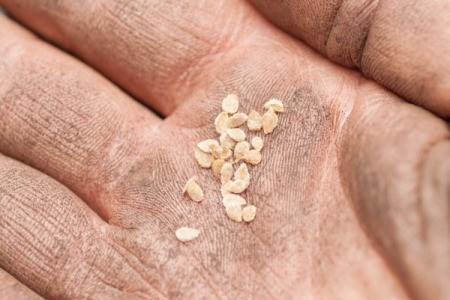 Other people want to know as much as they can about the straight neck yellow squash. They want to know the best variety. They want to get the highest yields of the best tasting, most disease and pest free squash they can possibly grow. This is good, too. It's also where things can get complicated.
I am no horticulturist, nor even a master gardener. I do research a lot to broaden my knowledge of gardening. I hope, in this post, to clear up a few misconceptions pertaining to heirloom seeds versus hybrid seeds, And since the subject is very complicated, I hope no important facts are lost or misconstrued due to my oversimplification.
If you want an exact copy of a plant, as far as I know, there is only one way to get that exact copy. That way is to clone the plant. Cloning is usually accomplished by taking a piece from the plant and rooting it.
The term 'heirloom' is not exact, either. Requirements which must be met for a plant, or it's seed, to qualify as 'heirloom' varies from country to country. Heirloom seed are said to produce plants that are 'true to type' or the same as the parent plant. That's not exactly true, either. But since a DNA analysis might be required to tell the differences, these differences are not important to the average home gardener. Brandywine is an heirloom tomato. You plant Brandywine seed, you get Brandywine tomatoes with all the minor variations in that variety of tomato.
Here is my definition of an heirloom plant, and I am open to correction. An heirloom plant has been around for several generations. You might say that it's genetic information is 'fixed'. It is programmed to produce a near exact copy of the parent plant. It does not revert back to earlier types that eventually came to make up this particular plant.
A hybrid plant is an entirely different matter. A hybrid is a cross between two different varieties of, usually, the same plant. You can cross variety 'A' with variety 'B' and get variety 'C'. This variety 'C' will hopefully have all the best characteristics of both its parents.
Here is an important fact about hybrids. Their genetic information is not 'fixed'. If you plant 'C' seeds, you will get 'C' plants. But since their genetic information is not fixed, planting the seeds from 'C' plants will not result in a 'C' plant. With each successive planting, the resulting plant will be less like the original 'C'
I hope this account will help. I purchased a tomato from a local grocer. It was the best tomato I ever tasted. It's appearance was near perfect. I kept the seed from this tomato and planted them the following year. The tomatoes from that planting were very good, but not quite as good as the original. I saved their seed, anyway, and planted them the following year. This third planting resulted in a tomato that was nothing like the original tomato I purchased. I did not keep seed from this third planting. I am sure this tomato was a hybrid since it's seed did not produce a 'true to type' plant. It's genetics were not fixed.
So, if each year, you buy a new packet of hybrid tomato seed, how do you always get the same tomato, considering that hybrid genetics are not fixed? Simple. Each year, hybridizers cross variety 'A' with variety 'B' to get a fresh supply of variety 'C', This is called an 'F1 hybrid'.
Why hybridize? Well, you may have the best tasting tomato, ever. It has one problem, though. It is highly susceptible to a particular tomato disease. A hybridizer will cross this tomato with another known to be highly resistant to that disease in hopes of getting a tomato that kept it's best taste and has disease resistance, as well. Adding or deleting characteristics is the main reason to hybridize.
What prompted me to write this post was feedback in the post 'How Long Can You Store Seeds'? One person wrote: "If your tomatoes that you buy from the store are hybrid, the seed probably won't come up". I don't agree. Whether seeds are from heirloom plants or hybrid plants has no bearing on whether they 'come up'. I know from first hand experience, not only with tomatoes, but many different plants.
Should you buy heirloom, or hybrid seed? There's no best answer. In the case of tomatoes, if the heirloom 'Brandywine' suits you best, then buy that heirloom seed. If you prefer the hybrid 'Betterboy', then buy that hybrid seed. Keep in mind though, the heirloom family contains some of the best, fixed genetic information. So good, our forefathers chose to pass it along to future generations. All that information would be lost forever if we didn't continue to grow these plants, year after year.
There are officials of major entities, who would like it to be illegal for anyone to grow heirloom seed, simply because there's no profit in it for them. This must never come about. I state my position here and now: I will grow heirloom seed as I please, even at the risk of fines and imprisonment.