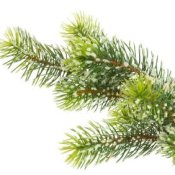 If you have any pine trees in your yard, use the needles as mulch! I did that in our veggie and flower gardens this year and it really holds up. You would be amazed and how much pine needles are under one tree!
By Carol Young from Landisville, PA
Read More

Comments
I need to groundcover my yard at little expense. I have 3 large pines that shed loads of debris. Instead of paying to have it removed I would like to spread this debris over my entire yard.
Will this be a fire hazard during fire season? If I keep this acidic stuff off the borders, will my proposed stands of hollyhocks thrive? Am I inviting hoards of earwigs? If so, is this plan going to work?
Also, what is the best place for a small a small variety of dogwood tree; several hours of morning sun or all day hot sun?

By Kathy
Answers

March 14, 2012
0

found this helpful
I would compost it for a couple of years, turning it with a spade every month or so, so that the top layer gets a chance to heat and break it all down into mulch (resulting in rich dark soil). I would also add lime because pine needles will be very acidic. Gardens and lawns grow better in a medium to alkaline soil ph.

March 14, 2012
0

found this helpful
I used pine needles as a mulch for years in my American Deep South gardens-azaleas especially love having a nice layer of pine needle mulch. I never had a problem with it being a fire hazard but I was always careful to make sure it was evenly moist if we were under a fire watch alert.
I think the success is increased by shredding the needles before placing it as a mulch. Before I owned a chipper-shredder I simply ran the mower with the mulcher blade to shred a pile of it. I'd rake the shredded material up, put it in a wheelbarrow and dump it where I wanted to mulch. My acid lovers did very well on it, as did my roses and boxwoods. Pine needle mulch, especially if shredded, is very decorative in the garden. You can compost it first but I never did, lol!
This link describes using pine needles in the garden rather nicely, and explains far better than I can about the acidic nature of pine needles:
Answer

this Question