Quick Breakfast Ideas
Solutions
Share on ThriftyFunThis guide contains the following solutions. Have something to add? Please share your solution!
From when I was a child, I kept hearing the same words over and over, "Part of this complete breakfast". Now I'm an adult and have just recently truly paid attention to those words. I used to be one to skip breakfast altogether, but can't anymore as I'm now working out at the gym. I've got to thinking, "What IS a complete breakfast?"
I thought I would share what I have found to work for me, for someone who gets up and never has time to stay and eat, but goes to work. A complete breakfast should have three of the four food groups and about 300 calories (a bowl of fiber-rich cereal with milk and a banana is an example of a complete breakfast). Ideally, there should be protein and fibre in the breakfast. These slow sugar release from foods so that you feel fuller longer. Recommended daily intake (RDI) for fibre is 30 grams. So it's great to eat whole grain breads and fiber-rich cereals in the morning to meet this RDI. Another thing to look for in a complete breakfast is calcium (to keep up bone density/mass).
To get the benefits a breakfast offers, you don't have to eat as soon as you wake up. Just make sure you eat within two hours of getting up. As I personally am out the door right when I get up, I have my own grocery cupboard at work, consisting of (and matching 3 out of 4 food groups):
Nestle Carnation Instant Breakfast with 250mL 1% white milk. Good alternative: Nestle Carnation Breakfast Anytime!


2 slices of 100% whole wheat bread (btw, I have noticed that the whole wheat bread toasts oh so much better than white).


Trans-fat free peanut butter (crunchy has less sodium than smooth).


Strawberry jam (ok ok, the sugar in these jams are quite high, but at least there is fruit in there. somewhere. right?)
Just to end here, keep this in mind, breakfast gives you the energy boost you need after an eight-hour stint without eating. It gives you brainpower and energy. Breakfast speeds up our metabolism, the rate at which we burn energy. Some argue that if they eat breakfast, they're hungry again a few hours later but if they skip that first meal of the day, they're not hungry until the afternoon. Not feeling hungry until late in the day is a bad sign. It means your metabolism is sluggish. If you eat breakfast and you're hungry a few hours later, good! It means you have a high metabolism. You should be hungry every 3-4 hours.
As for me, I can definitely vouch that I have more energy throughout the day just by eating the breakfast I mentioned above. I would recommend anyone who argues to at least test it out for a month. You WILL see a difference in your energy and your mood.
By Kevin from Calgary, Alberta, Canada
Save money by serving oatmeal for breakfast instead of expensive cold cereal. The store brands of oatmeal are excellent and are on sale often. It is fast and easy to prepare in your microwave. I have had great success in lowering my cholesterol by eating oatmeal.

By Bobbie from Rockwall, TX
Sometimes in the morning I will pour my coffee and put a scoop of Slimfast in the coffee. I will then let it sit a bit to get thick. Then I put about three scoops of light Cool Whip. It is pretty good.
It has vitamins and fiber in it so at least you have more than just a cup of coffee. It also saves on milk for when you want to do the Slimfast in general.
September 18, 2006
1

found this helpful
Need a quick and inexpensive breakfast? I always make extra baked potatoes and keep them in the fridge. At breakfast, I cut one up, put it in a pan sprayed with non-stick cooking spray. I add anything I have on hand in the fridge, such as extra onion or bell pepper, broccoli, squash, corn, ham. . .anything will work.
While it's cooking, I whip 2 eggs in a cup and add into the pan. Egg substitute works well with this recipe also. Once it's scrambled, I add a little cheddar or small amount of Velveeta cheese.
I usually toast wheat bread and add the mixture onto it, wrap it up and my husband has a to-go breakfast ready when he is out of the shower. From start to finish, it takes less than 10 minutes and is much better than take out!
By ragteller from Tofield, Alberta, Canada
Ingredients
4 cups cornflakes
2 cups minced watermelon
2 cups fresh blueberries, or sliced strawberries
2 cups vanilla yogurt
Directions
Place one-third of the corn flakes in an even layer in the bottom of an 8 x 8 inch serving dish. Mix together the watermelon, blueberries and yogurt and spoon half of it over the corn flake layer evenly. Sprinkle another layer of the corn flakes over the yogurt and then layer the remaining yogurt.
Source: Nubella
Do this once a week before your week starts. Adjust volume accordingly depending on the number of people in your household.
Read More...
March 16, 2017
1

found this helpful
Here's a fast healthy muffin in a mug that you can whip up anytime. This page contains flaxseed muffin in a mug recipe.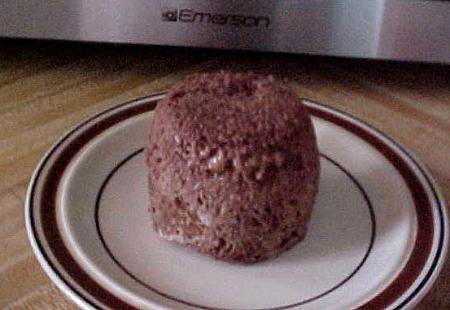 This recipe makes a great breakfast to start your morning or you can enjoy it as a healthy snack.
Read More...
October 13, 2004
0

found this helpful
I know we would all like to be able to have breakfast as a family together but sometimes mornings can be just too hectic. So here is a fast and easy way to get those kids some breakfast on the go!
Read More...
Questions
Ask a QuestionHere are the questions asked by community members. Read on to see the answers provided by the ThriftyFun community or ask a new question.
We are all getting tired of cereal and oatmeal. Does anyone have any yummy, easy, and simple breakfast ideas to spice things up a bit?
By Missy
Answers
April 5, 2016
0

found this helpful
I make egg "McMuffins" at home. With a microwave egg cooker (found at Walmart) cook egg, topped with a couple of slices of thinly sliced ham for one minute. While cooking, toast the English Muffin. Fold the corners of a slice of American Cheese into a small square and place on top of one half of muffin. When egg is done, place it on top of cheese, and put the other half of the muffin. Can be wrapped for an easy on-the-run meal.
I also make breakfast burritos. Scramble eggs, add cheese, salsa, bacon pieces, ham, whatever your kids like! Wrap it all up in a flour tortilla, and again, an easy on-the-go meal!
Answer

this Question

...
Related Content