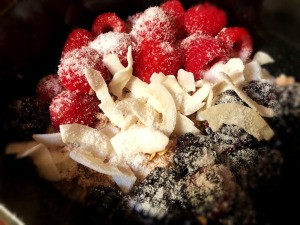 This is one of my absolute favourite breakfasts that I sometimes use as a midday snack. You could even have this as a dessert. It's packed with healthy proteins, good fats, and fruit. You can use any sweetening element you like; I tend to reach for stevia mixes or a small drizzle of date syrup. The textures in this bowl are fabulous, and it's quite pretty to look at. I hope you try this!

Total Time: 3 minutes
Yield: 1 bowl
Ingredients:
2/3 cup cottage cheese
3 Tbsp granola
1/4 cup raspberries
1/4 cup blackberries
1 Tbsp shredded coconut
sweetener of your choice, to taste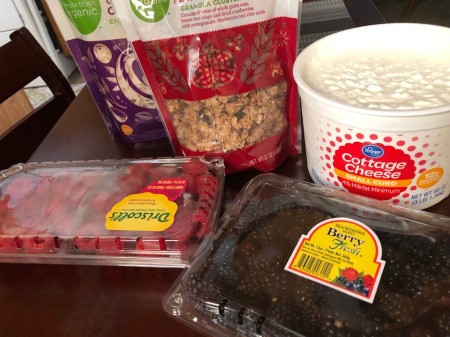 Steps:
In a bowl, add granola to cottage cheese. If you prefer your granola softened, stir it and allow it to sit a bit.

Add berries and coconut. Sprinkle with your favourite sweetener.
Comments

suz1230
Silver Feedback Medal for All Time! 451 Feedbacks
August 7, 2019
0

found this helpful
Attosa that looks so delicious, healthy and beautiful, I now HAVE to make this just like you've done here, hehe :)
Really, I love this combo you've got. Yummm
Sometimes when my hubby and I go for a drive up to Mt Charleston here by Vegas, we'll drive through some fast food place first like Mc D's and I always get their yogurt and fruit with the granola, which I like, but I know it's not as "pure" as making it myself, and your Cottage Cheese Crunch Bowl is the ticket!!!
Thank you for this recipe, I REALLY can't wait to eat it! :)

August 7, 2019
0

found this helpful
Oh Suz, I really really think you're going to LOVE this! The coconut really makes it for me-- let me know what part of it ends up being your favourite. Hubs never liked cottage cheese until I gave this to him.
Of course, I did not show him what was coming in when I spoon fed it to him; he just opened up, I put a scoop in, and he said, "WOW! WHAT IS THIS? I LOVE IT!" "Cottage cheese, you big dope!" :D

suz1230
Silver Feedback Medal for All Time! 451 Feedbacks
August 8, 2019
0

found this helpful
Attosa, yes, I think you're right! :)
Yes, what's funny is I initially thought the coconut was noodles and I thought hummm, hehe, then when I saw that it was "coconut" on there, well... that did it for me! :)
Oh, and my hubs is like your hubs, hehe he's not into cottage cheese much either, but this I dish, I think he'll be like your hub reacted, hehe
And I ditto your last sentence about mine too, haha I'm SO cracking UP! :)

August 8, 2019
0

found this helpful
Noodle dessert sounds interesting and now you've got my gears going! I know some exist but I'd like to play on that a bit! Hmmm! And I thought you might relate to some of my comments hahaha! I know you guys so well in a pretty darn short time and I love it :D
Read More

Comments