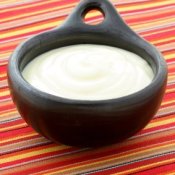 Try this instead of sour cream on beans, vegetables, fruit, and tortillas.
Ingredients:
2 Tbsp. skim milk
1 Tbsp. lemon juice
1 cup low fat cottage cheese
Directions:
Place all ingredients in a blender, and combine on medium-high speed until smooth and creamy. Serve with Tropical Fruit Compote (see any recipe that uses sour cream).
Yield: 8 servings - Serving size: 2 1/2 Tbsp.
Each serving provides:
Calories: 27
Total fat: Less than 1 g
Saturated fat: Less than 1 g
Cholesterol: 2 mg
Sodium: 117 mg
Calcium: 24 mg
Iron: Less than 1 mg
By NHLBI

Just under a week ago, I tried to make homemade sour cream, but it did not ever thicken. It's been sitting out and now looks curdled and separated. I have a different recipe I'm going to try, but I wanted to know if what I have from my first attempt is salvageable in any way. What is in those jars now, can it be used or reused?
The ingredients included half and half (store bought) and buttermilk (left from butter I made from heavy cream and a bit of whole milk, both store bought), which was just about a week old when I tried to make the sour cream. It had been refrigerated that whole time. Thanks in advance!
By MystikMommy
Answers
January 17, 2012
0

found this helpful
Unless your cream or milk were unpasteurized (very unlikely in the U.S.), your buttermilk probably didn't have the bacteria cultures necessary to make your sour cream set. Commercial buttermilk is thick and tangy because it has those cultures added - like yogurt does.
I'm not sure if you can salvage your attempt at sour cream, but if you want to try, drain off the thin (possibly greenish) liquid on top, and then squish the curds through a fine mesh strainer and whisk the results, to smooth it out. Then do a sniff and taste test. If it smells okay, taste a little bit. Even if it's bad, it won't kill you. If it's nasty, throw it out. If it tastes all right, put it in a clean container and stick it in the fridge.

Joan
Bronze Feedback Medal for All Time! 186 Feedbacks
January 17, 2012
0

found this helpful
My late mother used to make sour milk or cream, just by adding a little vinegar to regular milk or cream. You must be trying to make a sour cream more like the cultured sour cream that you buy.
She also used a similar method to make buttermilk. The sour milk and cream that she made was used for baking, etc.

Marty Dick
Bronze Post Medal for All Time! 169 Posts
January 18, 2012
0

found this helpful
Don't they make cottage cheese out of the curdles? Contact a dairy or the ag dept at your local university.
Answer

this Question