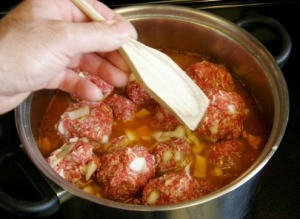 We try to watch all labels on each item. It takes getting used to, but it's so much better for you and you feel so much better! Trying not to eat out as much is the first thing, but if you do, try to go to places that have printed information. If you can't do that just do the best you can. Do not salt things when cooking, if you have to salt (say pasta, as it has no seasonings) pour salt in hand and don't go over one quarter teaspoon.
I use seasonings such as McCormick's salt free herbs, they really add flavor. You can also use Mrs. Dash as well, but look out for the ones that are salt based, as I said before look at all labels. Also, when buying prepackaged dinners make sure each meal is under 500 mgs of sodium per meal, not serving.
Another good measure to follow if you are on a low sodium diet is not to go over 2 grams or 2,000 mgs of sodium daily. If you are gonna try this or any other diet check with your doctor first. This has worked for me, but make sure not to cut sodium drastically because it will cause major muscle cramps, I can attest to that. This helped me lower my BP and lose about 13 lbs. to boot!
By Henrietta B. from Westminster, SC
Read More

Comments
My 85 yr. old MIL grew up in Vermont where they raised most of their own food. She has told me to never salt vegetables while cooking, including potatoes.
The salt will leech out some of the vitamins.
Read More...
For a delicious roast, do not add salt until almost done. Salt added earlier in the cooking time coaxes the juices out. Unless You are making stock for soup or stew, wait until 20 minutes before done. Then salt as You wish. By Chell

My husband has just been put on a salt-restricted diet due to a heart attack. I have no trouble finding or inventing low salt recipes but I'm curious if he will eventually not miss the salt. He salts everything (at least he did before I got rid of the salt shaker) so it's going to be a big change for him. I personally never could stand anything salty so it won't make a difference to me.
By Anna from IN
Answers

April 7, 2009
0

found this helpful
My sister in law changed my brother over to no salt. It looks and tastes like salt and he didn't even notice.

April 8, 2009
0

found this helpful
Try adding a little powdered mustard to replace some of the salt. The mustard is zingy and helps to bring out the other flavours in the dish. Also try adding a little olive oil and red wine vinegar to your dishes.
His tastebuds will adjust to the lower or no salt. It takes about 2 weeks. My hubby and I have been on low salt for 3 years. When I eat something salty now, it feels like it burns my mouth.

April 8, 2009
0

found this helpful
The no salt stuff I bought tastes like metal shavings, nasty.

April 8, 2009
0

found this helpful
I'm on a no-salt diet and it took a while for me to get used to the idea but if you use spices it really helps. good luck.

April 9, 2009
0

found this helpful
This is coming from a former salt-a-holic, I used to put salt on EVERYTHING. i found out that I have high blood pressure and decided on my own to eliminate salt from my diet. The first week was hard, it seemed that everything tasted blah, but then I soon realized what food really tasted like.
It is strange to eat food now and how great things taste and I wonder why I used to literally cover it with salt. I haven't used salt in two years and don't miss it a bit. Don't go for the substitutes.

April 9, 2009
0

found this helpful
To sela gal. Yes, the problem IS with salt or rather sodium. Sea salt isn't going to help. We don't need as much salt to live as some people think. He'll get plenty. Besides I didn't ask for recipes or salt substitutes I asked for a time line to get over salt cravings.
I think his doctor knows what he's talking about when he says cut down the sodium drastically and sea salt has sodium.

April 9, 2009
0

found this helpful
The problem is NOT with salt, it's with processed salt! And processed salt is in everything. Try using real salt in it's natural form. It still contains all the minerals.
Some sea salt is processed too so be careful. Himalayan Salt is great. We need salt tolive, but we need the real salt, not the processed junk.

April 9, 2009
0

found this helpful
Our rule has always been to taste it first. Keep trying, read lables and get reduced salt items. Try not to use too many pre-packaged things. Don't add salt to cooking, except baking items that need it to cook right. It takes about 2 weeks to get over the cravings. And then about a month in, if it has salt, it is way too salty for your taste buds! Good luck, it is easier if it is you and not your husband!

April 11, 2009
0

found this helpful
You can't still create tasty, yet healthy meals even without salt. Have you tried any salt-free seasonings for your food. For example, garlic, turmeric, curry, cayenne pepper, and onions all add a lot of flavor and no sodium.
I like to make baked chicken or fish and use a mix of seasonings like these to create unique blends and never bored. One brand name of salt-free yet tasty seasoning blends is Mrs. Dash.
Read More

Answers
I would like to know where is some of the best places to find salt free or low sodium foods. Such as canned foods.

Louis

Answers
By Rana (Guest Post)
December 23, 2004
0

found this helpful
Do you have a Sav-A-Lot grocery store? The one we have here has canned vegetables and beans for the same price as Aldi, but they offer no-salt-added varieties, too.
By guest (Guest Post)
January 2, 2005
0

found this helpful
Most major brands of canned vegetables offer "no salt" varieties. To use canned tuna or chicken, rinse the liquid off under the faucet in a large strainer or collander. Frozen or fresh vegetables are salt-free. Avoid all deli-type meats, cured meats like bacon, ham, corned beef, etc. Instead, use fresh, lean meats like beef, pork, chicken, fish, turkey. Avoid prepared baked goods. Learn to read nutrition labels for sodium content and compare brands, types, and possible substitutions. Ask your medical professional for a number of grams of sodium you are allowed and remember there are 1000 miligrams in each gram. You may be able to have more than you think. Mrs. Dash makes some really good salt-free seasonings. My favorites are the extra spicy and the table blend. It takes some real concentration at first, but it soon becomes second nature. Good luck! QMJ
By Patti Feehley (Guest Post)
February 24, 2005
0

found this helpful
I am the manager of a specialty retail food store called Low Sodium Connections,Inc. located in Winston Salem,NC. Our store has been open for a few months now and just about everyday new customers come in and express how relieved they are to have a store like this.
I and the owner spend vast amounts of time researching for new products and locating companies and so on. We're here to help so if you know of anyone living in or around our area,tell them to give us a shout! Thanks!
By JACKLIN (Guest Post)
March 9, 2006
0

found this helpful
I'M TRYING TO FIND SALT FREE PICKLES
Editor's Note Here is a link on making them:
missourifamilies.org/.../qafs569.htm
if you Google Salt Free Pickles you will find some sources. There are a few companies that make them.

Kelly
Bronze Feedback Medal for All Time! 233 Feedbacks
March 9, 2006
0

found this helpful
For tortilla chips, my husband bought some corn flour tortillas with low sodium, and I cut them up and dried them in the oven at 250 for an hour. Not as salty, but works great with salsa or cheese, and my little boy liked them too. About 12 8" tortillas made a gallon storage bag; just look for the least expensive, because bagged chips are ALWAYS too expensive! Watch what kind of cheese you buy too, american is one of the worst for sodium, but most have the labels for you to compare. Be sure to stay away from caffiene if possible, because that will make you retain and sodas can have a lot of sodium.
By (Guest Post)
July 16, 2007
0

found this helpful
HEALTHY HEART FOODS, My husband has renal problems due to years of high blood pressure and I buy many of our food items from Healthy Heart. Great pasta sauce, pickles, etc.
By Nathalie Cameron (Guest Post)
December 5, 2007
0

found this helpful
I'm always looking for places selling Salt Free or Low Sodium foods. I run a website called "The Rice Way" devoted to the rice diet and my community is always looking for ways to spice up their diets with new foods and recipes.... www.riceway.com
IF anybody has any info related to low salt foods please get back to me, thanks muchly :)
By Bluenote (Guest Post)
February 19, 2009
0

found this helpful
I absolutely LOVE the salt free spice blends that NutriFit makes. I have been on a low salt diet for a while now and these may be the best I've found. They have a great variety of flavors that liven up any dish, and I don't even miss salt anymore! I buy them here: www.nutrifitonline.com/.../merchant.mv?Screen=CTGY&Store_Code...
Answer

this Question