This is a recipe I grew up with, and my son grew up with, and my granddaughter grew up with. This is requested as the dish I should bring every time there is a family get-together.
Ingredients:
1 dozen eggs
1 large can sliced beets
1/2 cup more or less sugar
1/2 cup more or less apple cider vinegar
Directions:
Boil the eggs as usual, cool, and remove shells. Place the peeled eggs in a large jar.
Put beets and juice in a saucepan and add vinegar and sugar to taste. It should be a sweet sour taste. Bring to a boil.
Remove the beets and place them in a bowl or jar to be eaten hot or cold as sweet-sour beets.
Pour liquid into the jar so it covers the eggs. Let them set at least until the eggs turn color. I put mine in the refrigerator overnight.
My family likes them so well that we eat them any time. My mother made them for holidays or family get-togethers.
Servings:
12
Time:
10-15 Minutes Preparation Time
15 Minutes Cooking Time
Source: One of my mother's recipes which I believe came from her mother.
By Clynn A. from Inglis, FL
April 17, 2012
0

found this helpful
How do I can pickled eggs?
By Kim M.
Answers
April 17, 2012
0

found this helpful
When I buy 'pickled asparagus spears' (from Costco), after I am finished w/them, I plunk a few (4-5) hard boiled eggs in the brine, let sit for 4-5 days and walah!
M Summers
April 19, 2012
0

found this helpful
Each of these recipes uses 12 peeled, hard-cooked eggs. The directions for each recipe below is to:
Bring all the ingredients, except the eggs, to a boil.
Reduce the heat and simmer for 5 minutes.
Pack no more than one dozen peeled, hard-cooked eggs loosely into a warm, pre-sanitized quart jar (or other similar size container which can be closed tightly).
There needs to be plenty of pickling solution, and enough to completely cover the eggs. Pour the hot pickling solution over the eggs in the jar, cover, and refrigerate immediately.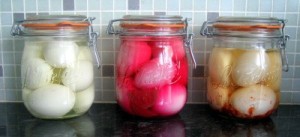 Answer

this Question

...
September 25, 2009
0

found this helpful
How do you make pickled eggs? Also what is the BEST way to hard boil eggs?

Marjorie from Michigan

Answers:
Pickled Eggs Recipe
Best way to boil eggs.

Place eggs in pan with ample room for movement. Fill pan with cool tap water at least 1" over top of eggs. Put pan in high heat on stove. Once it begins to boil, set a timer for ten minutes. Immediately pour out the boiling water (without dumping out the eggs- tricky) and refill pan with cool tap water. Don't let water "run", just fill once and let pan sit until eggs are barely warm to room temp(about 10 minutes or so.) Dump water and rattle the eggs gently around pan to break shells. Eggs shells should now easily slip off leaving perfect boiled eggs. (04/30/2007)

By sweetcultivator
Pickled Eggs Recipe
Hi Marjorie, when boiling the eggs, add a small amount of table salt to the water. It will be easier to remove the shells. (04/30/2007)

By Tedebear
Pickled Eggs Recipe
My son-in-law just LOVES pickled beet eggs. I hard boil and peel several for him and add a can of pickled beets. Let them sit for a few days in the fridge, turning at least once a day. I use a gallon freezer bag. It takes less room. (04/30/2007)

By Margie
Pickled Eggs Recipe
Thank you all for your feedback on how to make pickled eggs. I have made 2 different kinds now, and feel like an expert egg pickler! Marjorie from Michigan (04/30/2007)

By Margeth
Pickled Eggs Recipe
Here is my recipe: Large jar, dozen hardboiled eggs.

In pan on stove heat 2 reg. size cans of red beets, 2 cups of water, 2 cups of sugar, 1 cup of vinegar. Also add, wrapped in cheese cloth or a half of a new handiwipe closed with a twisty, about 1/4 cup of pickling spice

Heat this until hot, meanwhile peel your eggs and put them in the jar.

When your mixture has cooled slightly, pour it all into the jar, along with the beets. Cool the entire jar and refrigerate. I usually let them pickle for about 2 or 3 days before eating. After that time take the pickling bag out and throw it away.

Also, if you find they are not red enough, add a few drops of red food coloring and your eggs will be deeply colored into the egg.

Now, I will say this, this recipe tends to make the eggs on the sweet pickled side rather than the sour, which I like. If you prefer sour, use more vinegar.

Before anyone panics about the use of the handiwipe part, I have been doing it this way for years and years with never a problem. If you are uncomfortable with this part, use cheese cloth tied closed or simply put the spices in loose. (05/01/2007)

By Bonnie