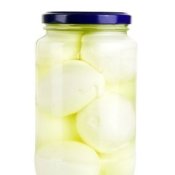 This is a recipe that has been in the family for at least 90 years. My grandmother prepared pickled eggs for an Easter dish every year; when she was unable to prepare them, my mother learned and prepared them. From a family of five I was the one that has been carrying on the tradition. It is delicious with most any dish served at an Easter lunch or dinner. Slightly spicy and a pretty red color.
Ingredients:
1 dozen eggs you have had on hand 7 to 10 days
1 jar or can of beets, sliced, quartered, or whole
1 3/4 cups white vinegar
1 cup sugar
1 Tbsp. whole allspice
1 stick cinnamon, halved
Red food coloring, optional
Directions:
Place eggs into saucepan and cover 1 inch above eggs with cold water. Place on stove and bring to boil at least 1 minute. Place lid onto pan and remove from the burner and allow to stand 15 to 18 minutes.
This keeps the yolks from turning dark.
Drain and run cold water over them. Shake eggs in pan bumping the sides of pan and together and begin peeling them immediately. Place into glass jar or plastic container that has good lid.
While eggs are cooling prepare syrup mixture for the eggs.
Bring the beets, vinegar, sugar and spices to boil and stir until sugar is dissolved. Reduce heat and simmer 5 minutes. I like to add a few drops of red food coloring at this point.
Pour hot mixture over eggs and cover tightly. Allow to cool to room temperature. Refrigerate to blend flavors. I usually make them Tuesday or Wednesday before Easter Sunday.
Using slotted spoon we dip them out of liquid and place into pickle dish to serve.
Prep Time:
Approximately 40 minutes plus 2 or 3 days to blend flavors.
Cooking Time:
1 minute plus 18 minutes to complete cooking of eggs.
Source: This is recipe from my grandmother handed down and tweaked a little by each person.
By Marie G W. from Hardy, VA