Pickled Eggs Recipes
Recipes
Share on ThriftyFunCheck out these recipes. If you have made this recipe please submit a photo and let us know how it worked. Or, add your own recipe variation.
This is a recipe that has been in the family for at least 90 years. My grandmother prepared pickled eggs for an Easter dish every year; when she was unable to prepare them, my mother learned and prepared them. From a family of five I was the one that has been carrying on the tradition. It is delicious with most any dish served at an Easter lunch or dinner. Slightly spicy and a pretty red color.
Ingredients:
1 dozen eggs you have had on hand 7 to 10 days
1 jar or can of beets, sliced, quartered, or whole
1 3/4 cups white vinegar
1 cup sugar
1 Tbsp. whole allspice
1 stick cinnamon, halved
Red food coloring, optional
Directions:
Place eggs into saucepan and cover 1 inch above eggs with cold water. Place on stove and bring to boil at least 1 minute. Place lid onto pan and remove from the burner and allow to stand 15 to 18 minutes.
This keeps the yolks from turning dark.
Drain and run cold water over them. Shake eggs in pan bumping the sides of pan and together and begin peeling them immediately. Place into glass jar or plastic container that has good lid.
While eggs are cooling prepare syrup mixture for the eggs.
Bring the beets, vinegar, sugar and spices to boil and stir until sugar is dissolved. Reduce heat and simmer 5 minutes. I like to add a few drops of red food coloring at this point.
Pour hot mixture over eggs and cover tightly. Allow to cool to room temperature. Refrigerate to blend flavors. I usually make them Tuesday or Wednesday before Easter Sunday.
Using slotted spoon we dip them out of liquid and place into pickle dish to serve.
Prep Time:
Approximately 40 minutes plus 2 or 3 days to blend flavors.
Cooking Time:
1 minute plus 18 minutes to complete cooking of eggs.
Source: This is recipe from my grandmother handed down and tweaked a little by each person.
By Marie G W. from Hardy, VA
This is a recipe I grew up with, and my son grew up with, and my granddaughter grew up with. This is requested as the dish I should bring every time there is a family get-together.
Ingredients:
1 dozen eggs
1 large can sliced beets
1/2 cup more or less sugar
1/2 cup more or less apple cider vinegar
Directions:
Boil the eggs as usual, cool, and remove shells. Place the peeled eggs in a large jar.
Put beets and juice in a saucepan and add vinegar and sugar to taste. It should be a sweet sour taste. Bring to a boil.
Remove the beets and place them in a bowl or jar to be eaten hot or cold as sweet-sour beets.
Pour liquid into the jar so it covers the eggs. Let them set at least until the eggs turn color. I put mine in the refrigerator overnight.
My family likes them so well that we eat them any time. My mother made them for holidays or family get-togethers.
Servings:
12
Time:
10-15 Minutes Preparation Time
15 Minutes Cooking Time
Source: One of my mother's recipes which I believe came from her mother.
By Clynn A. from Inglis, FL
Solutions
Share on ThriftyFunThis page contains the following solutions. Have something to add? Please share your solution!
When your pickle jar is empty, re-use to make pickled eggs! Hard boil eggs, let cool, peel them, and add to pickle jar. Leave them for 3-4 days, then dump pickle juice. They're ready to eat. Enjoy!
Source: mrsjanuary.com
By coville123 from Brockville
Questions
Ask a QuestionHere are the questions asked by community members. Read on to see the answers provided by the ThriftyFun community or ask a new question.
How do I can pickled eggs?
By Kim M.
Answers
April 17, 2012
0

found this helpful
When I buy 'pickled asparagus spears' (from Costco), after I am finished w/them, I plunk a few (4-5) hard boiled eggs in the brine, let sit for 4-5 days and walah!
M Summers
April 19, 2012
0

found this helpful
Each of these recipes uses 12 peeled, hard-cooked eggs. The directions for each recipe below is to:
Bring all the ingredients, except the eggs, to a boil.
Reduce the heat and simmer for 5 minutes.
Pack no more than one dozen peeled, hard-cooked eggs loosely into a warm, pre-sanitized quart jar (or other similar size container which can be closed tightly).
There needs to be plenty of pickling solution, and enough to completely cover the eggs. Pour the hot pickling solution over the eggs in the jar, cover, and refrigerate immediately.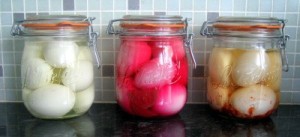 Answer

this Question

...
I am looking for a recipe that's called 28 days pickled eggs.

Darlene from MS
Answers
June 30, 2008
0

found this helpful
I did a search and found lots of references to pickled eggs, especially quail eggs, but none to 28 days. Try recipe.com, allrecipes.com, and the like.
By MurphTheJo (Guest Post)
June 30, 2008
0

found this helpful
I boil eggs & drop them in leftover pickled beet juice. YUMMY!
Answer

this Question

...
I am looking for pickled egg recipe. I do believe it is called "The 24 Day Pickled Eggs". You let the eggs pickle for 24 days. I can not remember what goes in them.
By darlene from Carriere, MS
Answers
October 4, 2009
0

found this helpful
While trying (in vain) to find this recipe for you on google, I did find an interesting site called: 'uncle phaedrus consulting detective and finder of lost recipes' at hungrybrowser.com. Too cute! Actually the site finds all sorts of things like albums, trivia, video tapes - you wouldn't believe it! Good luck on finding your recipe; maybe uncle phaedrus can help.
Answer

this Question

...
Archives
ThriftyFun is one of the longest running frugal living communities on the Internet. These are archives of older discussions.
How do you make pickled eggs? Also what is the BEST way to hard boil eggs?

Marjorie from Michigan

Answers:
Pickled Eggs Recipe
Best way to boil eggs.

Place eggs in pan with ample room for movement. Fill pan with cool tap water at least 1" over top of eggs. Put pan in high heat on stove. Once it begins to boil, set a timer for ten minutes. Immediately pour out the boiling water (without dumping out the eggs- tricky) and refill pan with cool tap water. Don't let water "run", just fill once and let pan sit until eggs are barely warm to room temp(about 10 minutes or so.) Dump water and rattle the eggs gently around pan to break shells. Eggs shells should now easily slip off leaving perfect boiled eggs. (04/30/2007)

By sweetcultivator
Pickled Eggs Recipe
Hi Marjorie, when boiling the eggs, add a small amount of table salt to the water. It will be easier to remove the shells. (04/30/2007)

By Tedebear
Pickled Eggs Recipe
My son-in-law just LOVES pickled beet eggs. I hard boil and peel several for him and add a can of pickled beets. Let them sit for a few days in the fridge, turning at least once a day. I use a gallon freezer bag. It takes less room. (04/30/2007)

By Margie
Pickled Eggs Recipe
Thank you all for your feedback on how to make pickled eggs. I have made 2 different kinds now, and feel like an expert egg pickler! Marjorie from Michigan (04/30/2007)

By Margeth
Pickled Eggs Recipe
Here is my recipe: Large jar, dozen hardboiled eggs.

In pan on stove heat 2 reg. size cans of red beets, 2 cups of water, 2 cups of sugar, 1 cup of vinegar. Also add, wrapped in cheese cloth or a half of a new handiwipe closed with a twisty, about 1/4 cup of pickling spice

Heat this until hot, meanwhile peel your eggs and put them in the jar.

When your mixture has cooled slightly, pour it all into the jar, along with the beets. Cool the entire jar and refrigerate. I usually let them pickle for about 2 or 3 days before eating. After that time take the pickling bag out and throw it away.

Also, if you find they are not red enough, add a few drops of red food coloring and your eggs will be deeply colored into the egg.

Now, I will say this, this recipe tends to make the eggs on the sweet pickled side rather than the sour, which I like. If you prefer sour, use more vinegar.

Before anyone panics about the use of the handiwipe part, I have been doing it this way for years and years with never a problem. If you are uncomfortable with this part, use cheese cloth tied closed or simply put the spices in loose. (05/01/2007)

By Bonnie