Twice Baked Potato Recipes
Recipes
Share on ThriftyFunCheck out these recipes. If you have made this recipe please submit a photo and let us know how it worked. Or, add your own recipe variation.
May 24, 2010
9

found this helpful
A nice side dish or snack and tasty heated up the next day too. You can also place them on a baking sheet in the freezer and, once frozen, wrap individually for future use. Oh, and if you happen to have some Bacon Salt on hand be sure to add a "very sparing" sprinkling on top of each potato before serving.
Ingredients:
4 large baking potatoes
1 cup sour cream
1/2 cup milk
4 Tbsp. butter, softened
1 Tbsp. Dijon mustard
1 cup sharp cheddar cheese, divided
8 green onions, sliced, divided
1 cup cooked ham, coarsely chopped, divided
Directions:
Preheat oven to 350 degrees F.
Wash potatoes, pierce with fork, lightly coat skins with vegetable oil, and bake for 1 hour. When potatoes are done allow them to cool for 10 minutes.
Slice potatoes in half lengthwise and scoop all except about 1/4 to 1/2 inch of the flesh from the skins and place in a large bowl, keeping the skins aside.
Add sour cream, milk, butter, Dijon mustard, 1/2 of the cheese, 1/2 of the green onions, and 1/2 of the ham to the potato flesh. Mix with a hand mixer until well blended and creamy. Spoon the mixture into the potato skins. Top each with remaining cheese, green onions, and ham.
Bake for about another 15 minutes and serve.
By Deeli from Richland, WA
Fast, easy, and tastes good. It is different than plain old oven baked potatoes. I like it, because everything is cooked in the potato and all I add after it is cooked is sour cream.
Ingredients:
2 to 6 Idaho potatoes
butter or margarine
grated Parmesan cheese
Morton Nature Season's Seasoning Blend No Msg, or any seasoning
jalapeno, chopped (optional)
sour cream (optional)
Directions:
Preheat oven at 350 degrees F. Get 2 or 6 Idaho baked potatoes, tear off aluminum foil pieces for each potato and place the potato on them. Then slice open part way, using your fingers to open them.

Put butter or margarine in the middle along with seasoning and Parmesan cheese. Add a few slices of jalapeno pepper (optional).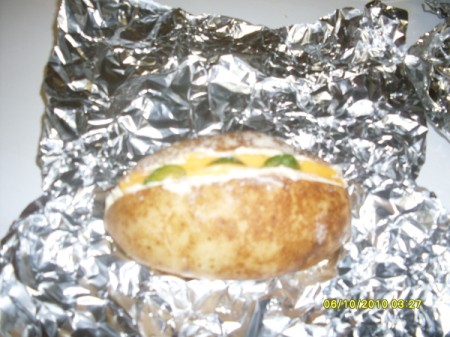 Close up potatoes, then wrap them up in the aluminum foil pieces, and put them in a pan. Bake 45 minutes to 1 hour or until tender.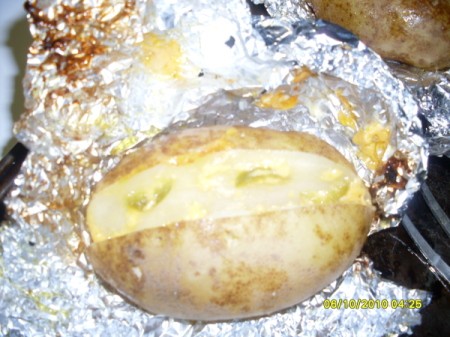 When ready to eat, open them carefully and put them on a plate. Add sour cream and enjoy! Best baked potatoes you ever ate. You can add onions or anything before putting the potatoes in oven.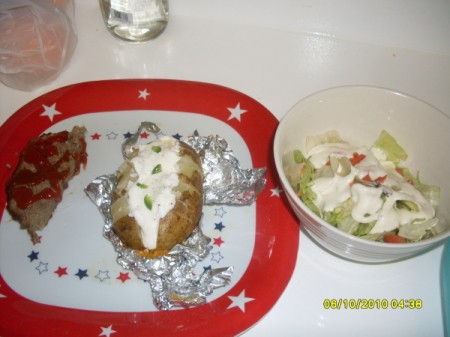 Servings:
2 to 6 servings
Cooking Time:
45 minutes to 1 Hour
By Teresa from Orlando, FL
When I had guardianship of my niece, two of her favorite things were ranch and cream cheese. I changed a recipe for twice baked potatoes to incorporate both.
She requested these regular and now that she has a family of her own, she uses my recipe.
Read More...
March 9, 2006
0

found this helpful
Turn off oven and turn broiler on. Carefully remove portion of each potato and place in large mixing bowl. (You will have a potato shell remaining.) Set shells aside. Place all remaining ingredients into bowl with potato and mix well...
Read More...
December 14, 2004
0

found this helpful
PREHEAT oven to 400°F. Bake potatoes 1 hour 15 minutes or until tender. Cut potatoes in half lengthwise...
Read More...
Solutions
Share on ThriftyFunThis page contains the following solutions. Have something to add? Please share your solution!
I was bored with plain baked potatoes and had some leftover dip to use up, so I came up with this recipe.
Prepare two large baking potatoes in the microwave. They are usually soft in 7 to 10 minutes. Let them cool, then slice long ways trying to leave about 2/3 of the potato on one side. Scoop out all of the potato flesh into a small bowl.
To the potato flesh, add about 1/4 cup of shredded cheddar cheese and a couple tablespoons of French onion dip (or just plain sour cream). Add a little salt and pepper and mix well. You can also add other herbs to your taste such as dill or chives.
Scoop the filling into the larger potato skins. Place on a foil tin, such as a pie tin. Also lay the unused potato skins with them, brushed with a little olive oil and salt and pepper. Cover with foil and set on your grill with your steak, chicken, burgers, whatever. Yummy!
Makes an elegant and easy side dish. The leftover skins are like a fresh made chip, too.
By MB Norton from Kingsville, OH
Archives
ThriftyFun is one of the longest running frugal living communities on the Internet. These are archives of older discussions.
May 24, 2010
0

found this helpful
Easy side dish that you can vary depending on what you have on hand.

Ingredients:
2-4 potatoes
butter or margarine
shredded or sliced cheese, any kind you like
cottage cheese or milk or whipping cream (whatever you have on hand)
Salt and Pepper and any other seasonings you like on potatoes
Optional: A pinch of baking soda will make them more fluffy.
Directions:
Cook potatoes in microwave until centers are soft (don't let the skins get too wrinkly). Slice each potato in half and scoop out as much of the insides as you can while keeping the shells intact.
Put scooped out potatoes in bowl. Add butter or margarine, plus bits of shredded cheese, salt adn pepper. I like to add some cottage cheese to add to the creamy flavor. You can also tear sliced cheese into bits for it. You can combine cheeses for cheesier flavor. Add any other seasonings you like on potatoes and beat with mixer until mostly smooth.
Fill potato shells with mixture and top with a little bit of shredded or sliced cheese and toast in oven or toaster oven until hot and cheese is melted.
Everyone loves these! This is a great side because you can vary the ingredients depending on what you have on hand plus it makes a great side when you are serving company. Experimenting with various seasonings like spicy and hot also adds to the flavor.
Servings:
4-8
Time:
10 Minutes Preparation Time
5 Minutes Cooking Time
By G.Lomax from Dallas, TX
February 18, 2010
0

found this helpful
Ingredients:
4 potatoes
4 Tbsp. butter
4 Tbsp. cream cheese
1/2 cup sour cream
Dill weed
Flaked onions
4 Tbsp. milk
Cheddar cheese (shredded)
Directions:
Bake potatoes in oven at 400 degrees F for about 1 hour. Make a small slice in top of potato, just enough to remove the inside of the potato with a spoon. Put in medium mixing bowl; add remaining ingredients. Blend with a hand mixer until completely blended. Add milk until you get a thick creamy mixture. Fill potatoes with mixture and top with shredded cheese. Bake until cheese is melted and lightly brown.
By Robin
February 6, 2010
0

found this helpful
Twice Baked Potatoes
Ingredients:
4 large baking potatoes (baked)
1/4 cup margarine
2/3 cup milk
2 Tbsp. chopped onions
1/2 tsp. salt
1/8 tsp. black pepper
3/4 cup shredded sharp cheddar cheese or Velveeta cheese
Paprika
Directions
Cut hot baked potatoes in half. Scoop out insides, reserve shells. In large bowl, with electric mixer, beat potatoes and margarine until very creamy.. Gradually beat in milk. Stir in onion, salt, and pepper. Spoon mixture into reserved shells. Sprinkle with cheese. Arrange in baking dish. Bake at 375 degrees for 20-25 minutes or until heated through. Sprinkle with paprika and serve.

By Robin