Homemade Onion Rings Recipes
Recipes
Share on ThriftyFunCheck out these recipes. If you have made this recipe please submit a photo and let us know how it worked. Or, add your own recipe variation.
July 23, 2010
8

found this helpful
So tasty with burgers straight off the grill and don't forget a splash or so of hot sauce mixed in to a side of catsup for dipping to really spice them up ;-)
Ingredients:
1 large onion, cut into 1/4 inch slices
1-1/4 cups all purpose flour
1 tsp. baking powder
1 tsp. salt
1 egg
1 cup milk, or more if needed
3/4 cup panko crumbs
salt to taste
1 quart vegetable oil for frying
Directions:
Heat the oil in a deep fryer to 365 degrees F.
Separate the onion slices into rings. Stir together the flour, baking powder, and salt in a bowl. Dip the onion slices into the flour mixture until they are all coated and set aside.
Whisk the egg and milk into the remaining flour mixture. Dip the floured rings into the batter to coat and place on a wire rack to drain until the batter is no longer dripping.
Spread the panko crumbs out on a plate or in a shallow dish. Coat rings one at a time and give a tap to remove excess crumbs.
Deep fry the rings a few at a time until golden brown, about 2 to 3 minutes. Place on paper towels to drain. Season the rings to taste and serve.
By Ann from Richland, WA
Ingredients:
1 lb. sweet onions
3 egg whites
1 cup dry bread crumbs
2 tsp. dried thyme
1 tsp. salt
1 tsp. paprika
1/4 tsp. pepper
Directions:
Cut onions into 1/2 inch slices; separate into rings and place in a bowl. Cover with ice water; soak for 30 minutes. Drain. In a small mixing bowl, beat the egg whites until foamy. In another bowl, combine the bread crumbs, thyme, salt, paprika and pepper. Divide the crumb mixture among three large resealable plastic bags. Dip a third of the onions in the egg whites; add a few rings at a time to crumb mixture and shake to coat. Place on a baking sheet coated with nonstick cooking spray. Repeat with remaining onions and crumb mixture. Bake at 400 degrees F for 20 minutes or until lightly browned and crisp.
By Robin from Washington, IA
April 25, 2005
0

found this helpful
Ingredients:
1/2 cup all purpose flour
1/2 cup enriched corn meal
1 teaspoon salt
1 teaspoon baking powder
2 eggs (beaten)
1/2 cup milk*
1 lb. large onions (sliced and separated into rings)
Vegetable Oil
Directions:
Sift flour, cornmeal, salt and baking powder. Add oil, eggs, and milk, mixing thoroughly. Dip onion rings into batter. Fry in hot deep vegetable oil for 2-3 mins. on each side (watch closely), till golden brown. Drain on paper towel lined platter and salt lightly.
*Can use beer instead of milk, if preferred.
This batter is also good when frying fish.
By Terri
We LOVE onion rings! I need to make these again soon!
Ingredients:
1 cup flour
1/2 tsp. salt
1 cup milk
1 tsp. baking powder
1 egg
Directions:
I just buy a bag of yellow onions to use and just judge as I go how much I will need. Slice onions and separate into rings. Soak in milk a few minutes. Mix flour, baking powder and salt. Remove onion rings from milk and drain. Mix milk, egg and add slowly to flour mixture. Stir until smooth. Dip onion rings into batter so they are covered. Fry in medium hot oil deep enough to cover. You can add 1/4 cup oil to mixture but I think they are too greasy then. Cook until nice and golden brown.
By Robin from Washington, IA
Slice and separate onion rings. Dip each in above mixture and drop in hot oil or shortening until brown.
Read More...
Mix buttermilk, egg and sweet milk together. Dip salted onion rings in above mixture, then, then in flour, back into egg mixture and finally in cracker meal. Fry in fairly hot oil until brown.
Read More...
September 22, 2005
0

found this helpful
Whisk together flour, beer, and 2 teaspoons salt ; cover and let stand for 3 hours. meanwhile soak onion slices in ice water or milk. Remove onions; place on wire rack.
Read More...
Solutions
Share on ThriftyFunThis guide contains the following solutions. Have something to add? Please share your solution!
March 14, 2017
0

found this helpful
Onion ring lovers who are looking for a lower fat version may enjoy this baked option. This page contains a recipe for healthy baked onion rings.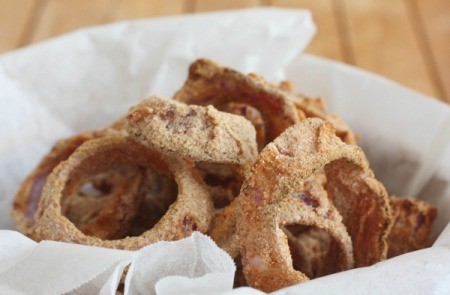 March 4, 2017
0

found this helpful
Many people enjoy the flavor of beer batter on their fried foods. This page contains a recipe for making beer battered onion rings.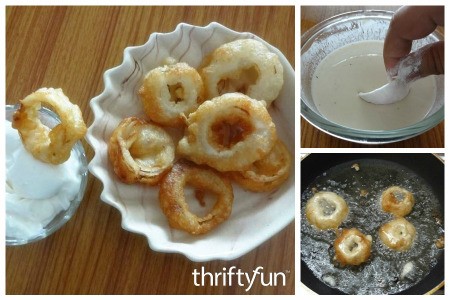 December 9, 2016
0

found this helpful
This guide contains a recipe for corn chip onion rings. A delicious variation on classic onion rings.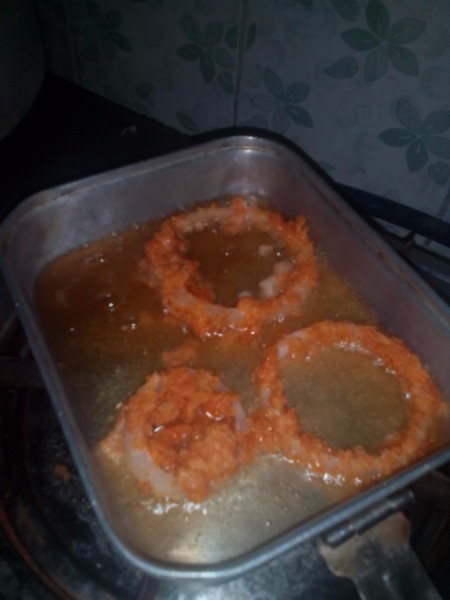 Questions
Ask a QuestionHere are the questions asked by community members. Read on to see the answers provided by the ThriftyFun community or ask a new question.
How do you make homemade onion rings?

Paula Jo Carr from Mebane, NC
Answers
November 2, 2006
0

found this helpful
Buy sweet onions, cut the rings fairly thick, spearate them, put them in a large bowl, cover with water, add ice cubes, refrigerate for 6 hours.
INGREDIENTS:
1 1/3 cup all-purpose flour
1 teaspoon salt
2 large sweet onions, sliced
1/4 teaspoon pepper
1 tablespoon vegetable oil
2 egg yolks
3/4 cup beer
PREPARATION:
Mix together the flour, salt, pepper, oil and egg yolks. Gradually whisk in the beer. Refrigerate the batter 3 to 4 hours before using.
Dip chilled rings into chilled batter.
Deep-fry in batches in 370° oil until golden brown.
Batter recipe is from http://southern s/r/blbb352.htm, but you can get more by going to www.google.com and entering "free recipe onion rings."
Have fun!
Cheers,
Rose Anne
November 2, 2006
0

found this helpful
Sorry, Paula Jo. Forgot to mention. Drain and pat dry the rings before dipping in batter.
Cheers,
Rose Anne
November 2, 2006
0

found this helpful
Here is a recipe that I use.
Cut the onions into rings and put in a bowl (not metal) with ice water and let sit for at least 4 hours.
Drain.
Get three bowls and put in each:
1 cup flour in one
2 eggs, beaten in one
2 cups Ritz crackers crushed*
Dip the rings in the flour,eggs then cracker crumbs
You can now fry the rings or cover loosley and put in the fridge till ready to fry.
I usually cut the rings in the morning, then drain and coat after lunch and put in fridge till just before dinner then fry.
These taste like the A&W onion rings.
* you can substitute regular crackers for the Ritz if you don't have any on hand.
By ShellyE (Guest Post)
November 4, 2006
0

found this helpful
4 HOURS BEFORE FRYING THE RINGS
1) Cut onions into 1" rings
2) Place in ice water, cover with plastic wrap and refrigerate
3) In a non-metallic bowl mix 1 1/2 cup regular flour with 1 12oz can of beer. Don't worrry if it's a little lumpy, it won't be for long.
4) Cover beer mixture bowl with a clean kitchen towel and place in a warm place on counter
4HOURS LATER IT'S TIME TO COOK THE RINGS
1) Heat oil in deep fryer or tall pot if you don't have a fryer.
2) Drain water from rings and pat dry
3) Place dry rings into a plastic bag to which you've added some flour and salt & pepper to taste and shake to coat.
4) Stir beer/flour mixture and add a few flour coated onion rings to the bowl
5) Remove the onion rings from the beer/flour mixture with tongs and add to the hot oil until golden brown.
6) Remove rings from oil with tongs onto paper towels to drain....sprinkle with salt if desired
REPEAT steps 4 through 6
Enjoy!
Answer

this Question

...
Related Content