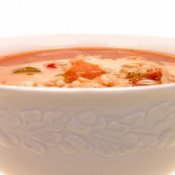 This is an all time family favorite, the Scardina family true Southern Louisiana Cajun Gumbo. We eat it on a regular basis and at any large family get together. We have a big family! It's great in cold weather and freezes well too. Grab some Saltines and enjoy!
Ingredients:
30 servings:
2 onions, diced
10 lbs. chicken leg quarters
2 Brian Cajun Sausage
2 cans Rotel
2 bags frozen okra
2 Tbsp. oil
salt
pepper
kitchen bouquet
approximately 6 cups broth from chicken
rice
flour
15 servings:
1 onion, diced
5 lbs. chicken leg quarters
1 Brian Cajun Sausage
1 can Rotel
1 bag frozen okra
1 Tbsp. oil
salt
pepper
kitchen bouquet
approximately 3 cups broth from chicken
rice
flour
Directions:
Boil chicken in stock pot. Reserving the liquid, set aside. Debone the chicken into bite size pieces, set aside. Cut the sausage and dice the onion, brown together in skillet. Scoop out of skillet and set aside. Add your oil to the sausage drippings making a roux.
Roux: Using the drippings from the meat (in this case sausage) add 2 Tbsp. oil to skillet (1 Tbsp. for the smaller servings). Slowly add flour stirring constantly until roux is like gravy thick, but still runny. Stir constantly over low heat until dark brown. You don't need a lot of roux, it is a thickening agent for gravy.
Once your roux is dark brown add your Rotel. Stir then add your okra. Keeping it on low heat cover, stirring occasionally until soft and mushy. Takes a good while. In stock pot combine chicken, sausage and onion mix, roux and okra, and around 6 cups or so of the chicken broth (depending on 30 or 15 servings - we eyeball it). Gumbo is more of a stew, it is not really liquidy like soup, more like a gravy.
Add kitchen bouquet, this is for color so not all that much. Season to taste. Cook on low until broth thickens. Serve over rice. 
Source: My mamma, from her mamma, and hers and hers.
By Mistie from Baton Rouge, LA