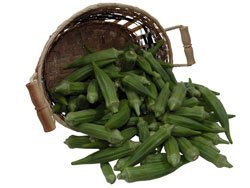 Selecting High-Quality Okra:
Select young tender pods with a velvety green appearance, that have a firm, crisp texture and snap easily. Pods should not look limp, pitted or shriveled. The best pods are usually between 2 and 4 inches. The smooth varieties freeze better than the ridged varieties because they don't split as readily.
Preparing for Freezing:
Wash and pat dry. Remove the stems at the end of the seed cells, but do not cut open and expose the seed cell.
Blanching Time:
Water-blanch smaller pods for 3 minutes and larger pods for 4 minutes. Steam-blanch for 4 to 6 minutes respectively. Cool promptly and drain. Leave okra whole or slice it crosswise.
Best Freezing Method(s):
Tray Packs
Use this method if you intend to use okra for frying. Wash and prepare okra. Blanch according to size. Cool and drain. Slice crosswise and dredge with meal or flour. Spread in a single layer on a cookie sheet and tray-freeze until firm. Once firm, transfer okra quickly to suitable containers, leaving 1/2 inch of headspace. Seal, label and freeze.
Dry Packs
Clean and prepare okra. Blanch as directed. Cool and drain. Leave whole or slice crosswise. Pack in suitable containers. Seal, label and freeze.
Suitable Packaging:
Freezer containers should be moisture and vapor resistant and should not be prone to cracking or breaking at low temperatures. Containers should provide protection against absorbing flavors or odors and should be easy to label. Suitable packaging for freezing okra includes freezer-grade plastic bags, rigid plastic containers or glass containers and heavy-duty foil or foil containers.
Maximum Storage Time:
10 to 12 months at 0ºF.
Thawing:
Add frozen okra to cooked dishes without thawing.
Tips & Shortcuts:
The amount okra needed to fill a 1-pint freezer bag is approximately _ pound.
Refrigerating Okra:
To stay fresh, it's important to keep okra dry in the refrigerator. Store in a perforated plastic bag in the warmest parts of the fridge (the inside door) for 5 to 7 days.