Harlean
Bronze Post Medal for All Time! 148 Posts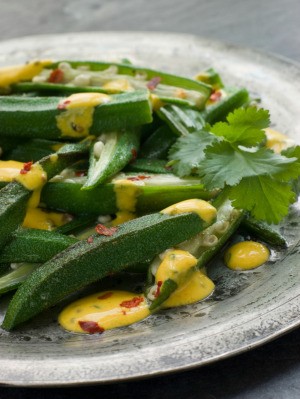 If you like Okra, but don't like the stringy consistency when cooked, just slice and saute in a little oil until lightly brown. This will seal it, and then you can add other ingredients and it will not be "slippery". I add onions and green peppers with my okra as I saute it, and, sometimes, add tomatoes and heat through before serving.
Funny footnote: We have not always been from the south, and were introduced to Okra when we moved here. A coworker of my husband's told him about Fried Okra and how to fix it. We got the okra and he sliced it as instructed. . .then decided that he should have washed it. So he proceeded to do just that. If you know anything about Okra, you will certainly see the humor in this story.
Read More

Comments

I fried okra with a little oil and it was slimy and stringy. Then I put water in it to boil it and it still was the same. What can I do to get right?
By g.eva27@yahoo.com from Turlock, CA
Answers

Suntydt
Bronze Feedback Medal for All Time! 109 Feedbacks
September 2, 2010
0

found this helpful
Cook it like fried chicken. My mother makes okra with a batter layer and fries it that way. My dad eats like it is his last meal.

September 3, 2010
0

found this helpful
The key is to cook the okra in a small amount of oil-olive or coconut are good choices, slowly at a low to medium low temperature, stirring often so it doesn't burn, that way the water in the okra is evaporated and leaves you with yummy lightly toasted okra. Another way to cook okra that isn't slimy, saute with onions, garlic and tomatoes, the acid in the tomatoes cuts the slim and this mixture has a wonderful flavor.
Of course you could always toss the cut okra in a bag with corn meal, salt and pepper and fry in oil but I think the flavor of the okra is covered up by the corn meal but that is my opinion.

September 4, 2010
0

found this helpful
I've always found that the lower the temperature when cooking okra, the greater the chance it's going to come out like slime. like Suntydt's mom, we batter our okra in a light coating of corn meal with an egg stirred in then fry it up with a little onion in a hot greased pan. don't normally have any slime or left overs.

September 4, 2010
0

found this helpful
It's important to have hot oil so your okra does not absorb the oil. Once it's in the pan try not to stir too much so the batter won't will fall off.
okra sliced 1/2 "
milk
corn meal
flour
Mix okra and 2 - 3 T. milk and let sit about 5 min., stir. You want the milk to get thick and gooey, adjust the amount of milk according to the amount of okra you have.
Mix corn meal and flour together with salt, pepper. I use 1/4 flour to 3/4 cornmeal, not an exact science so guesstimate.
Dredge okra in cornmeal mixture and fry in hot oil turning only once or twice until golden brown.
You can add cayenne pepper for a slight bite.
Ahh, the food of Gods!
Answer

this Question

Can you freeze fresh okra and still have the fresh taste when unfrozen?
By Kari Lansdale from AR

Answers

September 9, 2009
0

found this helpful
Absolutely, I've been doing it for years. Just cut it and bag it. I have gone to the trouble of laying a single layer on a cookie sheet and freezing overnight.
Works either way. When you're ready to cook just use it from the frozen state. I like to slowly saute mine in olive oil with onions and garlic.

September 10, 2009
0

found this helpful
You certainly can have the fresh flavor of okra after it has been frozen. Just prepare it the way you are going to want to use it. Cut up if you want to fry it, or small whole okra if you are going to cook it that way, then freeze. When you get it out, use it from the frozen state, and you will find it keeps its flavor just fine. My favorite way to prepare it is lightly dusted with cornmeal, along with some cut up onion, and a firm tomato, semi- green if possible.
Heat up the oil or cooking grease of your choice, and I try to use a minimum, then cook quickly, just until okra gets tender, and onions are getting a bit golden. I got this from my late mother in law, many years ago when I first came to the south, from the pacific north west. My family still loves it.
Answer

this Question