Fishing Tips and Photos
Solutions
Share on ThriftyFunThis guide contains the following solutions. Have something to add? Please share your solution!
Fishing trips can be messy. How does one eat lunch or snacks after baiting hooks and taking fish off the hook that can leave your hands dirty and smelly? Most fishermen-women know that using scented soap is a No-No, because the fish smell the scent of soap on the bait and won't bite. Here's my solution and many fishermen-women that I know have thanked me for my idea.
In a small spray bottle, mix 1 tablespoon of biodegradable, NON-scented liquid soap with 1/4 cup water. Then I take 10 J-cloths and cut them into pieces about the size of a facial tissue. Spray each piece thoroughly with the soap/water solution and hang them to dry. Once they are COMPLETELY dry, fold them and seal them in a waterproof Ziploc bag to take along in your tackle box to the lake.
When you want clean hands, take one cloth out with dry hands. Wet it, work it into a lather, then dispose. No mess, no fuss no polluting the lake, and no smell of detergent or scented soap to deter the fish from taking your bait. These are even handy to leave in a weighted waterproof container at your cottage on your dock for quick clean-ups for the kids and grownups. No more unnecessary trips up to the cabin and tracking in sandy feet to wash in the sink at lunchtime.
Good luck fishing! Happy camping!
By ann from Sault Ste Marie, Ontario, Canada
Once you have hooked the fish, keep it's head up! If the fish has a chance to head for the bottom, your odds of losing the fish are greater. If you keep the fish head up, the odds are you will catch them every time. You don't have to yank the line, just a nice continuously taught line, while reeling the fish in assures that you will win the battle.
Personally, I don't think the time we spend fishing should count, when it comes to our longevity! What do you think?
By Susan from Clinton, TN
September 30, 2004
0

found this helpful
Take advantage of clearance sales right now by buying your fishing supplies now. Tackle boxes, fishing lures and fishing gear are all on sale so they can make room for the winter sports stuff.
Read More...
Questions
Ask a QuestionHere are the questions asked by community members. Read on to see the answers provided by the ThriftyFun community or ask a new question.
I love to fish but I have to fish from the bank because I cannot afford a boat. I use worms and minnows. I am looking for tips for catching fish from the bank.
By Chuck from Lexington, NC
Answers
June 12, 2009
0

found this helpful
HI Chuckwms, Also from Lexington, N.C. Find you a favorite location for fishing and in the Spring of the year bait it up with a box of Minute Rice. Simply open the box and throw the rice as far as you can. The fish will be attracted to the spot and stick around. I am not sure the problems you are having but location, preparation, and patience will serve you well.
June 12, 2009
0

found this helpful
Also check your local fishing clubs. There might be someone that has a boat that would love a fishing buddy and help on the gas.
June 12, 2009
0

found this helpful
First of all you need a good rod and reel, I always used open face catfish reels and fairly long rods. Find you some sturdy sticks with a V in the top and stick them in the ground to hold the rod. Fish can sense when you have hold of the rod so it's best to prop it up. Go to Walmart, K-mart,etc and get some "fishing bells" to clip on the end of the rod. When a fish bites the bell rings! Catfish will pull on the line several times before they take the bait so watch it for a while, you will know when he strikes, he will pull it down hard.
Also be sure you have some 20 lb line as a big cat can break thin line. When you grab the rod, pull straight up on it to keep the catfish from swimming under logs. They will try to get tangled up to get off the line.Start reeling it in as soon as you pull up on it. Smart fish, huh? Catfish live and breed in and around rocks and logs so catching them is a challenge.
Put a heavy weight on the line also that will keep the bait lying on the bottom as they are bottom feeders. The best bait I've used is chicken livers, that stuff in the stores doesn't work. Cats can smell blood!
Fish early in the morning or around dusk dark, that's when they come out in search of food. Channel cats live mostly in deep water, flatheads live mostly on the bottom.Channel cats are the best kind to eat, silver blue in color, flatheads are muddy looking and ugly!
Beware of your rod at all times as a big cat can take your rod into the water and you'll lose it!
As for other fish, well I tried bass, never had any luck, brim is easy to catch with worms and a bobber.
I haven't been fishing in a long time but still remember the good times I had so have fun, hope you catch a bunch! Marian
June 12, 2009
0

found this helpful
I agree with the last post. I have been a bream fisher for over 20 years cause I did not have the patience to sit and wait for a big cat. Once I got the right bait, line, rod and reel, I am hooked. There is no rush like you will get from pulling in a big cat and you don't have to wait a long time in between to get a bite. Just have the right bait. Trust me, chicken livers are best. The do smell and love blood. My knees are knocking every time I get a big one now. I live north of Greensboro, NC next to you and fish Blues Creek Lake. Please feel free to email me if you need any additional help. Hope this helps. Sherry
Answer

this Question

...
Photos
Share on ThriftyFunCheck out these photos. Click at right to share your own photo in this guide.
My hubby just loves to fish! And I love when he comes home with fresh fish and he's always so relaxed! This is at Sunnyside Lake in Nevada but it was taken at sunset!
Read More...
My husband, Pappalee, caught this 68 pound catfish on a trotline. Grandson, Tyler, didn't want to get close to it!
By Nannykaren from Haskell, TX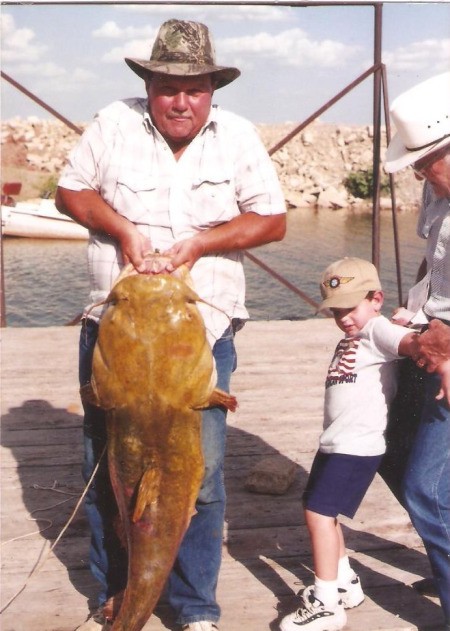 This is a photo of a very strange fish that one of my son's buddies caught. I'm not completely sure, but I think that this fish may be called a mud-puppy. It was caught in an Alabama river.
By one.of.a.kind from Al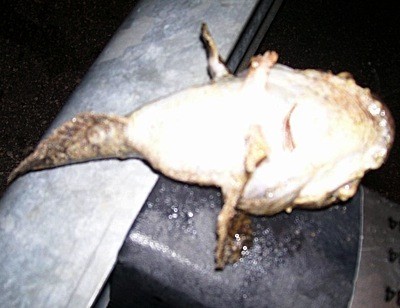 This was my granddaughter, Natalie's, first time fishing and her daddy captured this shot. So cute! Natalie is almost 3 years old.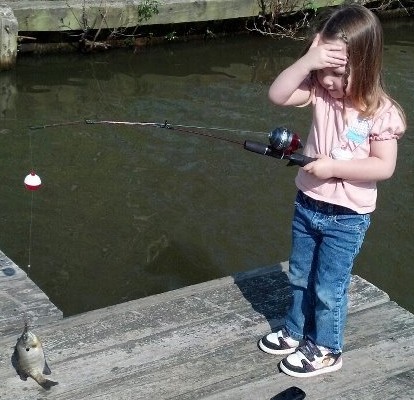 Read More...
I was walking at River Walk, and saw all these fishing poles. The people fishing were enjoying the sunshine and not the least bit worried about catching a bite!
Read More...
My son's biggest fish ever and reeled it in all by himself. Dad offered to help but he wanted to do it all by himself. He was sooo proud and so were we.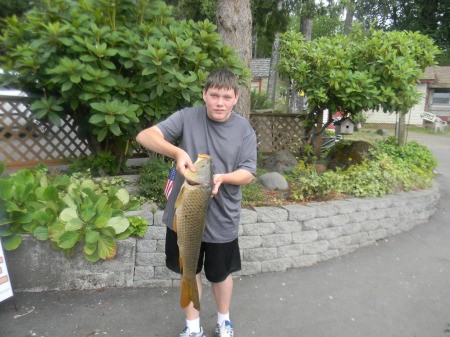 We were camping recently at Sadler's Creek State Park on Lake Hartwell, in SC. Hubby caught several fish, and the scenery from our campsite was beautiful.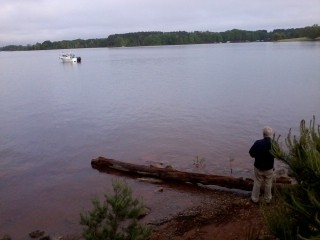 Read More...
Related Content