Saving Money at Disneyland
Solutions
Share on ThriftyFunThis guide contains the following solutions. Have something to add? Please share your solution!
We took our two oldest grand daughters to Disneyland a little over a year ago. It was a dream come true. We stayed at a resort a couple miles away. They had a shuttle that ran to all the parks every day.
The resort was more like a condo with a complete kitchen, two bathrooms, and bunk beds for the girls. It was only around $100 a night.
We found the closest Walmart, and got snack and food for our dinners. We ate breakfast early, and then took the shuttle to the park of our choice. We took a back pack with snacks, and water. We went online and found the cheapest places to eat (best deals), and we ate lunch at the park. Then we would have a late dinner back at the condo.
There are also great souvenirs at Walmart, or shop the souvenir shops around where you are staying. Never buy at the parks, because they overcharge.
Hope this helps. Happy traveling!
By Mell from Traverse City, MI
July 11, 2008
0

found this helpful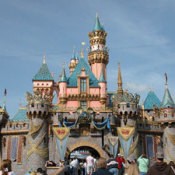 Here are some tips for saving money at Disneyland share by ThriftyFun readers.
Things to Bring
Bring water & snacks with you. They are very expensive on the premises ($2.50 for a 12 ounce water bottle the last time I was there).
Don't go hungry. Fill up first.
Buy 3 day passes, they are a lot cheaper.
Bring bandaids, aspirin, tissues, all that stuff. It is very expensive there too.
Bring film & cameras from home.
Bring hats & sunglasses.
Don't bring a purse. Wear a fanny pack (will not save you money, but you'll be glad you did).
Have fun! I love it there.
By Janet
Pack a Lunch
We packed a lunch and left it in the car. Then we went back for it and went to a close park to eat it. It gave everyone a break and we could decide what we wanted to see in the afternoon. Re-entry is free, make sure your hands are stamped.
Stroller, Hats and Sunscreen
I agree. Pack a lunch and snacks and at least one bottle of water per person. During the summer months bring your own squirt bottle with attached fan. There's not a whole lot of shade as you walk through the park.
If you need a stroller bring one from home. It cost $15 to rent one there and more for a double stroller plus there is not a basket underneath. There is just a net pouch on the back to hold all your stuff.
Bring hats and sunscreen. Then if your kids like to play in the water bring extra clothes or a bathing suit. There are little fountains they get to play in to cool off.
By nina
Restaurants
I live next door to Disneyland. Our windows rattle with the fireworks. Bring snacks for the kids and bottled drinks, but they must be in plastic and be held on your person. They will inspect your backpacks, purses and such. This is since 9/11.
If you want a restaurant, travel at least 1 mile from the park. The ones around the park are more expensive. I believe they allow you to drive back in as long as you keep your parking ticket.
If you pack a lunch, you can picnic at a nearby park within walking distance. Bring all you need in the way of sweaters or coats (depending on the time of year). We get very chilly at night.
By Anonymous
Fanny Pack!
My kids always make fun of me for wearing a fanny-pack but at the end of the day, I have THEIR phones and THEIR stuff in my fanny pack. They're not making fun of me then.
By Sharon
July 29, 2004
0

found this helpful
As soon as my kids found out we are going to Disneyland they started talking about what they wanted to get there to bring home. Being a frugal mom can be hard, but I just can't see spending so much money on t-shirts, hats and other souvenirs. I looked at the local Disney store, but that isn't cheap either.
So I did what any thrifty mom would - searched Ebay! Guess what, Disney has a partnership with them and they sell stuff from both the parks and stores! I've already got hats, shirts, little toys, pins and fans, all things they'd want, and I didn't pay more than $5 for anything! Now, as long as I can keep them hidden until the trip, we'll save tons!
By Christine J
My tip for saving at Disney is to always stay at a timeshare rental. For about the same cost as a hotel room, you will have a condo or house with bedrooms, bathrooms, living/dining area and full kitchen.
Read More...
Related Content