Packing a Travel Toiletries Bag
Solutions
Share on ThriftyFunThis guide contains the following solutions. Have something to add? Please share your solution!
Turn an old glasses case that has been sitting in the back of that drawer into a great little manicure kit for traveling. It will even hold a miniature polish, just make sure the top is secure before putting the kit into your luggage or purse.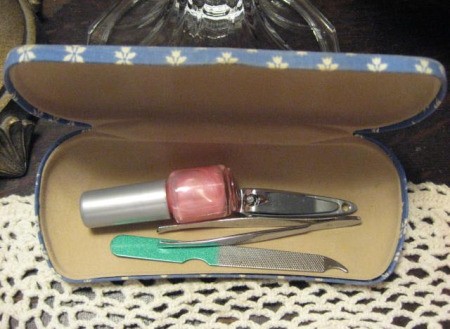 Directions:
When traveling, I put my makeup in a shower cap when I went into the bathroom. Found I like it so much better than my makeup bags. Opens wide and you can easily see where everything is.
By Jackie from North Powder, OR
October 20, 2004
1

found this helpful
I've found that it is best to keep a bag of travel supplies together all the time. I fill small bottles with my preferred shampoo and conditioner and I purchase deodorant on sale or the travel size deodorant. I also put make-up that I do not use as often in my bag and some hair ties. My bag also includes a small brush and travel tooth brush. It saves me time in packing if I already have this ready.

By Hache
I have a soft sided "train case" for cosmetics and toiletries, the classic design with a zipper all around the top and a handle in the middle of the top of the case. When traveling, the contents would all shift, and upon arrival at my hotel I would spend time reorganizing and putting bottles upright, etc. until I came upon an inexpensive solution.
After an unsuccessful search of the Internet for some sort of insert to keep my bottles and mini spray cans upright, I ended up buying 6 soft sided "cozies" or soda/beer can holders made of thick neoprene. They are available in many craft stores, and I got mine for .50 each. They fit in my train case very well, and my cans and bottles are no longer rolling around. You might need more or less cozies, depending on the size of your case. They also protect against breakage, as they provide padding.
By Ginny from Murrells Inlet, SC
If you're known to often just take off for a few days at the last minute but are not organized, this is a really cool bag to have on hand ready to go. Has all the basics. Beats shuffling around your things to put this all together at the last minute. Keep it in your travel bag and all you'll have to do is pack some clothes!
If you don't have samples of shampoo, lotion and body wash on hand, consider filling up film cannisters or small containers found at the dollar store with what you have at home. I usually collect all kinds of samples in advance to put kits like this together.
If you are going on a plane, consider storing these items in a ziplock bag so you can carry it on board. Check international/national regulations for liquid restrictions.
Female Traveler
Travel size deodorant
Eyes Lips Face (http://www.eyeslipsface.com/) all over colour stick (good for lips, eyes AND cheeks!)
Mascara
Travel toothbrush/paste
sample packs of shampoo, body wash amd conditioner and lotion (or fill up small containers)
Lip Balm
Travel size contact lens solution (if using)
Also any vitamins or regular pills you use, store and label
Disposable Razor
Tampon or sanitary pad
Travel sewing kit / mini lint roller
Pain Reliever (sample size)
Nail File / Mini Clippers
Vial of your favourite scent/perfume (you can get one from perfume stores or make one yourself with your existing perfume, just wash vials which stored other perfumes and put yours in!)
Male Traveler
Disposable razor
Small tube of Aveeno hand/body cream (good for face too because it's usually unscented and for sensitive skin!)
Sample packs of 2-1 shampoo conditioner (or fill your own bottles/cannisters)
Sample packs of Body Wash (or fill your own, they have body wash available now for hair and body! Check your local pharmacy)
Travel size deodorant
Travel size shaving cream
Lip Balm
Nail Clippers
Vitamins or pills stored and labeled (film cannisters can be good for this)
Travel sewing kit/Mini lint roller
Pain Reliever (sample size or a few stored)
Vial of your favourite cologne (you can get one from perfume stores or make one yourself with your existing perfume, just wash vials which stored other perfumes and put yours in!)
You can always add sunblock or other relevant items to you.
I like to carry a little powdered laundry detergent so I can wash clothes in the sink when I travel.
Other items you could add: Anti Bacterial Hand Sanitizer, Sunblock, Powdered Laundry Detergent, Birth Control (or similar), Hair Elastics or clips, Band Aids, disposable pair of underwear, mini hear spray or gel.
HAPPY TRAVELS!
By Lisa from Halifax NS
February 25, 2005
0

found this helpful
I stock up on samples and put them in a little bag so that when I travel, I can use them up. They are the perfect size and it saves me money. By Lynda
Read More...
Packing for a holiday? Use an inflatable arm-band to transport delicate items like perfume bottles or when you are bringing home some vino in your suitcase!
Read More...
February 7, 2005
1

found this helpful
When you travel, have all your toiletries and pharmaceuticals packed the day before. Then the night before and the morning of the trip only use the things that you have packed, if anything is missing you will know before your trip.
Read More...
December 2, 2004
0

found this helpful
I got tired of having to worry if I had enough "girl stuff" packed when I had to go somewhere, and I wanted to keep my occasional need for "girl stuff" private. So, I purchased a small makeup bag and filled it with travel O.B. brand and travel liners.
Read More...
To avoid forgetting something essential for your trip, pack your toiletries and makeup in a makeup case a couple days ahead of your departure. Use your packed items daily up until the time you leave.
Read More...
Related Content