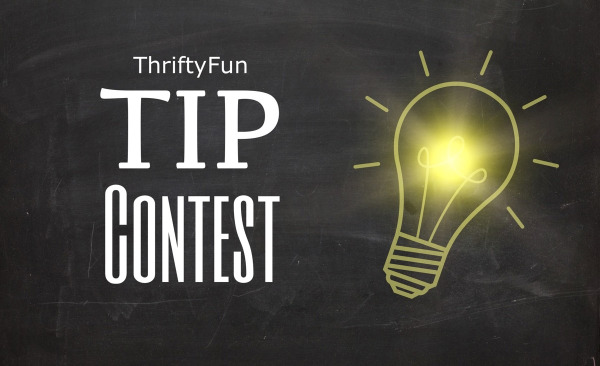 Thrifty Tip Contest
(July 30 - August 5, 2011)
This contest is over. See the winners and other entries below.
| Duration | Entries |
| --- | --- |
| July 30 - August 5, 2011 | 104 |

This is not a tip to save money or time. It is one that does bring a warmth to your heart. The most simplest gift you can give to someone is a smile.
Read More...

Old school or work 3 ring binders can be reused by removing the back plate and rings. Use pliers to remove the rivets and separate the back plate from the cover. Screw the plate and rings to a wall or the back of a closet or cabinet door.
Read More...

After years of trying every product advertised, I still couldn't find a way to keep the shower clean and mildew free. Nothing worked well except for me scrubbing every week.
Read More...

Paying one additional mortgage payment each year, whether in a lump sum or monthly increments, can lower a 30-year loan down to 18 years. If you pay more than one extra payment, the number of years will decrease even more.
Read More...

After making coffee, let the grounds dry then put them into a new filter, a thin fabric bag, socks, or stockings. Secure with thread or staples. Put these coffee bags inside your shoes, in closets, and shelves. They work really well as deodorizers.
Read More...

This tip is great for this time of year, when people are going to the beach. Bring baby powder for the kids. When you are ready to go home, sprinkle it on feet or wherever sand is stuck to them.
Read More...