Our dog Buddy was blinded in one eye, so we try to keep the floor lighted enough for him to find his way around easier. They also help us to see him, if we have to get up during the night. Many times he sleeps right next to the bed, in the middle of the hallway, or in doorways.
We have placed the lights near his water dish in the bathroom, one near each closet, bed, and in the hallway. We bought small LED lights that are 4 inches at the $.99 store, and a 6 inch at Walmart. These are hung along the baseboard in different areas. The 6 inch lights are hung in the bathroom, pantry, and by the beds.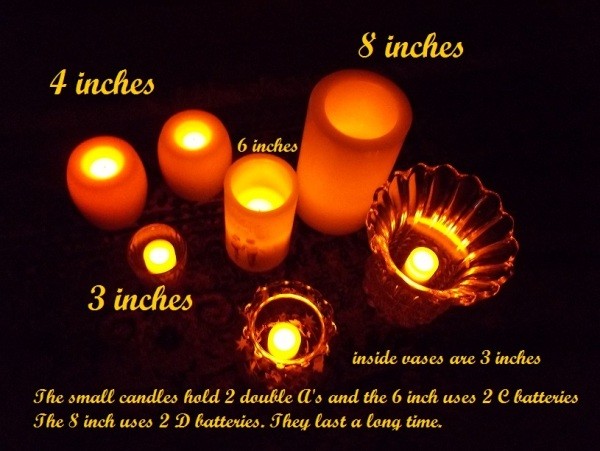 So if the sun is not out and the electricity is out, we'll still have light to see. We also have back up flame-less candles in different sizes. So if the solar lights don't have enough power to stay on all night, the candles do. The lights with timers are on 5 hours and off 19 hours, but you can use the on and off switch as you like.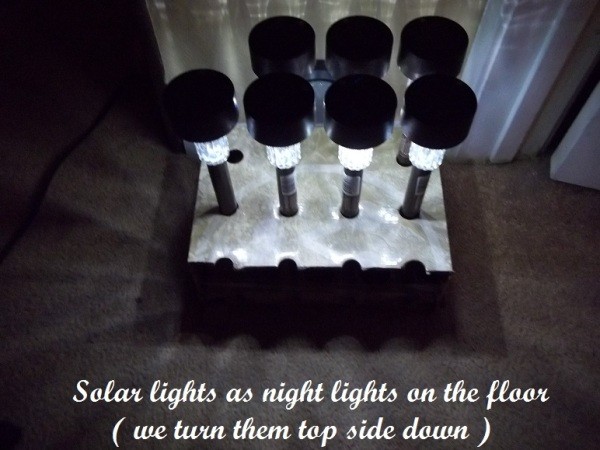 So far we're very happy with what we have done. I am going back to get more of the $.99 4 inch led lights to hang in the other rooms and garage.
By Vi Johnson from Moorpark, CA