Vi Johnson
Silver Post Medal for All Time! 288 Posts
Our dog Buddy was blinded in one eye, so we try to keep the floor lighted enough for him to find his way around easier. They also help us to see him, if we have to get up during the night. Many times he sleeps right next to the bed, in the middle of the hallway, or in doorways.
We have placed the lights near his water dish in the bathroom, one near each closet, bed, and in the hallway. We bought small LED lights that are 4 inches at the $.99 store, and a 6 inch at Walmart. These are hung along the baseboard in different areas. The 6 inch lights are hung in the bathroom, pantry, and by the beds.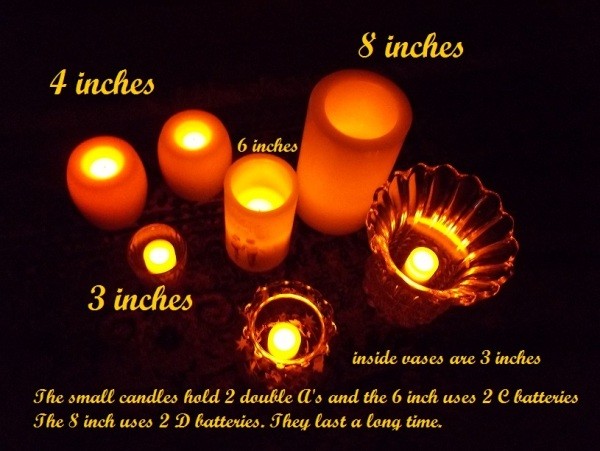 So if the sun is not out and the electricity is out, we'll still have light to see. We also have back up flame-less candles in different sizes. So if the solar lights don't have enough power to stay on all night, the candles do. The lights with timers are on 5 hours and off 19 hours, but you can use the on and off switch as you like.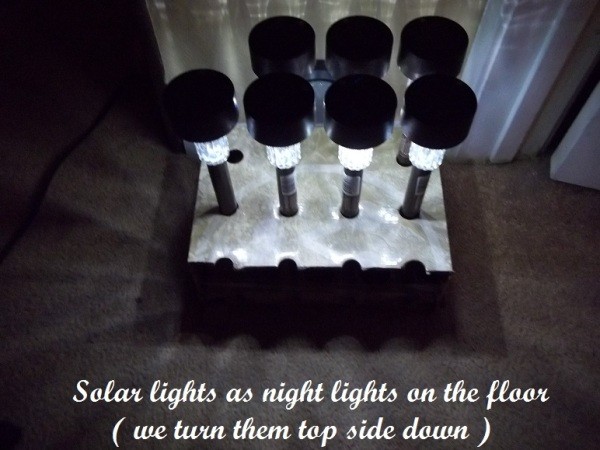 So far we're very happy with what we have done. I am going back to get more of the $.99 4 inch led lights to hang in the other rooms and garage.
By Vi Johnson from Moorpark, CA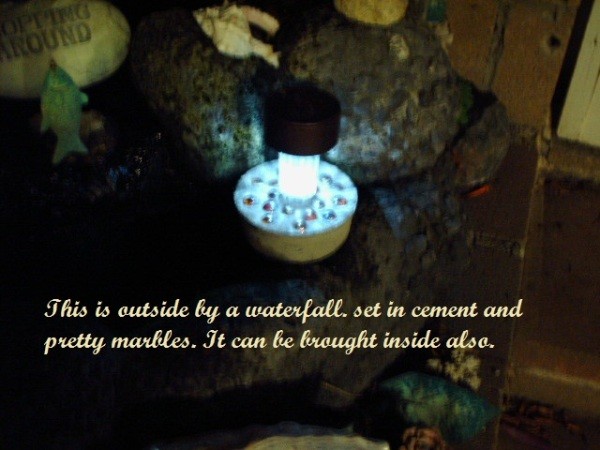 Read More

Comments

Has anyone used battery operated lights inside?
By G from MI

Answers
Best Answer
As a floral designer for 34 years we did use battery operated lights indoors, be careful as they do go through the batteries quick. We would use the battery pack lights in floral arrangements on tables, centerpieces, chandeliers for an elegant look with garlands at holidays as well as I am using them in a wig small rice lights 15ct for a holiday charity fundraiser, this will surely get some attention and hopefully bids for the charity too! So yes they work fine and you will have fun figuring all the different places to use them. In a beautiful crystal bowl filled with holiday christmas balls and a string of battery lights sprinkeled and hidden in the mix makes for an elegant holiday disply on your table.

Cricket
Bronze Post Medal for All Time! 205 Posts
September 18, 2009
0

found this helpful
Best Answer
I have some outside my house right now and they've been there all summer. I love them. Every night, I just glance out to make sure they are all working. I use rechargeable batteries so if one isn't working, I simply replace the batteries with charged ones and bring the used ones inside for recharging. I have them up and down my driveway, along the front of my house with one on either side of the front steps, and also at the top and bottom of my back steps for my dogs.
I also have one at the back gate and next to the trash cans for when I take the trash out after dark. I wouldn't do without them now. I love them and they really make the house look nice at night.
Answer

this Question
Have you used battery powered light scones in your bathroom vanity? Wondering if two of them; one on each side of the wall would give me enough light for putting on makeup, etc. Don't want to hire an electrician and my current light is in the ceiling.
By weinerdog41 from North Richland Hills, TX
Answers

July 21, 2014
0

found this helpful
Best Answer
First check how many individual LED light bulbs there are inside the sconce. I have two wall sconces with only 3 battery powered LED lightbulbs. They really don't give out much light and I don't know if you will like the harsh LED as compared to the regular light bulb for putting on makeup.
If you have a ceiling light, there is a plastic adapter you can get to screw in before the light bulb. Then you could plug in extension cords for the light bulbs and somehow put them inside a glass globe.
Answer

this Question