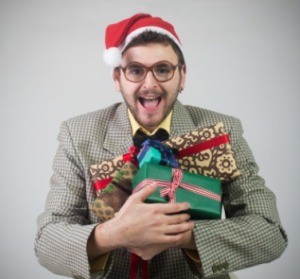 My brother in law is a real computer-head. That's all he talks about and about all he does. Can anyone think of a good gift for him?

Rosetta
Answers
Best Answer
- A novelty mouse pad. If you are crafty, recycle an old one with a clean new top. Adhere a soft fabric or felt with no-sew fabric glue.
- A big coffee mug, so he doesn't have to leave the keyboard as often for refills.
- Cup warmer, or insulated cup.
- A CD-rom storage rack. available in a variety of styles and prices.
- Coupons for a pizza place that delivers.
- Headset adapter for hands-free telephoning. (This is from the computer guy in my life.)
- High-quality anti-glare filter for the monitor.
- Donut-shaped chair cushion to reduce pressure on hemorrhoids?
Rose B. mother of three
Best Answer
- Software in his areas of interest
- A Palm Pilot
- Internet Service
- A computer magazine
- Computer Games
- Tee shirts, ties, & other such clothing or
accessories with specific messages or designs aimed
at geeks
- Computer Books
- A small add on such as a microphone/head set, or
speakers
- One of those desk calendars that have a different
computer tip everyday
- A Christmas ornament shaped like a PC or Mac
- A unique mouse pad with an unusual design or one
with a picture scanned on or included in a
picture insert area (Pix of you?)
- Printer paper, ink cartridges for the printer
- A cordless mouse
- Blank CD roms, Zip disks, or floppy disks
- A portable or desktop holder for disks
- Gift certificate from a reputable computer shop
or online dealer.
- An ergonomic mouse pad & or keyboard
Alekscat, Richmond, VA
November 25, 2008
0

found this helpful
Best Answer
I am surrounded by techies (all my friends are!): Try this website: wwwthinkgeek.com or geeks.com
They have tons of gadgets! Depending on how much you want to spend, all my friends love "Apple" toys such as an Iphone or Ipods. The apple website sells refurbished items for a better price. This is what I did last year.
How about some kind of subscription with the latest in Computer technology magazine (if one exists, I'm pretty sure there are some) It's the gift that keeps giving and he'll stay current. When presenting him the subscription include the current issue of the magazine. If he's into graphics, maybe special paper or graphic programs!
Stephe
Read More

Answers