Weeding tips from the ThriftyFun community.
Weed Early In The Season
Weed and cultivate at least once every 10 days during the early gardening (weed) season. This will allow you to keep ahead of the weeds crowding out your "wanted" plants and the roots will not have time to make it hard to pull them up.
Weed Every Day
Weed a little every day.
By Drury
Editor's Note: This may seem obvious but it really does work. Everytime you see a weed in your flower or vegetable beds, pull it up. This keeps them from flowering and spreading their seeds.
Weeding When the Ground is Wet
Weeding used to be such a chore for me until I discovered if the earth has been wet for a while the weeds pull out so much easier and I am more likely to get the root than when dry. Also I seldom disturb the surrounding plants. This is so much easier.
By Joan in CT
Make Sure You Get The Roots
Kaliche soil in southern Texas means you weed after it rains or you water. I have a super big old screw driver with a slight bend in the tip as a "starter" to loosen the weed. Do not ever weed whack 'em and think you're done, it makes a huge root ball. My old neighbor friend put an old long drill bit on his cordless and wads up weeds, pretty funny actually. Pull close to the soil, have children pull them up and pay them by the root ball.
By AE from C.C.
Prevent Weeds With Organic Mulch
You can prevent weed growth in the first place with a thick layer of organic mulch, I use newspaper and straw. Just cut a slit to plant your seedlings in the vegetable garden. Another good weeding tip is to give up smoking cigarettes! I did this recently and have weeded a very large area as I find it very soothing and I don't think about cigarettes at all when weeding! I'd avoid the sprays, herbicides are poisons and we are eating enough of them every day in store bought foods.
By Jo Bodey
Round-Up
When we bought our home 3 years ago, it was 100 percent grass. It is now 25 percent grass and the rest are gardens and pathways. My property is well mulched with wood chips and landscape fabric, so while I do have weeds, the mulch keeps them to a minimum.
Every 2 or 3 weeks, I mix up a gallon of Round-Up and for the most part, this eliminates most of the weeds. I also hand pull them as I see them, but with an acre of property, the weeds can easily get ahead of hand pulling. I tried using vinegar as a weed spray, but it was inferior to the Round-Up.
It's important to get the weeds before they seed. You can pull 1 weed or after it seeds, you will be pulling 25 weeds! So, whether you hand pull or spray, do it often!
Have a weed free day!
By Jim
Add your voice! Click below to comment. ThriftyFun is powered by your wisdom!
March 22, 2007
0

found this helpful
So true, esp. about weeding early and often! Pulling while soil is wet is an invaluable way to let the elements help the effort. I'm disabled & have to chose my chores carefully. I always try to grab a few every time I'm out for another purpose. The "nibble" method works best for me: before I know it, a whole block of "cheese" is gone!
But about those root balls: Dad always told me to hit them against something (if even the ground itself) to dislodge all that valuable topsoil. Then again, if all goes into the compost bin, what goes around comes around, so to speak.
Donna
and friends, practicing for the "war on weeds"
in New York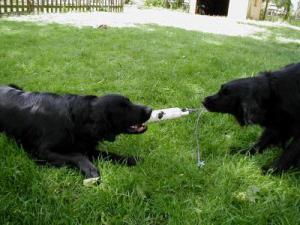 By Kathy (Guest Post)
June 9, 2008
0

found this helpful
I have a question:
I have a bad back and need some help with ideas of how to pull out weeds so that I won't throw my back out. Any ideas?
August 5, 2009
0

found this helpful
I have a weed puller from Lowe's. It's almost waist high to me, no bending over to pull weeds, put them in a bucket as you get them up, good luck.
May 28, 2017
0

found this helpful
Please, please be wary of Roundup! It kills bees and is a carcinogen for people as well. It definitely works well, but sadly needs to be filed under "too good to be true."
Monsanto (which owns roundup) is a huge multinational (and soon huger--merging with the Bayer Corporation). Their practices are detrimental to our entire planet's food supply. This is neither hysteria nor an exaggeration.(Scientific American:
www.scientificamerican.com/.../
)
They deceived their way into getting Roundup into every garden supply store with falsified scientific reports of safety. Their Roundup product is bad enough, selling poison to people in the US (and soon Europe), but Monsantos' big moneymaking goal is to control and profit off the planet's food supply by making seeds proprietary (by modifying them so they can't be propagated, but have to be purchased each year from the company).
Add your voice! Click below to comment. ThriftyFun is powered by your wisdom!