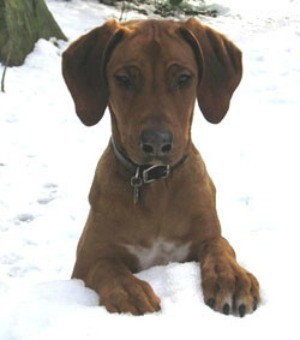 Breed Description:
The good-natured and formidable Rhodesian Ridgeback gets its name from the symmetrical ridge of hair on its spine growing against the grain of its coat. This large muscular dog has a broad, flat skull, strong, deep chest and powerful hind quarters. Originally developed to hunt lions, today the Ridgeback excels as a guard dog and loving family pet.
Group: Hound Group
Purpose of Breed: Lion Hunting
Country of Origin: South Africa, Zimbabwe
Average Size: Dogs 25-27 inches and 80-90 pounds; Bitches 24-26 inches and 65-75 pounds.
Color(s): A light to red wheaten color, sometimes with small white markings on the chest and feet.
Coat Type: Short, dense, sleek and glossy.
Grooming: This breed's short coat is easy to maintain with weekly brushing and occasional baths and requires standard care for eyes, ears, pads and nails.
Exercise Needs: Rhodesian Ridgebacks will do well in an apartment but require a large yard for exercise. They are extremely energetic dogs and don't tire easily. Due to their keen scenting and sighting abilities, this breed should only be allowed to roam in an area enclosed by a fence at least 5 feet tall.
Temperament: The Rhodesian Ridgeback is loyal and obedient. It is wise to pay attention when they sound the alarm as Ridgebacks are discriminating watch dogs. They are highly intelligent and easy to housebreak. Loyal and affectionate family dogs, they and are happiest when they are with "their people." Although not generally aggressive, when provoked the Rhodesian Ridgeback will stand its ground. These dogs have a strong will and a high hunting drive. Early obedience training is necessary to establish pack leadership, but it can also be trying with these independent thinkers.
Common Ailments: Susceptible to hip dysplasia, dermoid sinus, and cysts.
Life Expectancy: Averages 10-12 years.
Trivia: This breed was originally bred in South Africa to hunt lions and is also known as the African Lion Hound.
More Information: Rhodesian Ridgeback Club of the United States, Inc.