I'm looking into having a princess theme party for my soon to be 1 year old. I would like some cheap ideas for invites and decorations. I don't want to spend a lot of money but would like to make it special.
Thank you,
Carla from IL
Answers:
Throwing a Princess Theme Party
This is the cake from my nieces first bday. She had a princess party. The accessories on the cake are really cheap, like a couple of dollars. My sister in law didnt go really overboard with the theme since she is so young, but the cake was princess, some of the gifts and the paper. The invites were princess and napkins and stuff. You can get this stuff fairly cheap since its so popular right now. (05/15/2006)
By christi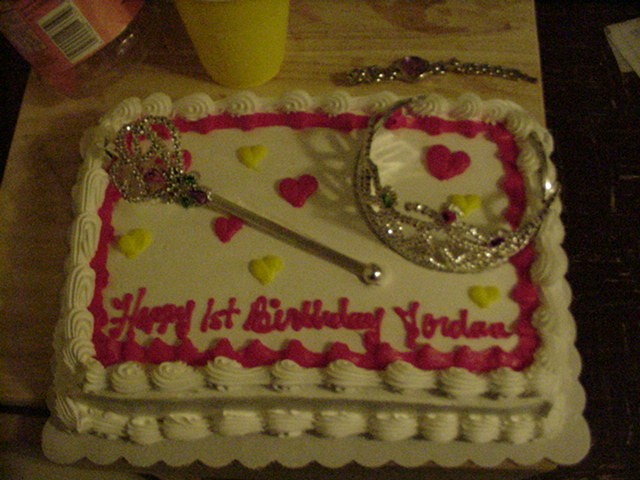 Throwing a Princess Theme Party
I saw a 30 pk of 'decorate your own' small foam crowns at Walmart today in the craft section. It was just a few dollars on clearance and would be fun both as an invitation to send and then decorate some at the party and personalize for each guest. (05/15/2006)

By M. Boyer
Throwing a Princess Theme Party
At Wal-Mart I found a light-up princess crown and wand for my daughter for 98 cents each! The batteries are nonreplaceable, but they last for so long, and hey, for 98 cents who cares! (08/28/2006)

By Anna
Throwing a Princess Theme Party
My daughter, Jasmine, is turning 3 and she wants a princess party. Her older brother (6) wants to celebrate with her so I combined the party into a princess/ knights party. The girls get tiaras and the boys get swords when they arrive at the party.
For favors I got goblets from birthday express. The girls' are pink (say "princess") the boys' are red and gold.Filling the girls with kisses and the boys with gold chocolate coins.
For games: I this idea from another site (can't remember which one) Musical magic carpets with Jasmine ( just like musical chairs).

Treasure hunt: Use cornmeal or sand and hide gems (from the $ store or craft store) inside the sand. Have the kids dig and find the hidden treasure. Could even hide 1 special item and finder gets a special prize.
I had Costco decorate a cake with flowers and added Disney Princesses - 3-D puzzles (from Disney store on clearence).
Cracker and cheese tray - cheese cut in star shapes (09/05/2006)

By Danielle
Throwing a Princess Theme Party
Try getting different colored card and making cones out of them, staple some elastic for secuirty under the chin, and get different colored chiffon ribbons to drape from the top (thread through the top of the cone and knot to secure it), mark bits of the cone with glue and sprinkle some different colored stardust/sparkles/glitter over it to make a princess hat.
You could also try making 'candy' braclets and necklaces out of candy or lifesavers threaded onto some string, then the kids can eat as they play. (03/27/2007)

By Tina
Throwing a Princess Theme Party
WALMART has crown themed foam picture frame kit including some decorations for $5 (30 frames, I think), my daughter's 2nd birthday is this month and we are buying a Princess Party Photo Door Banner Each $7.95 (not including shipping) from Oriental trading company and taking each kids picture at a princess and then they will have their custom picture frame to put it in, I may send them out with Thank you cards or have my husband run up to the pharmacy to print them out after everyone has arrived
(01/15/2008)

By jESSICA bLACK
Throwing a Princess Theme Party
I am doing my daughters this weekend. I went to Big Lots and found foam. Make your own princess wands (makes 24 for 4 dollars), and they are great. Also went to the dollar store and found the crowns. In the wedding area at the $ store, I found small white cardboard bags. I just made homemade cookies and I am going to put different ones in the bags for guest to take home after the party. (05/02/2008)

By maria
Throwing a Princess Theme Party
What I am doing is good for all ages. I am buying fruit loops and cheerios and anything that I can put a string through and I bought clear craft plastic cord and I am putting different bowls of cereal and letting the kids make their own necklaces and bracelets. (05/02/2008)

By Maria